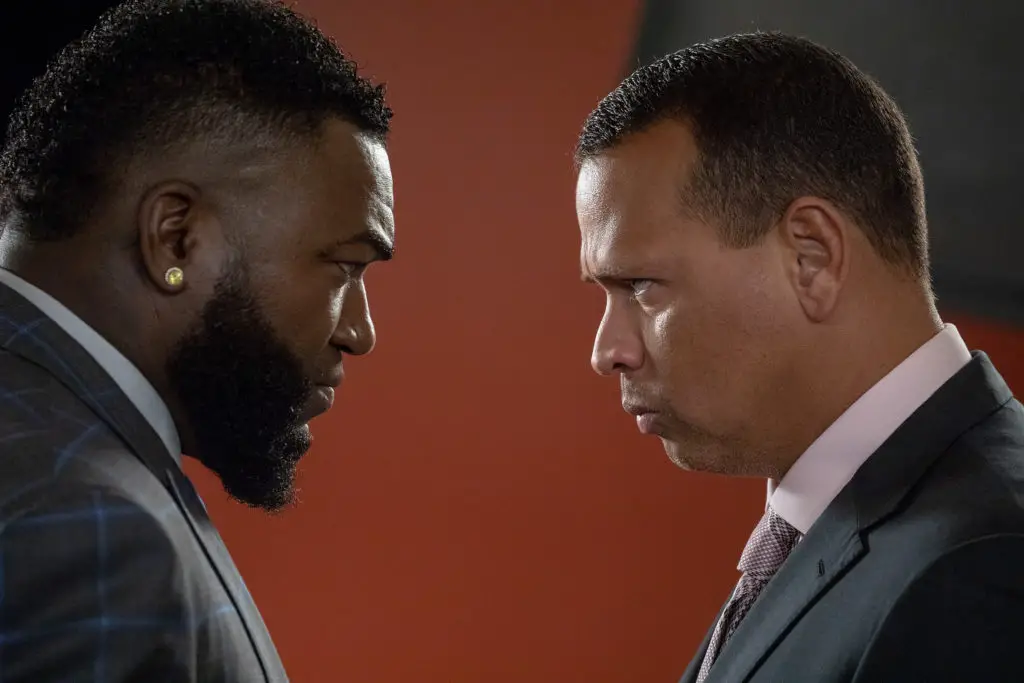 David Ortiz, A-Rod bring new PED era for Baseball Hall of Fame ballot
Roger Clemens, Barry Bonds, Sammy Sosa make final appearance on BBWAA Hall ballot
One steroids era group is making its final appearance on the Baseball Hall of Fame ballot this year. The steroids questions aren't gone, though. David Ortiz and Alex Rodriguez will keep the performance-enhancement questions at the forefront with their respective debuts on the ballot.
The Baseball Hall of Fame sent out the ballots from Cooperstown, N.Y., on Monday. The ballot for the 2022 class will likely arrive in my mailbox by Wednesday. This will be the final year on the Baseball Writers' Association of America's Hall of Fame ballot for Barry Bonds, Roger Clemens and Sammy Sosa.
Fairly or not, that trio and Mark McGwire are the faces of baseball's steroids era. Veteran members of the BBWAA receive a Baseball Hall of Fame ballot after 10 consecutive years in the organization.
More Hall of Fame:
Underrated Bobby Abreu deserves a place in Cooperstown
Miguel Cabrera falls victim to cheapened milestone
Negro Leagues' Elevation Improves Minnie Miñoso's Hall Resume
If the criteria were merely statistics, Bonds, Clemens and Sosa would have cruised into the Baseball Hall of Fame on their first years of eligibility. Bonds, after all, is baseball's all-time home run king. Clemens is a seven-time Cy Young Award winner.
Sosa hit 609 home runs in his 18-year career. He is currently ninth on baseball's all-time home run list.
History not kind to Clemens, Bonds, Sosa
If recent history is any indication, however, Bonds, Clemens and Sosa will not be elected into the Hall of Fame. I've voted for Clemens for nine consecutive years. I've voted Bonds in eight of the nine years he has been on the ballot. 
I voted for Sosa last year, but I haven't voted for him as often.
Clemens has steadfastly denied using PEDs. He maintained his innocence all the way to federal court after he was accused of lying to federal investigators. Bonds was a prominent figure in the BALCO investigation.
As that trio and disgraced pitcher Curt Schilling make their final appearances on the BBWAA ballot, David Ortiz and A-Rod will make their firsts. Despite sitting fourth on baseball's all-time home run list with 696, Rodriguez's Hall of Fame case has a PED shadow.
A-Rod's chances seem slim, considering how Clemens, Bonds and Sosa have been judged. Unlike that trio, Rodriguez was actually suspended by Major League Baseball for his ties to PEDs. He was suspended for an entire season.
'Anonymous' test may hurt Ortiz's case
Big Papi became an iconic figure in Boston after failing an anonymous steroid test in 2003. Ortiz and Manny Ramirez were among the players who tested positive in 2003, according to a list leaked to the media. Ortiz hit 58 home runs over parts of six seasons with the Minnesota Twins before he landed in Boston in 2003.
His career took off that year, so some wonder if his rise was helped by PEDs. Ortiz hit a then career-high 31 home runs in 2003 and raised his home run totals each of the next three seasons. He ended his career with 541 home runs over a 20-year career.
Ortiz, however, never failed a PED test once MLB instituted mandatory testing.
Seven Latinos on Baseball Hall of Fame ballot  
The 2022 Hall of Fame ballot features only seven Latinos. Venezuelan Omar Vizquel's candidacy took a blow last year after he was accused of spousal abuse. Fellow Venezuelan Bobby Abreu, Curacao's Andruw Jones, Rodriguez and Dominican Republic natives Ortiz, Manny Ramírez, Sosa are the other Latinos on the ballot.
Mark Buehrle, Carl Crawford, Prince Fielder, Todd Helton, Ryan Howard, Tim Hudson, Torii Hunter, Jeff Kent, Tim Lincecum, Justin Morneau, Joe Nathan, Jonathan Papelbon, Jake Peavy, Andy Pettitte, A.J. Pierzynski, Scott Rolen, Jimmy Rollins, Gary Sheffield, Mark Teixeira, and Billy Wagner round out the ballot. 
Pettitte and Sheffield join Clemens, Bonds, Sosa, Rodriguez and Ortiz as players tied to PEDs. The first steroids era group on the ballot are on their ways out. The steroids questions continue, though.
Featured photo Tasos Katopodis/Getty Images.
Get the Our Esquina Email Newsletter
By submitting your email, you are agreeing to receive additional communications and exclusive content from Our Esquina. You can unsubscribe at any time.