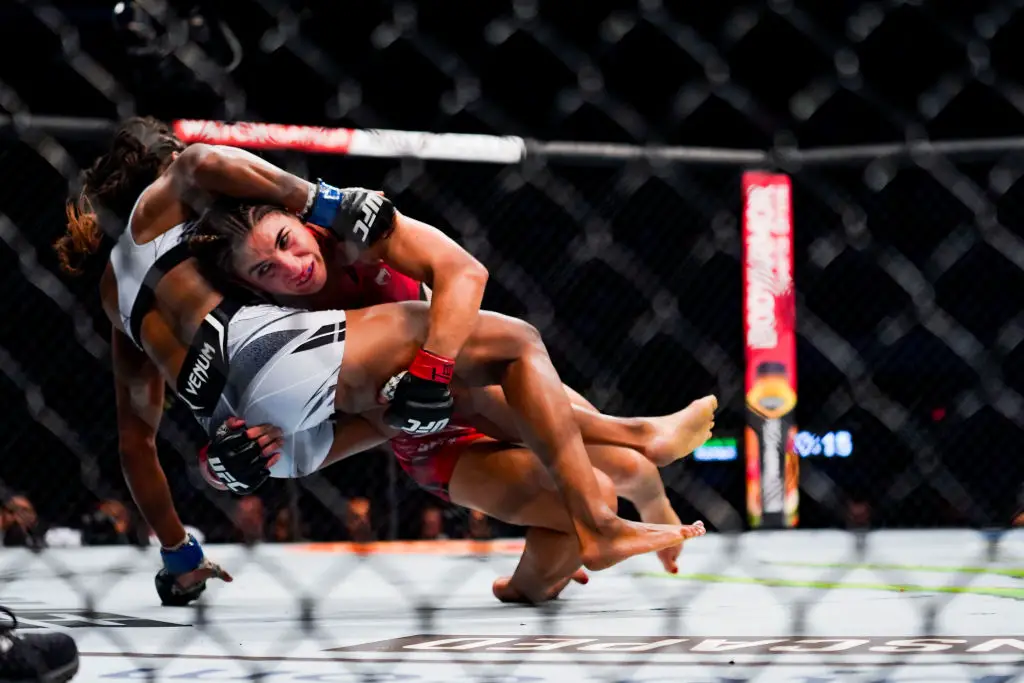 Tecia Torres Dedicates UFC Win to Grandma
Tecia Torres showcases "sangre Latina" at UFC 265
HOUSTON – The Tiny Tornado had just pummeled Angela Hill for three rounds when she triumphantly roared at Toyota Center. Tecia Torres gently pounded her right fist into her left palm multiple times as she told the sold out crowd about her grandmother's battle with cancer.
She wanted to pay tribute to her grandmother and everybody else fighting cancer. Those are the real champions, after all, she proclaims.
Torres was in training camp for the UFC265 fight against Hill when her mother or sister – she doesn't quite remember anymore – broke the news that her grandmother had Stage-2 cancer. 
She dedicated the victory over Hill to her grandmother Maureen Munroe and everybody battling cancer.
"I love you, grandma," Torres said. "This fight is for you."
Tecia Torres reps Puerto Rican roots
The crowd, which included baseball all-time great Roger Clemens, exploded into a crescendo after Torres dedicated her victory to cancer patients. Then the 31-year-old from Fall River, Mass., then wrapped a Puerto Rican flag over her shoulders and walked out of the octagon. 
Torres (13-5) learned of her grandmother's cancer battle almost by accident during her training camp for the UFC bout. 
Munroe didn't want to tell Torres about her cancer fight while her granddaughter prepared to fight Hill. The news got out, however.
The magnitude of Munroe's battle truly hit her, however, after her grandfather sent her a picture of Munroe. 
"One day my grandpa sent me a picture, and my grandma was losing her hair, and she was bald," Torres said while starting to tear up. "It just hurt me to see her like that. 
"I fight. I have fun doing this. I love fighting, but those are the real fighters, people fighting for their life every day."
As she fought back the tears, Torres displayed a vulnerability she had not shown during three brutal rounds against Hill. 
The Tiny Tornado was no longer in control. Her mind was back on her beloved grandmother's fight with cancer.
"Sorry," she said. "Tough question to ask me right now. I want to be happy."
Torres had plenty of reasons to be happy. She drew praise afterward from Ultimate Fighting Championship president Dana White.
Tiny Tornado keeps momentum
The Boricua's victory in the women's strawweight bout keeps her momentum going in the right direction in her quest for a title belt one day. 
She delivered in the second bout of the five that comprised the main card. France's Ciryl Gane destroyed Houston's Derrick Lewis in the main event to claim the Interim Heavyweight title with a third-round TKO.
There's plenty of work ahead, but Torres continued her momentum toward her dream of becoming UFC's first Puerto Rican champ.
She wanted to be happy afterward, and draping that Puerto Rican flag clearly brought joy to her.
"Being a Latina in this sport and being a Puerto Rican in this sport, there's not many of us," she said. "There hasn't been a champion yet in the UFC. I know we had Anthony Pettis in the WBC
"I really want to make a name for myself here. Yes, I'm American born, so I'm proud to be American as well, but my blood is sangre Latina. I'm proud to represent Puerto Ricans. It's just exciting. There's a whole country behind me. One day maybe if I become champion we can go to Puerto Rico. That would be awesome."
Get the Our Esquina Email Newsletter
By submitting your email, you are agreeing to receive additional communications and exclusive content from Our Esquina. You can unsubscribe at any time.