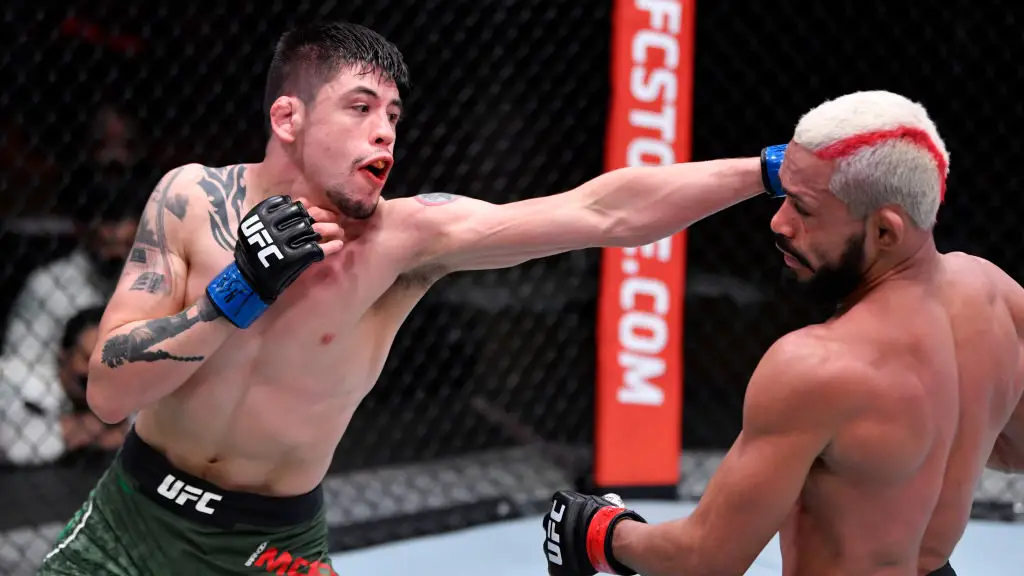 Brandon Moreno ready for shot at UFC history
Son of Tijuana piñata factory owner will try to become first Mexico native to win a UFC title.
Brandon Moreno has spent the last decade preparing for this moment, this opportunity to make UFC history. It's a flyweight title bout he hardly dared to imagine when UFC dropped him three years ago. 
It's also a fight many thought the native of Tijuana, Mexico, nearly won in December. The son of humble piñata makers is ready for the fight of his life.
Now the "Bebé Asesino" will try to put his name in the MMA history books during the UFC 263 co-main event Saturday night in Glendale, Arizona, against Brazilian flyweight champion Deiveson Figueiredo. 
Moreno's roots are humble, storybook even. Brandon developed his work ethic helping his parents, Alfredo Moreno and Cecilia Carillo, at their piñata shop in Tijuana. Admittedly, it wasn't his strong suit. 
Moreover, as the youngest of three children, he came along at a time when his parents were much better off. Brandon's older sister and older brother were the ones around as their parents struggled economically while building their piñata business, which now distributes piñatas to stores throughout San Diego and Los Angeles. 
Brandon Moreno's roots in piñata factory
Lessons he learned at the modest piñata factory are buried deep into his psyche. It's part of the work ethic that has pushed Moreno, 27, into the octagon for a decade. It drives him to work out religiously and absorb punishment most fighters would rather avoid.
"I grew up seeing them work hard," says Moreno, who is 10 years younger than his older sibling. "In certain ways that transferred to my way of being. When I grew up our economic outlook was very good.
"My older siblings, they did struggle with my parents because their economic situation wasn't as good. I saw it and appreciated it. It's something that I take into consideration in my life."
From a modest piñata shop on the Mexican border to the bright lights of UFC, the son of Tijuana hopes to become the first native of Mexico to win a UFC championship belt.
The 5-foot-7, 125-pound Moreno (18-5-2) is ready for his rematch against Figueiredo (20-1-1).
Moreno almost handed Figueiredo the second defeat of his career in December in UFC 256. He settled for a majority draw (48-46, 47-47, 47-47), but that was hardly a consolation on a night the Brazilian retained his championship belt.
Moreno began his career in Tijuana when he was 17. He made his UFC debut in October 2016. He succeeded enough to develop a comfortable lifestyle for his young family in Mexico. That all changed after he lost consecutive fights, prompting UFC to drop him in May 2018. 
Brandon Moreno's detour
He salvaged his career by working his way back through minor circuits. He didn't fight in UFC again until June 2019. 
"It was a difficult time in my life because I was already set in certain ways in one style of life that I had," he said. "Simply then they cut you from UFC and you have to return. Obviously you don't have to start all over.
"You have a certain name that helps you to do some things, but it was difficult. It was difficult but I have people who helped me. I didn't quit, and I returned."
Brandon Moreno has steadily climbed toward a title fight since returning to UFC. He has also moved from Tijuana and settled in Las Vegas with his wife and their three young daughters, ages 7, 2 and nine months.
Young assassin
The so-called Assassin Baby – "El Bebé Asesino" – redeemed himself fighting in Mexico after he was temporarily dropped by UFC. On one of those trips to Chihuahua, he met the men who composed a "corrido" in his honor.
Corridos are narrative ballads in Mexico. They're part of the regional music genre.
In the "El Bebé Asesino" corrido, the Corridos Para Peleadores group from Ojinaga, Chihuahua, tells Moreno's life story. The ballad starts with his roots in Tijuana and focuses on the inspiration he derives from his young family.
"Piñatas were part of my infancy," Moreno's corrido declares in Spanish. "My Tijuana, I always have you in my soul. And my daughters, they are my great treasure, the motive for my effort, and now they're everything.
"To my parents, I appreciate my life. They are my example and they are my great family. And my wife who always believed in me, her support is respected. With you I opened a path in very big places, places you dream about."
Brandon Moreno will enter the octagon Saturday to the tune of El Bebé Asesino's corrido. 
The lyrics might need to be changed if he can exit the octagon with the UFC flyweight title belt. First, however, Moreno will focus on becoming the first native of Mexico to win a UFC title belt.
Get the Our Esquina Email Newsletter
By submitting your email, you are agreeing to receive additional communications and exclusive content from Our Esquina. You can unsubscribe at any time.