Cardinals great Yadier Molina adds another major milestone
Future Hall of Famer Yadier Molina catches his 2,000th game in the majors
Usually Yadier Molina is the one who stalls to let the Busch Stadium crowd show appreciation for beloved players. The legendary Cardinals catcher did it a two years ago when Albert Pujols returned to St. Louis, and he did it again this season when Kolten Wong faced his old teammates for the first time.
On Wednesday afternoon against the Washington Nationals, Molina deserved an ovation after reaching another monumental milestone. So Adam Wainwright stalled in the first inning against the Washington Nationals and pumped up the crowd to honor his longtime batterymate.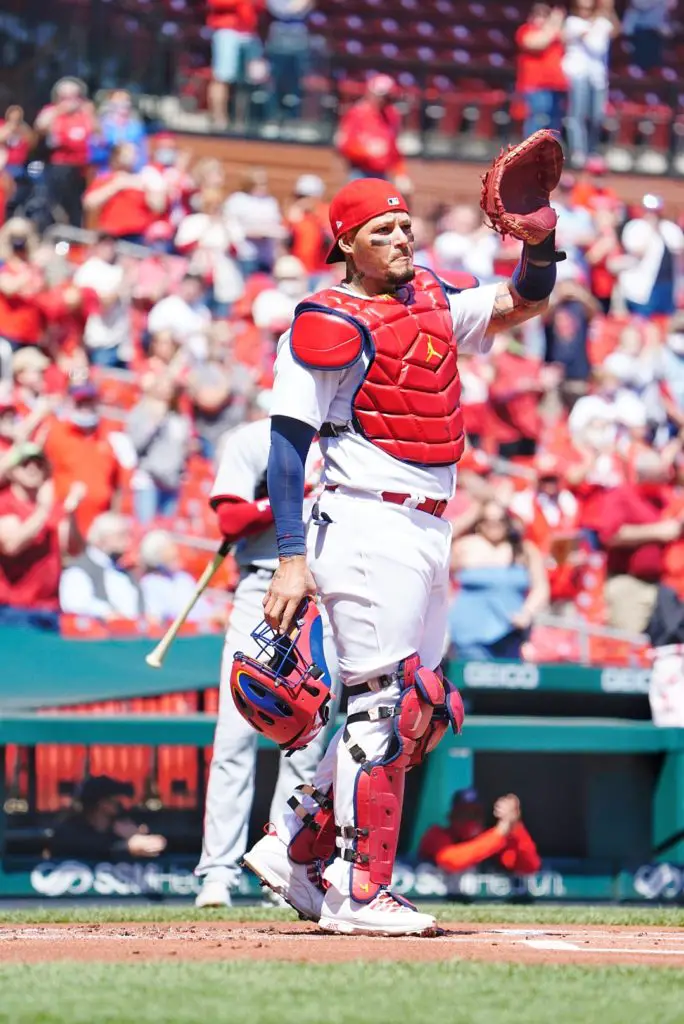 The Busch Stadium crowd took care of the rest. They showered Molina with an ovation as he became the first catcher in major league history to catch 2,000 games with the same team.
"I would have liked to have seen him take a Cal Ripken lap around the field," Wainwright said in a Zoom conference call afterward. "I'm glad he's my catcher. I'm glad I've played with him so long. And he's getting better. He's just getting better, so It's just really cool to see. He's just a special player."
Molina added another line to his Hall of Fame resume, another number to a list full of impressive stats. He became the sixth player in history to catch 2,000 games and the first to accomplish that feat with the same team.
"To be honest it's just another number," Molina said in the postgame Zoom conference with local media. "I just want to be there and play the game for our team and for our city and try to win it. I never think to go out there to make my numbers.
"I always think about the team first. Like I said, I wish this day ended up with a different result. If we would have won this game it would have been a lot more special for me."
Long list of achievements
For those of you who counting at home, here's a list of Molina's accomplishments: He's earned nine Gold Gloves, nine All-Star berths, four Platinum Gloves and one Silver Slugger Awards. More impressively, perhaps, he also won the 2019 Roberto Clemente Award for his humanitarian work in his beloved Puerto Rico and St. Louis.
And don't forget his two World Series championship rings.
Some debate whether Ivan "Pudge" Rodriguez or Molina is the greatest catcher to come out of Puerto Rico. This much is certain, however, when Molina finally decides to retire he won't wait long to join Rodriguez and the rest of the immortals in the National Baseball Hall of Fame.
He'll join fellow Boricuas Roberto Clemente, Roberto Alomar, Edgar Martinez and Rodriguez in Cooperstown, N.Y., five years after he retires.
"Anytime you hear the only one in MLB history to do anything that's pretty cool. … Catching 2,000 games is just kind of ridiculous anyways," Wainwright said. "And then with the same team here in St. Louis the whole time, he's just a really special player in a really special place."
Fittingly, Molina caught his 2,000 game on a day veteran righthander Wainwright. Those two have defined St. Louis baseball over the last decade, on and off the field, and been a major part of the team's success since the 2006 championship team.
Pumping the crowd up, making Molina laugh.
On special occasions in the past, Molina has stood up from his crouch and stepped in front of the plate to let the Busch Stadium faithful shower batters with ovations.
Wainwright took over those duties from the mound Wednesday. Molina appreciated the gesture and noted that his friend was trying to get him a laugh.
"I'm happy for both of us to be in this situation and be part of this day," Molina said. "And hopefully everybody remembers that."
Yadier Molina in Hall of Fame company
He is ahead of a pair of men already enshrined in Cooperstown in terms of the most games caught for any franchise and the most games caught in a career for only one team.
Gabby Hartnett, who played for the Chicago Cubs from 1922 to 1940, is second behind Molina in career games caught for any franchise with 1,754 on the Northside of Chicago. Hall of Famer Johnny Bench of the Cincinnati Reds caught 1,743 for the Big Red Machine.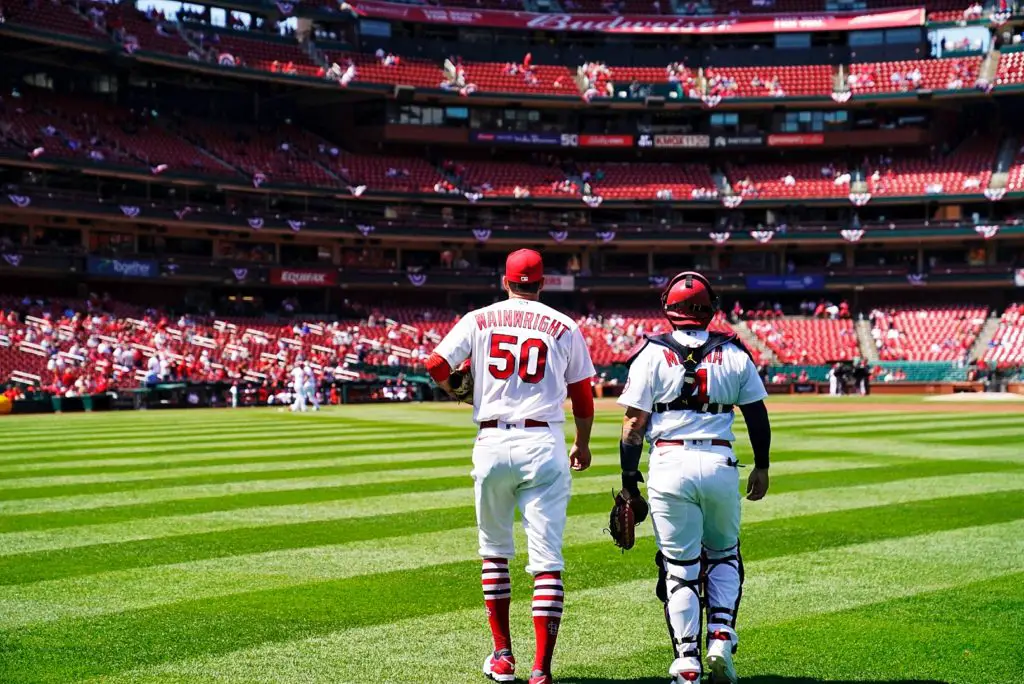 Until he was surpassed by Molina, Bench had the record for the most games caught in a career with one organization.
Molina's road to 2,000 began on June 3, 2004, before an intimate crowd of 15,386 at Pittsburgh's PNC Park. He was 2-for-4 with a run scored. He also helped starter Woody Williams earn the 4-2 victory over the Pirates.
When the plate umpire told him Wednesday afternoon that 2,000 was a lot of games, Molina agreed.
"It happened fast," Molina said. "I remember my first game in Pittsburgh. Right now I'm catching the 2,000th game. It happened fast, but I feel really good. I feel really good."
Photos courtesy of Taka Yanagimoto/St. Louis Cardinals
Get the Our Esquina Email Newsletter
By submitting your email, you are agreeing to receive additional communications and exclusive content from Our Esquina. You can unsubscribe at any time.