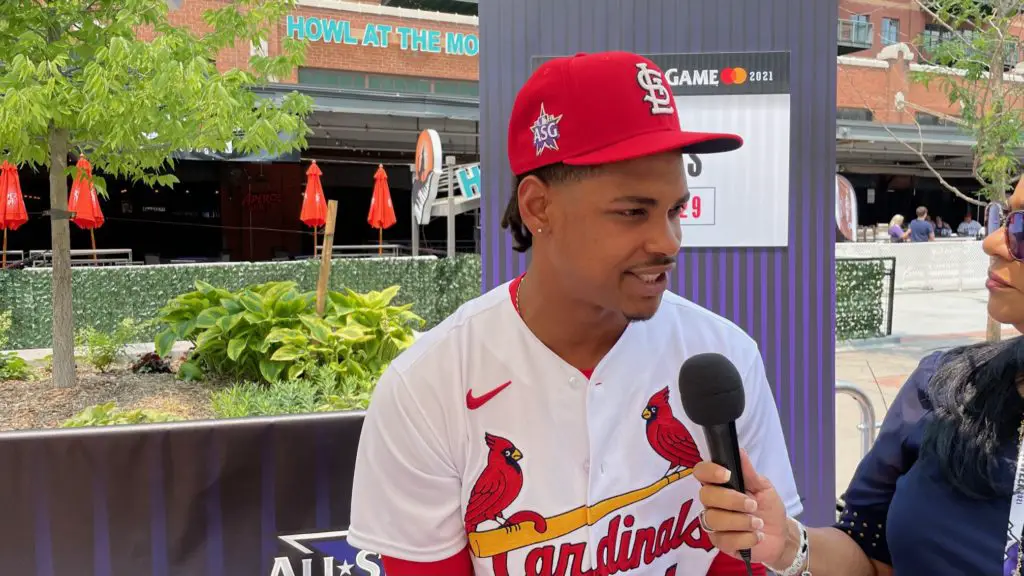 Cardinals closer Alex Reyes savors All-Star experience with family
Alex Reyes' faith pays off
DENVER – Alex Reyes took time to appreciate the journey to Coors Field before joining the rest of the All-Stars on Tuesday. The Cardinals' hard-throwing closer was grateful to share the Midsummer Classic with the folks who put him on the path to stardom.
Thinking back to his days growing up under humble circumstances in Elizabeth, N.J., Reyes vowed to enjoy every moment of the All-Star Game.
None of the All-Stars make it on their own. They all have some help along the way. Reyes is no different, which is why he thought back to all the sacrifices his parents Tomas and Dignora Reyes made for him and his older brothers.
"He sacrificed a lot," Alex Reyes said of his father. "My parents sacrificed a lot to get me the opportunity to be able to grow up as a kid. We didn't grow up in the best way. They did everything they could. For those moments, I definitely appreciate them. Those moments definitely shaped me to be the guy that I am today."
Reyes, the son of immigrants from the Dominican Republic, picked his career path before he even enrolled in kindergarten at George Washington School No. 1. He dared to dream of the majors as a four-year-old. That's when he told his father would play in the big leagues one day.
Alex Reyes made his All-Star Game debut in the eighth inning when he relieved Mark Melancon with one out in the bottom of the eighth. He allowed a broken-bat single to center. Then he induced a weak fielder's choice grounder to first before striking out Mike Zunino to end the inning.
Reyes pounded his glove and then pointed skyward as he walked off the mound.
"That's me putting God first," he said of his gesture. "That's something I've always done. I do it after every outing when I come off the mound. He's helped me so much, and I believe a lot in God."
Tomas Reyes nurtured those aspirations. He told Alex that he could be a big leaguer if he worked hard to accomplish that goal. They were all captivated by Sammy Sosa and the 1998 home run chase between Sosa and Mark McGwire.
Fulton St. overpass bombers
As Alex Reyes grew up, he would practice his home run swing with his older brothers Tomas Jr. and Adriel. When they weren't at home, the boys could be found across the street from their home playing baseball under the Fulton St. overpass.
There wasn't much discretionary income for the family even though Tomas Sr. often worked two shifts as a security guard for the Elizabeth Board of Education. Nonetheless, they always found enough money watch Sosa and the Cubs when they visited old Shea Stadium.
Now, Alex Reyes is the player families go watch at Busch Stadium. He's the All-Star, the former No. 1 overall prospect who persevered and overcame numerous injuries that stalled his march to prominence. Now he's an All-Star closer and one of the best relievers in baseball.
Reyes missed all of 2017 recovering from Tommy John surgery. Then he was limited to only one outing in the majors in 2018 because of a lat injury. He was limited to only three innings and four games in 2019 with the Cardinals, but he kept the faith, just as his parents taught him.
Alex Reyes credits strong faith
"I believed in myself from Day 1," he said. "I never had a doubt that I could bounce back. There's been a lot of bumps throughout the road, but there's always a different route for everybody. 
"Not every route is going to be perfect. Believe in yourself. Believe in the people who are trying to help you. And believe in God. God has played a huge role in my life as well."
Reyes invited his parents and siblings to be with him and his children in Denver for the All-Star festivities this week. 
The kid from Elizabeth, N.J., was among the greats, just as his father told him he would be. More importantly, they were all there together.
They all sacrificed to help Alex Reyes along the journey, so it was fitting to share it together. 
"It's been fun," he said. "I can't really describe the way we feel as me, my parents, everybody. It's a great moment for us. We're just here enjoying it. Staying together as a family has been fun."
Get the Our Esquina Email Newsletter
By submitting your email, you are agreeing to receive additional communications and exclusive content from Our Esquina. You can unsubscribe at any time.