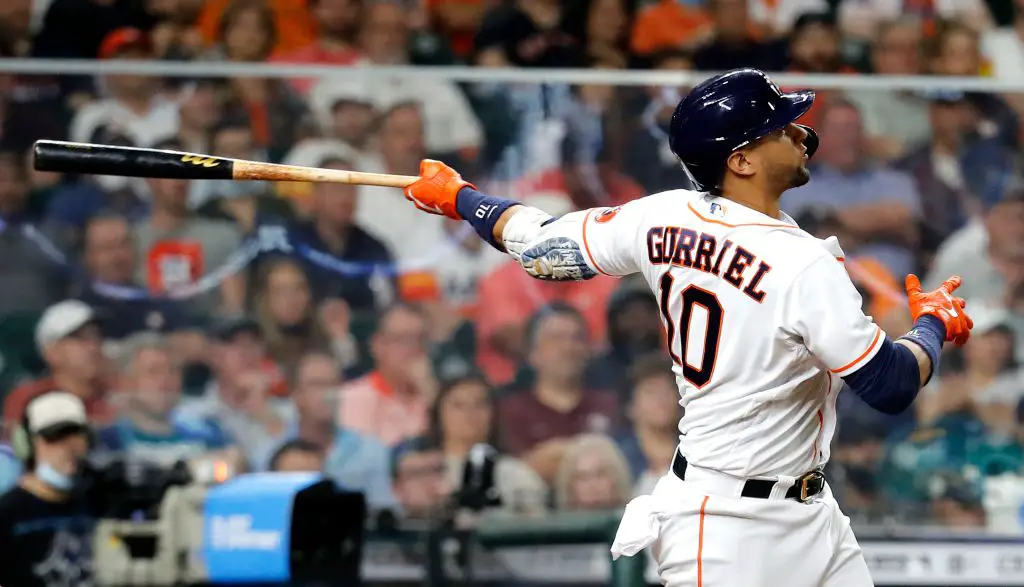 Confident Yuli Gurriel continues tear for Astros
Yuli Gurriel adds another home run for Astros
There were times last season when Yuli Gurriel's hunger got the best of him. The Houston Astros first baseman was so eager to succeed, he often expanded his strike zone to his detriment. 
The more he expanded the strike zone, the worse it got for the Cuban veteran. Gurriel's tendency to expand the zone was admittedly worse with runners in scoring position. He struggled for the worst season of his career. Then floundered in the postseason and knew he needed to make some changes.
Gurriel focused on getting in better shape this winter, and the results are paying off. He's feeling as confident as he's ever been since defecting Cuba and reaching the majors in 2016. 
"Truly, I have great confidence right now," Gurriel said after hitting a 3-run homer Tuesday against the Angels. "I have taken advantage of that and have to have a good start this season, and I have to keep taking advantage of that."
Yuli Gurriel appears like a bargain
Many wondered if the Astros were doing the right thing when they gave Gurriel a $6.5 million, one-year extension for 2021 last September. It's early, but so far Gurriel is one of the best bargains in baseball this season. 
He has been especially good at home. Gurriel is hitting .406 with four home runs and 18 RBIs at Minute Maid Park. His 28 RBIs are tied for the fifth most in the American League so far. 
Gurriel leads the Astros or is tied for the team lead in OPS (.970), on-base percentage (.412), RBIs and walks. He is also second or tied for second on the team in home runs (6), doubles (11), and batting average (.333).
"Boy, it's fun to watch him hit," manager Dusty Baker said last Friday after Gurriel went 4-for-4 against his brother's Blue Jays. "He might hit the ball anywhere, you know what I mean? That's how you hit. It's a pleasure and a joy to watch him."
Cuban slugger bounces back from career-lows
Gurriel wasn't hitting the ball much last season, though. He had career-lows in batting average .232, slugging .384, on-base .274 and OPS .658 in 2020.
In 35 games so far this year, he already surpassed or tied some of the numbers he put up last year over 57 games in the abbreviated season. His six home runs equal his output from last season. He also has helped carry the load while star shortstop Carlos Correa has scuffled lately.
Heading into his 37th birthday on June 9, the Cuban legend is being rewarded for trimming down last season. He arrived to West Palm Beach, Fla., 16 pounds lighter
"I feel really good," he said. "As I've said before, I had perfect preparation. Truly, I feel very good right now."
Get the Our Esquina Email Newsletter
By submitting your email, you are agreeing to receive additional communications and exclusive content from Our Esquina. You can unsubscribe at any time.