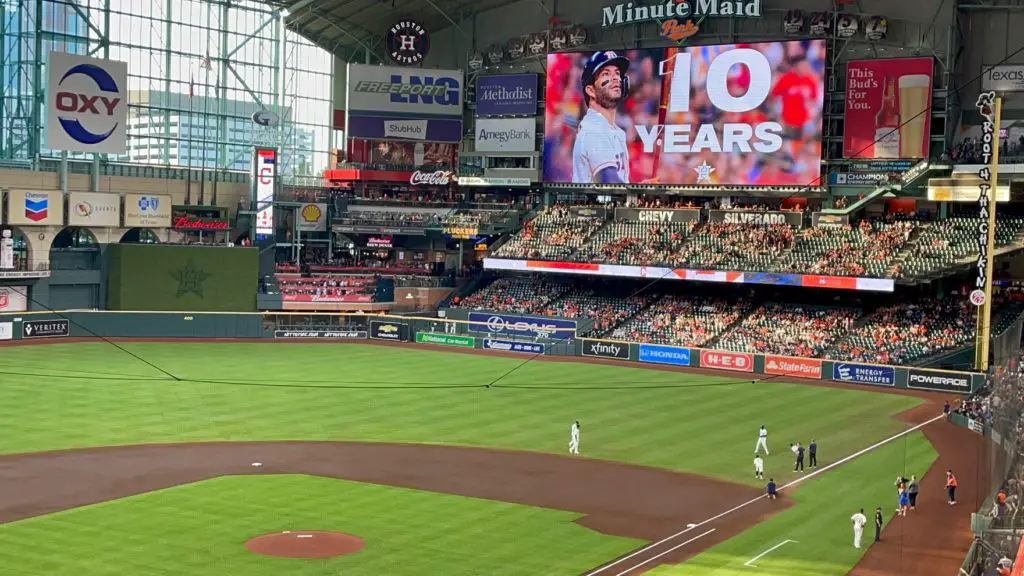 Astros Great Jose Altuve Has Blast on 10th MLB Anniversary
Jose Altuve does it for those who believe in him
Jose Altuve began the 10th anniversary of his major league debut with a hilarious confession. He also gave important insight into the mindset that has helped him ignore the naysayers since he was first turned back from the Astros' Venezuelan baseball academy as a kid.
Altuve then showcased the pop that made him the 2017 American League MVP and one of the greatest players in Astros history.
The seven-time All-Star led off Tuesday night with a home run to left against the Cleveland Indians. Two innings later, he led off the third with a homer off the left field Chick fil-A "fowl" pole.
"Very special day," Altuve said after collecting his 21st and 22nd homers of the season. "Obviously 10 years, getting the victory today, hitting homers, like I said earlier, another dream come true. I feel very thankful and happy."
Altuve now has 1,703 hits and 155 home runs in his career. The leadoff homer was his seventh of the season. His two-home run outing also accounted for the sixth multi-home run game of his career.
Doesn't seem like 10 years
"For me it doesn't seem like 10 years," Altuve said. "Time goes quick. Time flies. You have to enjoy every day. … I feel very happy. Obviously when I got called up I wasn't a big prospect. … Now I have 10 years in probably the best sport around, which is baseball."
Altuve has steadily become one of the greatest players in Astros history. Hall of Famers Craig Biggio and Jeff Bagwell and club icon Jose Cruz are the only three Astros with more hits than Altuve. 
He has won three batting titles and been named the 2019 ALCS MVP and 2017 AL MVP.
Altuve has been proving the naysayers wrong since before he signed out of Venezuela at 16 years old. There were plenty of questions about his height, but the 5-foot-6 giant has just kept hitting.
As he noted Tuesday before the second game of the three-game series against, he's not the only player who has dealt with skeptics. Every big leaguer has people who believe in them and people who don't, he notes.
Jose Altuve ignored naysayers
"I'm not the only one," he said. "I like to prove people right and not wrong. I did it for the people that actually believed in me."
There have been many more supporters than detractors over time.
"I think I have a lot of people that support me, coaches, teammates, like I said, family members," he said. "They always believed in me. They always kept encouraging me and thank God that they were there for me."
Altuve has come a long way since he nervously dreaded going to the plate on July 19, 2011, a few hours after he was called up straight from Class AA Corpus Christi. 
He never got into the game that night against the Nationals, but he remembers the dread even if he forgot some of the folks involved.
Altuve was so nervous about having to drop a sacrifice bunt, he actually hoped Humberto Quintero would strike out. 
Jose Altuve remembers early jitters
As Quintero went to the plate to lead off the bottom of the eighth against the Nationals, then-manager Brad Mills told Altuve he would hit for pitcher Wilton Lopez and execute a sacrifice bunt if Quintero got on.
Altuve was 21 and fresh from Corpus Christi without ever playing at Class AAA. He couldn't remember the last time he had been asked to bunt in the minors. 
Ten years later, he thought he was asked to hit for former Astros lefthander Wandy Rodriguez that day instead of Lopez. He also thought Quintero struck out, but the former Astros catcher actually grounded out. 
Whatever the case, Mills didn't call on Altuve. He used outfielder Jason Michaels to hit for Lopez after Quintero's weak groundout to short.
"That's probably the only time I was hoping one of my teammates would strike out," Altuve said. "Yes, I didn't want to go up there and bunt."
Altuve can be forgiven if he has forgotten some moments during his impressive 10-year career. He has made plenty of bigger memories along the way. The man who led the Astros to their only World Series title and a pair of American League pennants says his favorite moment was his first big league hit. 
First hit stands out
"If I have to say one," Altuve said, "I'd have to say the first hit. That's something you never forget."
Altuve made his debut in his second day in the majors. He started at second base and batted second when the Astros were still in the National League and owned by Drayton McLane. He was 0-for-4 until he lined a single to right-center field in the bottom of the ninth against Nationals reliever Tyler Clippard. 
Ten years later, Altuve hit a pair of homers for the 1,702nd and 1,703rd hits of his career.
By his fourth plate appearance, the fans were up on their feet anticipating another home run. He drew a walk, refusing to swing at what was not there.
"That was truly a way to celebrate your 10th year in the big leagues," Astros manager Dusty Baker said. "I think the fans appreciate him, and he appreciates the fans. This is his town."
Altuve's not done either.
"Just like Jose, it's probably a big milestone for him," Baker said of the 10-year anniversary in the majors. "But he's looking for some more."
Get the Our Esquina Email Newsletter
By submitting your email, you are agreeing to receive additional communications and exclusive content from Our Esquina. You can unsubscribe at any time.