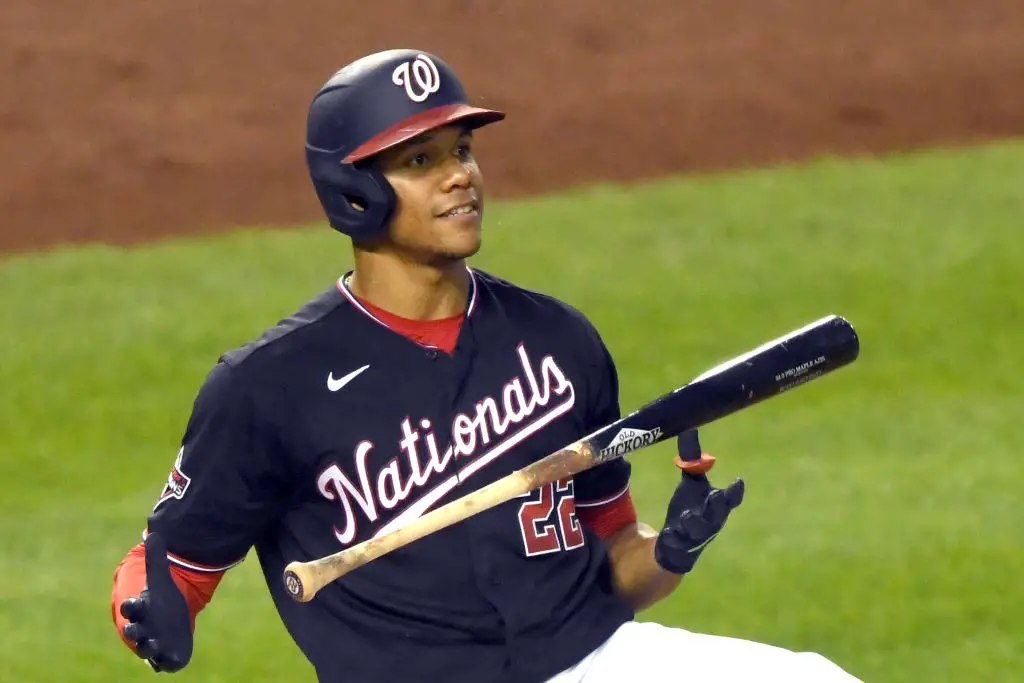 MLB Players: Juan Soto highlights NL MVP Candidates
Juan Soto might already be the best hitter in baseball, and now he'll chase an NL MVP Award.
Entering the 2021 regular season, Juan Soto of the Washington Nationals isn't the only Latino primed to contend for the NL MVP Award. There is no shortage of phenomenal Latino ballplayers in the league.
This is, perhaps, the most exciting period of time in recent memory from a pure talent perspective. 
Over the past several days, Our Esquina has unveiled its picks for Latino Rookie of the Year, bounce-back players, breakout candidates and Cy Young. Just two days remain between now and Opening Day on April 1, and we're going to close out on a bang with the National League and American League Most Valuable Player Awards, respectively.
Not to mention that these players are not only showing out in the batter's box and in the field, but they are becoming the faces of MLB entirely. 
For the purposes of today and tomorrow's preview, we'll highlight five candidates from each league. Four of those candidates will be players who could feasibly win the MVP. The our final candidate is a dark horse, an under-the-radar player, who will undeniably make an impact on his team, potentially earning year-end MVP votes.
Let's dig in.
Juan Soto — LF, Washington Nationals
Mike Trout may be the best all around player in the Majors, but Juan Soto certainly has a claim to the title of best pure hitter in baseball.
Soto already possesses a bat that resembles another legendary Latino hitter — Ted Williams. The scary part is, he's just getting started. 
Since exploding onto the scene in 2018 as a 19-year-old (19!), Soto has been nothing short of phenomenal. He finished as a runner-up in that year's NL Rookie of the Year Award vote and has earned MVP award votes in each of the two seasons since. 
His legendary performance in the 2019 postseason propelled the Nationals to their first World Series appearance and win in franchise history. 
Last season, Soto was good for a .351/.490/.695 slash line with 13 homers and 37 RBIs in 47 of a possible 60 games played. He took home the NL batting title, a fifth-place MVP finish and his first of what will, hopefully, be many Silver Slugger awards.
Soto will be entering his age-22 season. The sky is, literally, the limit for him. He enters the season as a heavy MVP favorite and there's no reason to believe that won't be the case by season's end. 
Ronald Acuña Jr. — RF, Atlanta Braves 
Acuña can literally do it all. Need a homer, you got it. An excellent diving grab in the outfield. Done deal. A stolen base. Not an issue. 
The 2018 NL Rookie of the Year has been nothing short of excellent since debuting at 20 years old. He's received MVP votes in all three of his seasons, two Silver Slugger awards and one All-Star Game nomination in 2019 (There wasn't an All-Star game in '20).
Acuña cranked 14 homers in the pandemic shortened season and drove in 29 runs. In other words, Acuña did what he does best: mash. 
In a full 162-game stretch, Acuña is going to continue to do just that. But don't discount his defense either. He was good for 4 Defensive Runs Saved and converted all his putout opportunities for a 1.000 fielding percentage.
The one worrying aspect about Acuña is his K rate. He struck out 29.7% of the time in 2020, which was a big jump from his 26.3% rate in '19. '19 was also a full 162-game season, too. 
One thing to expect from Acuña this season, however, is a serious run at joining the 40-40 club. 
He was super close in '19, just missing the mark by three stolen bags, but he was shut down before the season ended and the postseason began.
If he were to hit both marks in 2021, he would be just the fifth player in history to do so. 
You can also bet on more MVP votes, however, whether he'll win the award outright becomes a bit complicated when you consider the fact that he shares a roster with reigning NL MVP Freddie Freeman, which in some ways cannibalizes his vote potential. 
Fernando Tatís Jr. — SS, San Diego Padres
Fernando Tatís Jr. has been just about everywhere recently. He's in television commercials, on magazine covers, and will soon be on a national video game cover. 
And in case you missed it, he was also signed to a 14-year $340 million contract extension that will keep him a Padre for life. 
As one can imagine, the expectations are riding high on Tatís entering the '21 season. 
Last season, he finished fourth in MVP votes and took home a Silver Slugger, too. Had he not tapered off after his torrid July and August, it's likely that he would have won his first MVP Award. 
There's no denying that Tatís is exciting. He exudes a level of confidence that few other superstars in today's game possess. He can swing the wood with the best of them. Alongside Manny Machado at third, they combine for one of the best defenses on the left-hand side of the infield. 
The biggest question mark when it comes to Tatís is all this is sustainable over a full 162-game stretch. 
To date, Tatís has played in only 143 games across two seasons in the Majors. This year will be a big test as to whether the Padres' major financial vote of confidence was worth it. 
That's not to say if Tatís doesn't immediately show out, it was all for naught. No. But a full season with similar if not better offensive and defensive stats will certainly show the world that Tatís is indeed the new face of baseball. 
Nolan Arenado — 3B, St. Louis Cardinals.
For several years now, Nolan Arenado has been good. Actually, let's take that back. Nolan Arenado has been really good. Darn right excellent.
In five seasons between 2015-19, Arenado consecutively finished in the Top 10 of NL MVP voting, was an All-Star Game nominee in each season, a Gold Glove recipient in each and a Silver Slugger in four of the seasons.
As we mentioned in our "Comeback Candidates" preview, Arenado's '20 was less than stellar. 
Sure, he took home another Gold Glove award, but offensively speaking it was a far cry from what we're typically used to seeing from the California native.
Chalk it up to his left shoulder injury. Hitters like Arenado don't magically forget to produce at the plate from one season to the next.
With health and happiness on his side entering 2021, Arenado is certainly someone who could challenge for the NL MVP.
Javier Báez — SS, Chicago Cubs
It's easy to forget, but just three seasons ago Javier Baéz finished second in NL MVP voting. 
He was a league leader in RBIs, slashed .290/.326/.554 and hit a career-high 34 home runs. 
In the time since, Baéz hasn't nearly been the same player. Of course, he earned another All-Star Game nod and last season another Gold Glove. And there's no denying his creative defensive plays remain a constant treat. 
But in '20, Baéz hit just .203 in 59 games and struck out 75 times. He surely didn't look like the player who was on the cusp of greatness just a few seasons prior. 
This is shaping up to be a big year for Baéz. By season's end he will be one of potentially five All-Star caliber shortstops entering free agency alongside Francisco Lindor, Trevor Story, Carlos Correa and Corey Seager. 
If he wants to cash in with Chicago or elsewhere, he'll need to put up a big season. 
We have every reason to believe that will be the case.
Featured photo by Mitchell Layton/Getty Images
Get the Our Esquina Email Newsletter
By submitting your email, you are agreeing to receive additional communications and exclusive content from Our Esquina. You can unsubscribe at any time.