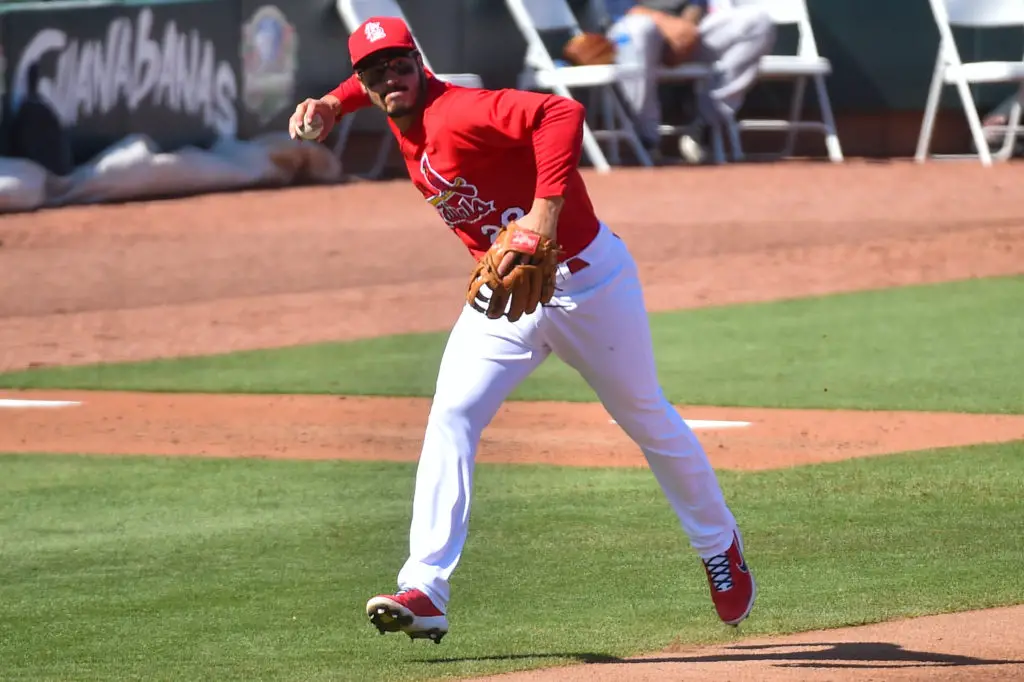 MLB Players: Better know your pelotero, Part 2, Comeback Kids
Nolan Arenado highlights this list of MLB players ready for a comeback.
Time has jumped forward an hour, the weather is heating up and peloteros are going plákata again. In a week, Opening Day will arrive and a new season will begin for your favorite MLB players.
Every season has its must-watch rookies, comeback kids, breakout stars and MVP performers. In this three-part series of Qué Onda, we're going to tell you all about the peloteros you need to follow. This is Part 2 of our "Better know your pelotero" series, with Part 3 releasing on Monday in advance of Opening Day. Part 1 focused on we have to start with the niños, the rookies.
Before we can discuss the Latino aces and Most Valuable Peloteros of the league, we'll highlight the comeback candidates and breakout ballers. 
The truncated '20 season didn't exactly have MLB players at their best after a long layoff prior to Opening Day. 
There's no doubt that in a full 162-game season on the heels of a full Spring Training camp, lots of players will return back to their normal selves, and, perhaps, take that next step forward in their Major League careers.
Gleyber Torres — SS, New York Yankees
The Yankees made as big of a vote of confidence a team can make when they let fan favorite and Derek Jeter replacement Didi Gregorious walk after several productive seasons in the Bronx.
In turn, they placed all their future hope on the shoulders of Gleyber Torres, the highly touted prospect obtained in the Aroldis Chapman Trade Deadline deal in '16 and Rookie of the Year vote-getter in '18. 
Torres didn't exactly do enough in '20 to back that vote, hitting just .243 with only three homers. More troublesome with his nine errors at shortstop. 
Come October, Torres showed out and hit .453 with two homers and five RBIs. 
As Torres put it, "the past is the past," and there's every reason to believe that will be the case this season.
Nolan Arenado — 3B, St. Louis Cardinals
After several seasons filled with Silver Sluggers, MVP votes, All-Star Game nominations, Gold and Platinum gloves, Nolan Arenado didn't magically forget how to hit in '20. 
No.
It's likely that the injury to his left shoulder, which prematurely ended his season affected him greatly, putting his bat in the rearview mirror.
Healthier and sporting some new duds by way of trade, Arenado figures to return back to the ways that made him one of the premier MLB players.
Frankie Montas — RHP, Oakland Athletics 
Frankie Montas was on the rise in '19 when he posted a 2.63 ERA in 16 starts, but a 80-game suspension under MLB's Joint Drug Prevention and Treatment Program doused the flames building around him. 
Returning from his suspension in '20, Montas didn't exactly go back to his hard-throwing ways. Instead, he was tagged with a 5.60 ERA in 11 games, allowing 35 runs, 33 earned in just 53 innings pitched. 
He could easily return to form in '21, and the A's will be better for it. With the AL West as wide open as it is, Montas will play an important role in securing another playoff berth for Oakland. 
Héctor Neris — RHP, Philadelphia Phillies 
The Phillies missing the playoffs in '20 can largely be attributed to their bullpen woes, chief among them Héctor Neris. 
In '19, Neris absolutely showed out, posting a 2.93 ERA in 68 games with 28 saves. But in '20, Neris followed that up with a 4.57 ERA in 24 games, a major step backward.
With the Phillies desperate to make a return to the postseason and free agency looming, a lot of hope is falling on Neris, but should '20 be an aberration then the Phillies could be that much closer to the postseason and a big payday could be on the horizon.
Get the Our Esquina Email Newsletter
By submitting your email, you are agreeing to receive additional communications and exclusive content from Our Esquina. You can unsubscribe at any time.