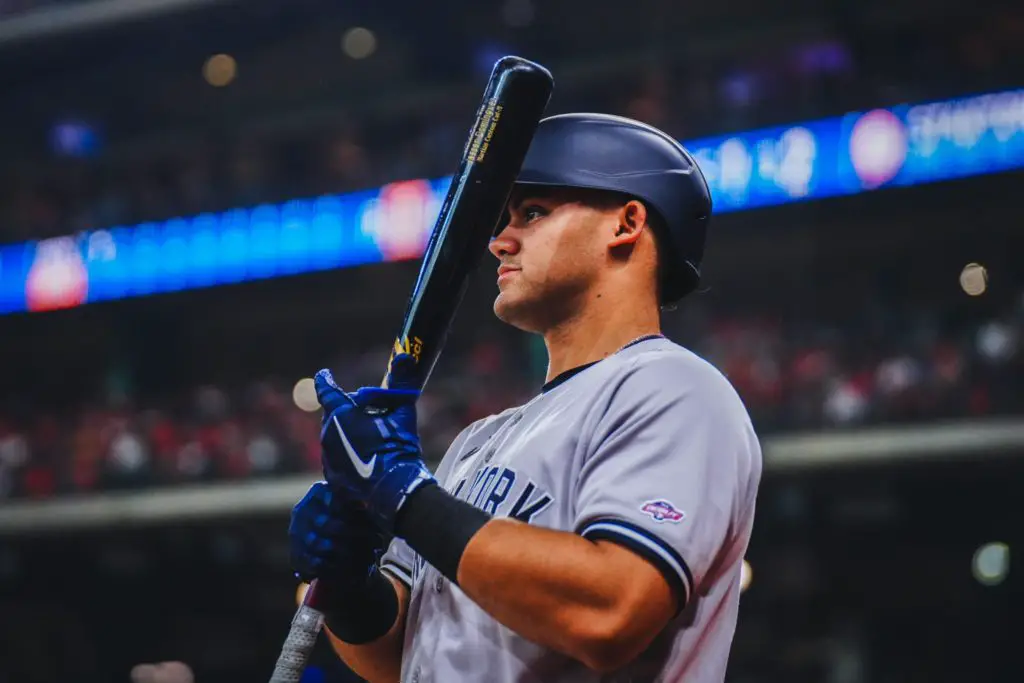 Yankees phenom Jasson Dominguez proves he belongs
Jasson Dominguez becomes youngest Yankee to homer in his first at-bat
HOUSTON – As her son Jasson Dominguez strolled to the plate for the first time in the major leagues Friday night, Dorka Gonzalez anxiously bit her lip. She leaned a bit forward in her seat at Minute Maid Park, interlocked her fingers and nervously rested her hands atop her purse.  
The Yankees' 20-year-old phenom's dad Felix Eugenio lifted his smartphone to record the moment he had planned for since he found out Gonzalez was pregnant with Jasson. 
"I imagined this since the first day he entered his mother's womb," Felix Eugenio said before Jasson Dominguez hit a two-run homer in his first big league at-bat to lead the Yankees to a 6-2 victory over the Astros.
Dominguez's debut was better than anybody could have predicted. It was a storybook one for the Yankees' new center fielder. What transpired would have seemed too much to expect, yet it wasn't.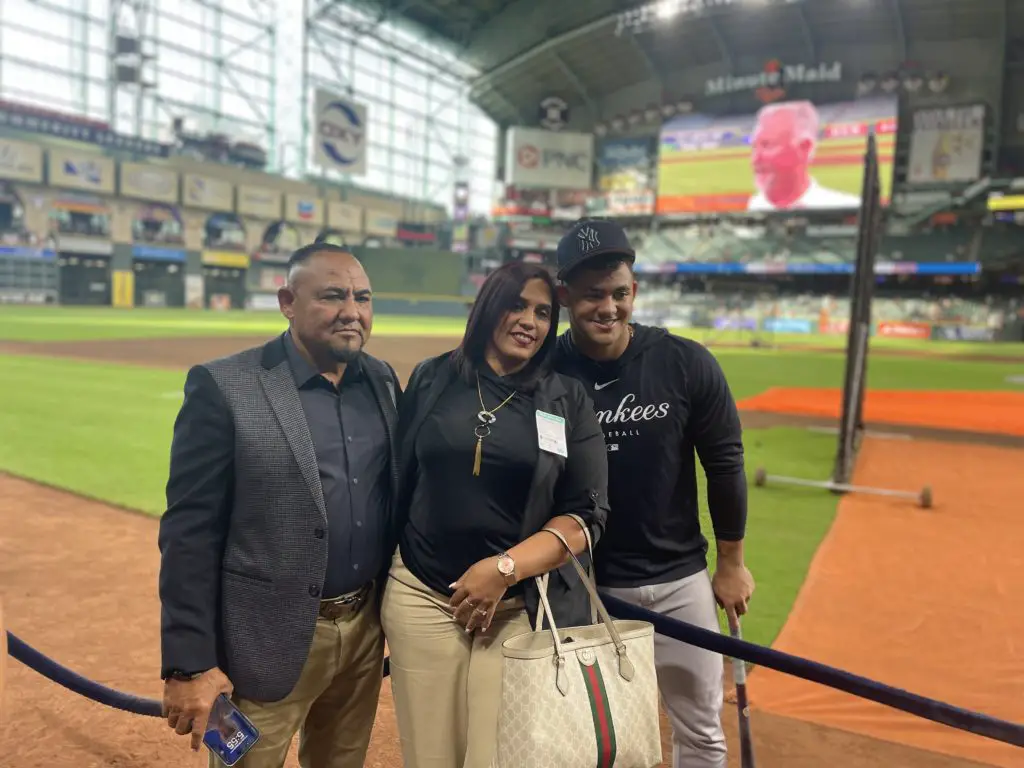 With future Hall of Famer Justin Verlander on the mound for the Astros, Jasson Dominguez strolled to the plate for his first major league at-bat Friday night with confidence. He carried somewhat of a swagger.
Jasson Dominguez not intimidated
El Marciano, the Martian, wasn't intimidated by the Astros' three-time Cy Young Award winner. 
"Truly, I don't think it's anything out of this world," he said about facing Verlander three hours before his debut. "I think that it will be a good debut."
MORE FROM OUR ESQUINA
Yankees: Giancarlo Stanton Honors Puerto Rican Roots with 21
Yankees pitcher Jonathan Loáisiga represents Nicaragua
Baseball world mourns Pat Corrales
Dominguez's debut was better than good. It was knee-buckling magic before a sellout crowd of 41,066.  With the Yankees already up 1-0, two outs and a man on in the first inning, Dominguez took a curveball for strike one. He admittedly wasn't expecting a curveball from Verlander to start the at-bat. 
Verlander followed with a 94-mph fastball, and Dominguez pounced. The switch-hitting rookie from the Dominican Republic deposited Verlander's fastball the other way for a two-run homer to left.
"When I started walking on the field, those feelings of my first game, my dream becoming reality, and that first hit, that home run, was very emotional for me obviously," Jasson Dominguez said. "But at the moment my mind was flying."
Dominguez became only the sixth Yankee to homer in his first career at-bat. No rookie had accomplished that feat since Aaron Judge and Tyler Austin on Aug. 13, 2016. The Martian was too busy rounding the bases to notice his parents, aunts and cousins going crazy in their seats.
Thrilling shot for Martian's family 
They all leapt from their seats to track the blast as Dominguez became the youngest Yankee to ever homer in his first big league at-bat.  As the ball went into the Crawford Boxes behind the left field façade, Dominguez's mother's knees buckled for a split second.
Then she raised her hands and waved them as though giving praise to the Lord at a revival for about four seconds. As Felix Eugenio smiled proudly while looking at her, Dorka Gonzalez clapped and danced. This had been Felix Eugenio's plan since the very beginning. 
He placed a bat, ball and glove in Jasson's crib in Esperanza, Dominican Republic, almost immediately after Jasson was born. The longtime Yankees fan even named his boy after former Yankees slugger Jason Giambi.
Dorka Gonzalez bought into Felix's vision in part because her son was always so devoted to the sport. 
Baseball seemed part of destiny
"Ever since he was very little this was always his goal," Dorka Gonzalez says. "Even when I was pregnant we picked his name because of Jason Giambi."
Jasson Dominguez was 16 years old on July 2, 2019, when the Yankees gave him a $5.1 million signing bonus. It was the largest bonus the 27-time champions have given an amateur free agent.
Dominguez made his debut at 20 years and 105 days old. He is ranked as the Yankees' No. 2 prospect by MLB Pipeline. He was the youngest Yankee to appear in a game since Jose Rijo, who was 19 years old and 54 days when he debuted on July 6, 1984. 
He didn't light up Class AA Somerset, where he hit .265 with 15 home runs and 66 RBIs over 109 game games. Then he hit .419 in nine games at Class AAA Wilkes-Barre with three doubles, a triple and 10 RBIs. He didn't expect to be promoted to the majors. 
"Obviously I didn't have the start I was expecting (at Class AA)," he said in Spanish. "But at the end of the day baseball is a sport with a lot of highs and lows. Simply I kept focusing on what I had to work on and kept my routine and finally the results came."
'Pretty cool'
Jasson Dominguez visited with his parents at the Yankees' team hotel before he headed to Minute Maid Park. But they didn't give him any extra advice.
"The advice that was needed was given a long time ago," Felix Eugenio said. 
Only those who have played in the big leagues know what it feels like to make a big league debut. Some take a little bit longer than others to feel as though they belong.
"I'd say when I went out to stretch and saw the field and saw everything, that's the moment when it hit me," he said.
His parents and aunts and cousins were on the field during batting practice. His agent Gio Rodriguez and two other colleagues from Creative Artists Agency were also in attendance. Despite his boyish looks and age, he didn't act like a kid until he sheepishly grew tired of taking pictures with his family after batting practice. 
He looked at ease otherwise, especially in his first at-bat on a night he finished 1-for-4 with two RBIs.
"He just hit a two-run homer off of Justin Verlander for his first at-bat in the big leagues," Yankees manager Aaron Boone said. "That's a pretty strong entry. … I just smile along with them. 
"That's pretty impressive. That's a way to announce your presence with authority. It was pretty cool."
Get the Our Esquina Email Newsletter
By submitting your email, you are agreeing to receive additional communications and exclusive content from Our Esquina. You can unsubscribe at any time.