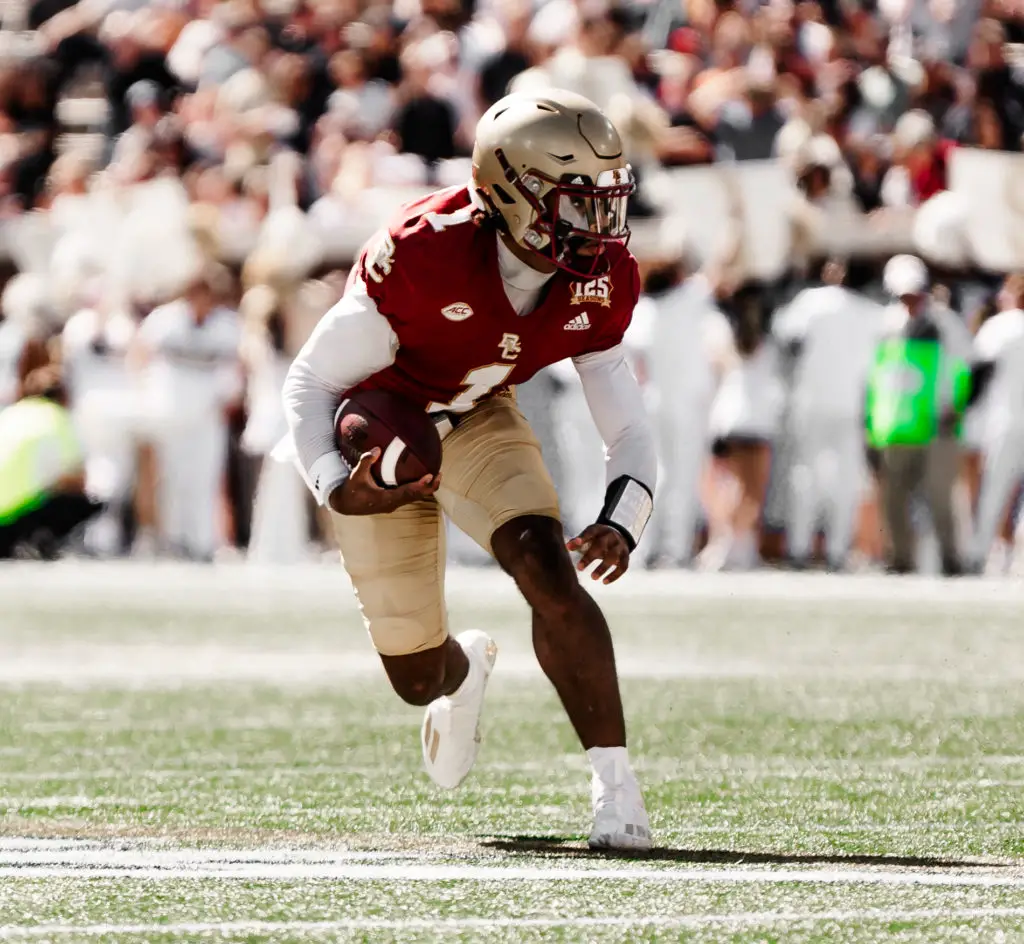 Thomas Castellanos at home against Georgia Tech
Thomas Castellanos highlights Our Esquina's weekly recap of Latinos in College Football
Boston College quarterback Thomas Castellanos was born and raised in the Peach State. Surely, the sophomore from Waycross, Ga., had plenty of friends back home tuning in as he and his teammates played host to Georgia Tech on Saturday.
The former four-year starter at Ware County High tormented Georgia Tech through the air and on the ground in a 38-23.
Thomas Castellanos accounted for 383 yards of offense and two touchdowns to earn Our Esquina's College Football Player of Week honors for Week 8. He led our weekly roundup of Latinos in college football.
Offensive Player of the Week: Thomas Castellanos
Castellanos threw for 255 yards with an interception on 17-for-29 passing. He also rushed for 128 yards and two touchdowns on 13 carries. Trailing 23-17 after three quarters, Castellanos helped Boston College score 21 points in the fourth quarter for the victory.
Thomas Castellanos accounted for about a third of his rushing yards on a 43-yard touchdown run in the fourth quarter.
Here's a recap of all the Latinos in college football. UCLA receiver Logan Loya had four catches for 39 yards in UCLA 42-7 rout over Stanford. Kansas State sophomore running back Anthony Frias had a three-yard carry in a 41-3 victory over TCU. 
South Alabama backup quarterback Gio Lopez completed two of four passes for 41 yards and a touchdown in a 55-3 victory over Southern Miss. The freshman from Huntsville, Alabama, also had a 20-yard touchdown run.
New Mexico's Zach Vigil rushed for 16 yards on four carries in a 42-21 victory over Hawaii. David Cordero had a seven-yard carry for the Rainbows in the loss to the Lobos. Miami's Xavier Restrepo had seven catches for 26 yards in a 28-20 overtime victory over Clemson.
Joey Aguilar shines in loss
Appalachian State quarterback Joey Aguilar threw for 252 yards and two touchdowns while completing 22 of 31 passes. He added 18 rushing yards and a touchdown on eight carries in a 28-21 loss to Old Dominion.
Texas Tech's Cam'Ron Valdez rushed for 38 yards on five carries in a 27-14 loss against BYU. Idaho State's Aaron Blancas made two catches for 13 yards in a 38-24 victory over Portland State.
UTSA's Oscar Cardenas had three catches for 24 yards. Freshman David Amador added a nine-yard catch in a 36-10 victory over Florida Atlantic. Western Carolina quarterback Cole Gonzales threw for 269 yards with two touchdowns and two interceptions in a 29-17 loss against Furman. He completed 21 of 35 passes.
MORE FROM OUR ESQUINA
Iowa's Sebastian Castro learned patience, love early
Five-star Devin Sanchez has football elites after him
Gallegos, Woodyard, Sanchez highlight Latino High School All-America Football Team
De'Andre Tamarez had a 16-yard catch for the Catamounts in the loss. New Mexico State quarterback Diego Pavia completed 15 of 25 passes for 188 yards and two touchdowns. He also rushed for 96 yards and two touchdowns on 14 carries in a 28-7 victory over UTEP.
Defensive Player of the Week: Kain Medrano
UCLA's Kain Medrano had five tackles, including two tackles for loss and a pass deflection. Texas Tech senior linebacker Bryce Ramirez had seven tackles against BYU.  
UCF sophomore defensive back Nikai Martinez had six tackles in a 31-29 loss against Oklahoma. Iowa's Sebastian Castro made seven tackles, one for a loss, in a 12-10 loss to Minnesota.
Washington State's Ron Stone Jr. had seven tackles, including one for a loss, in a 38-24 loss to Oregon. Colorado State senior linebacker Justin Sanchez made six tackles in a 25-23 loss to UNLV. Tulane linebacker Jesus Machado made five tackles in a 35-28 victory over North Texas. 
Wisconsin's Gio Paez had three tackles in a 25-21 victory over Illinois. New Mexico State's Tyler Martinez had two tackles against UTEP. Allen Ortiz and Gabriel Iniguez each added a tackle for the Aggies.
New Mexico's Alec Marenco had three tackles in the victory over Hawaii. Gabriel Lopez added three tackles and a sack for the Lobos. 
Marshall defensive lineman Jalil Rivera-Harvey had two tackles in a 20-9 loss to James Madison.
Kent State's Javier Duran had one tackle in a 24-6 loss to Buffalo. Eastern Michigan's Adrian Hernandez had three tackles and half a sack in a 20-13 loss to Northern Illinois. Austin Ortega had a tackle for Tulsa in a 42-10 loss against Rice.
Special Team Player of the Week: Jose Pizano
UNLV kicker Jose Pizano accounted for all but six of the Rebels' points in a 25-23 victory over Colorado State. The senior from Lehi, Utah, made all six field goal attempts with a long of 46 yards. He added an extra point. 
Miami kicker Andres Borregales made a 38-yard field goal with 1:51 left in the fourth quarter to help the Hurricanes send their game against Clemson into overtime. He added a 35-yard field in overtime to tie the score at 20 before Miami eventually won 28-20. He added two PATs.
LSU kicker Damian Ramos made two field goals and eight PATs in a 62-0 rout over Army.
Tulane kicker Valentino Ambrosio made five PATs. Wake Forest punter Ivan Mora averaged 40.4 yards over his seven punts in a 21-17 victory over Pitt. Old Dominion kicker Ethan Sanchez made two field goals with a long of 47 yards. He added two PATs in the victory over Appy State.
South Alabama kicker Diego Guajardo made 2-of-3 field goal attempts with a long of 39 yards. He added seven PATs in the rout over Southern Miss. UCLA kicker RJ Lopez missed both field goal attempts, but he was 6-for-6 on extra points kicks
Alan Anaya drills pair of field goals
Bowling Green kicker Alan Anaya made two field goals and five PATs in a 41-14 victory over Akron. Noah Perez missed a field goal, but he made two PATs for Akron in the loss.
Eastern Michigan kicker Jesus Gomez made both of his field goals with a long of 37 yards. He added a PAT against Northern Illinois. 
New Mexico punter Aaron Rodriguez averaged 53.7 yards on three punts against Hawaii.
Cover photo by @BcFootball
Get the Our Esquina Email Newsletter
By submitting your email, you are agreeing to receive additional communications and exclusive content from Our Esquina. You can unsubscribe at any time.