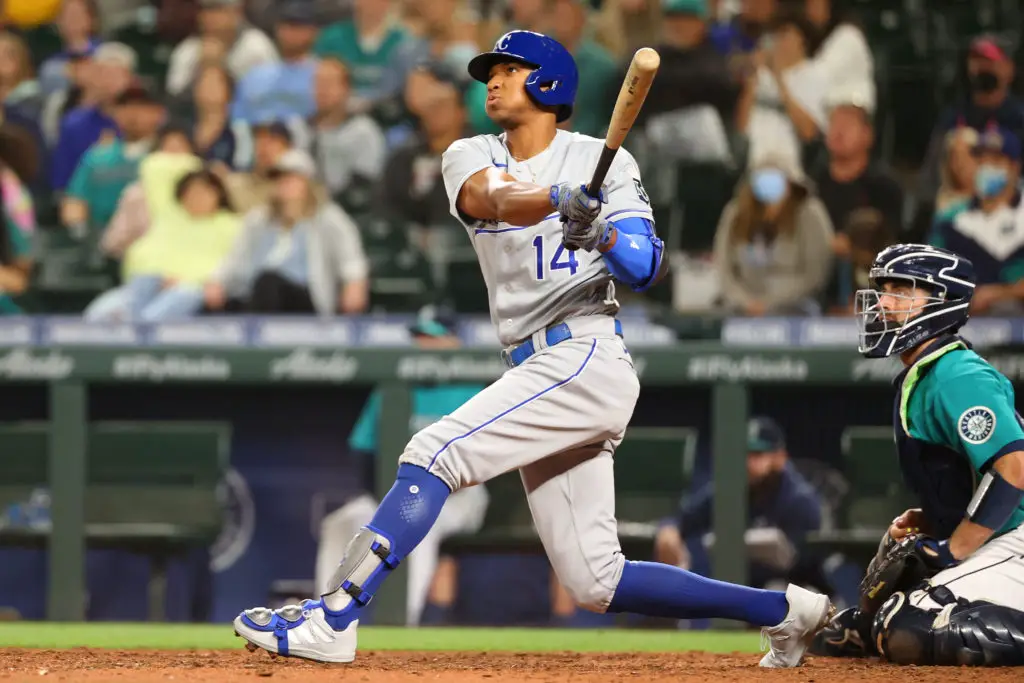 Royals: Edward Olivares has September to remember
Edward Olivares makes the best of return to majors
HOUSTON-Edward Olivares has faced many challenges throughout his career. The Kansas City Royals' outfielder was traded to two different organizations in the span of two years.
Olivares signed with the Toronto Blue Jays in 2014 as an international free agent. In 2018, Olivares was traded to the San Diego Padres. Two years later, the Padres traded him to the Royals in exchange for reliever Trevor Rosenthal. 
Through all the bumpy roads, Olivares remained positive and stayed focused.
"It's a part of the process," he said. "You have to be focused and prepare for every opportunity by working hard. You have to enjoy the game."
The Caracas, Venezuela, native fell in love with baseball when he was a little boy. Edward Olivares grew up watching his favorite player Franklin Gutierrez play on television. He wasn't sure what position to play, so Olivares decided to play outfield, just like his favorite player and fellow Caracas native.
Edward Olivares rebounds
The 27-year-old outfielder started the 2023 season on the Royals 40-man roster. In the beginning of the season, he carried a .242 batting average with 55 hits, 15 RBIs and 42 strikeouts.
On Aug. 13, the Royals optioned Olivares to the Class AAA Omaha Storm Chasers. During that time, Olivares learned how to adjust and recognize different types of pitches.
MORE FROM OUR ESQUINA
Venezuelans Ronald Acuña Jr., Arraez lead All-Stars
Cabrera, Judge among Roberto Clemente Award nominees
Gomez: Changes have made MLB better to watch
"I've been working hard every day," Olivares said. "Most of the time they pitch me away, away, away. OK, now I know what they're pitching to me. Now I have to work on hitting the ball the opposite way. That's the reason why I'm hitting better."
Olivares soars after return from Omaha
Olivares was recalled back to the Royals and started to demolish the ball. In the month of September, Olivares is batting .340/.417/.642 with 18 hits, four home runs, 12 RBIs and carrying a 1.058 OPS.
In addition, he's also had career highs in games (102), hits (88), doubles (22), triples (4), home runs (10), runs batted in (32), walks (22) and stolen bases (11).
"Seems like he's hit the fastball more consistently," Royals manager Matt Quatraro said of Olivares. "He's hit for more power and driven in more runs. Everything has been ticking up since coming back from Triple A."
Olivares is not giving up this season. He continues to improve and play hard every single day, and that extends beyond the regular season. Olivares plans to play in the Venezuelan Winter League.
Get the Our Esquina Email Newsletter
By submitting your email, you are agreeing to receive additional communications and exclusive content from Our Esquina. You can unsubscribe at any time.