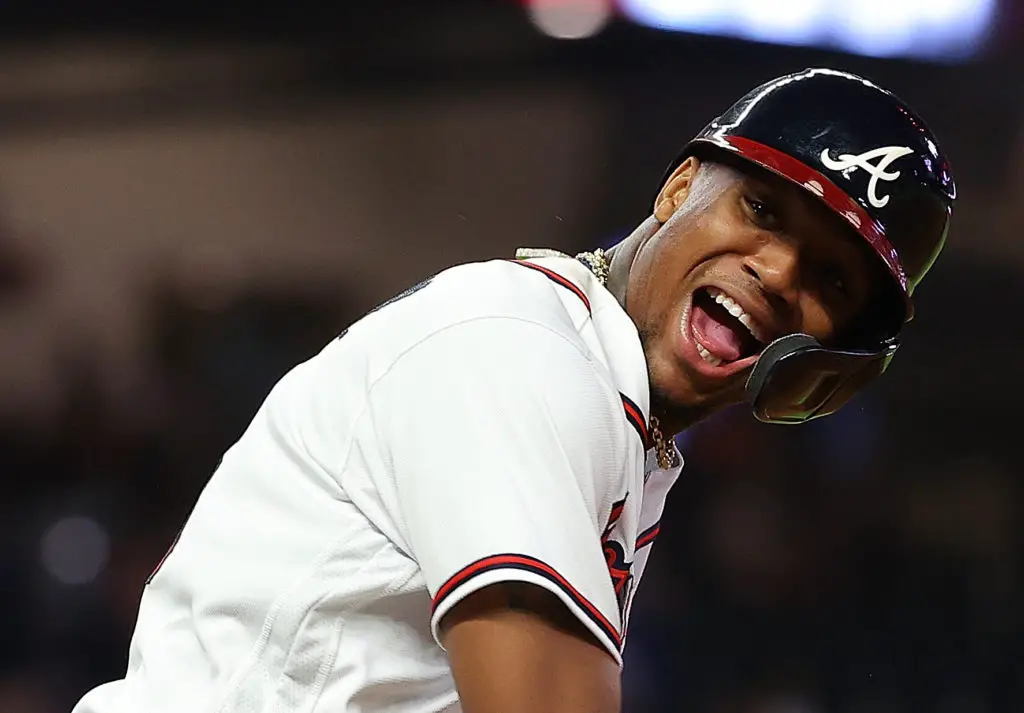 Ronald Acuña Jr. celebrates NL MVP with homer at home
Acuña becomes third Venezuelan to win an MVP
The story at the end was definitely quite beautiful. That was the message Ronald Acuña Jr. delivered after he was named the National League Most Valuable Player.
La Bestia, The Beast, was a unanimous MVP selection by the Baseball Writers Association of America, who also voted unanimously to select Shohei Ohtani as the AL MVP. It marked the first time both MVPs were unanimous selections.
Acuña joins Miguel Cabrera and Jose Altuve as the only Venezuela natives to win an MVP Award. Two-time MVP Cabrera and 2017 Altuve won their MVPs in the American League. The Atlanta Braves' right fielder learned of his selection while waiting to play a winter league game in his native Venezuela.
Ronald Acuña Jr: 40/70 Man
He then capped his night with a home run for los Tiburones de la Guaira. Acuña, 25, had a historic season while guiding the Braves to the best record in the NL. He hit 41 home runs and stole 73 bases, becoming the first 40-70 man in baseball history. Acuña adds the NL MVP Award to his 2018 NL Rookie of the Year Award and four All-Star berths over six seasons in the majors.
Acuña also earned a World Series ring in 2021, but he missed that Fall Classic after suffering an ACL tear before the All-Star Game that year.
"From the day I got to the League right away I always knew I wanted to be the MVP," Ronald Acuña Jr. told the media through an interpreter. "It's always been a dream of mine, and I'm living the dream come true."
MORE FROM OUR ESQUINA
Miguel Cabrera should have his numbers retired
Maikel Garcia learned from MLB cousins like Ronald Acuña Jr.
Venezuelans Ronald Acuña Jr., Arraez lead All-Stars
Venezuelans have now won four MVP Awards since Cabrera won his first in 2012. Cabrera won his second consecutive AL MVP Award with the Detroit Tigers in 2013. Altuve won his AL MVP Award in 2017.
Acuña, who was born in La Sabana, Venezuela, has been one of baseball's best player since his rookie season in 2018. In many ways, he has the been the face of the "Let the kids play" era in baseball.
Dedicated to 'Kid in all of us'
He plays with a flair that has rubbed some players and opponents the wrong way. But he has remained unapologetically true to his personality.
"The story at the end can be quite beautiful," he said in a message on the social media site X, formerly Twitter, "but only if you want it to be. I'd like to dedicate this award to the kid in me and the kid in all of us."
As if to drive that point home, Acuña joyfully played winter ball in front of his countrymen Thursday night.
Los Angeles Dodgers star Mookie Betts finished second, receiving all 30 second-place votes. Acuña hit .337 while leading the NL in stolen bases, hits (217), on-base percentage (.416) and OPS (1.012).
He also led the NL in total bases (383) and runs (149). Acuña is the eighth Braves player to win the NL MVP Award, following Hall of Famers such as Henry Aaron (1957) and Chipper Jones (1999). Two-time MVP Dale Murphy (1982-83), Bob Elliott (1947), Terry Pendleton (1991) and Freddie Freeman (2020) were the other Braves to win the NL MVP award.
Considering his consistent excellence and the fact that he's barely entering what is expected to be the prime of his career, this may be the first of multiple MVP seasons for Ronald Acuña Jr.
"I'm not trying to predict anything," he said. "But as long as I'm healthy, I believe anything is possible."
Get the Our Esquina Email Newsletter
By submitting your email, you are agreeing to receive additional communications and exclusive content from Our Esquina. You can unsubscribe at any time.