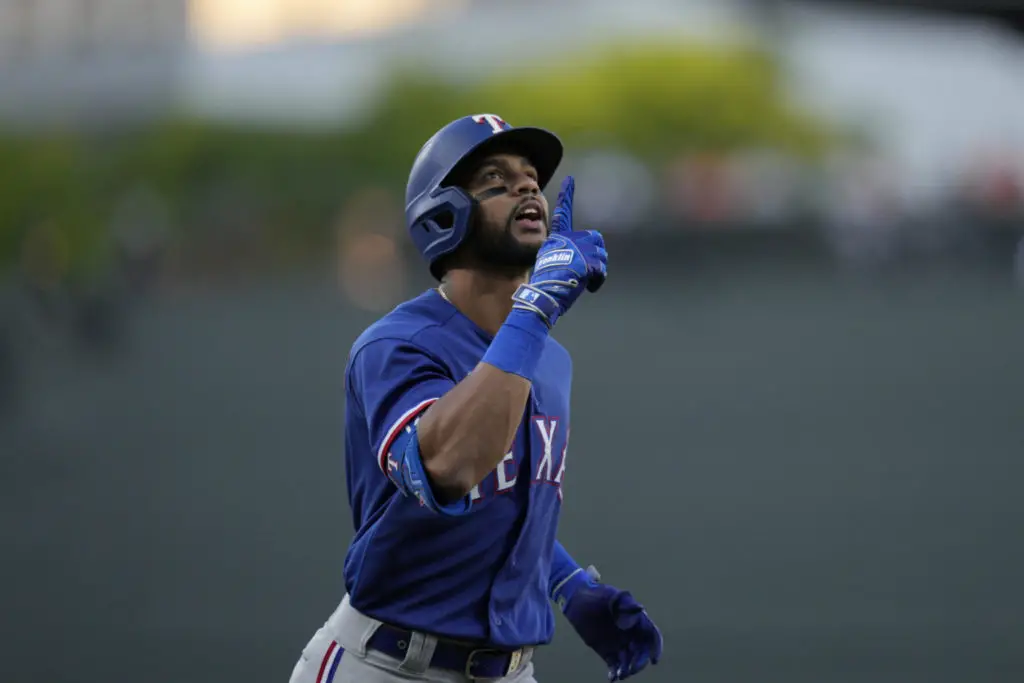 Rangers outfielder Leody Taveras follows cousin Willy
Leody Taveras credits cousin Willy with inspiring him
HOUSTON – As a six-year-old in Tenares, Dominican Republic, the Texas Rangers' Leody Taveras walked from his house to a local baseball field to watch his cousin Willy Taveras play baseball. That's when Leody told himself that he wanted to be like Willy.
Leody Taveras celebrated his sixth birthday only two days after Willy T made his big league debut with the Astros on Sept. 6, 2004. So he was old enough to appreciate what his cousin was accomplishing at the time.
Willy Taveras played seven years in the big leagues as a center fielder for the Astros, Rockies, Reds and Nationals. 
Leody Taveras listened to cousin's advice
Willy established himself in the big leagues a year later and finished second in the Rookie of the Year voting to the Phillies' Ryan Howard in 2005. The elder Taveras helped the Astros reach their first World Series in 2005 as the Astros' starting center fielder.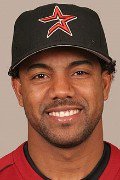 "He's a big part of my career," Leody Taveras said of Willy. "I always talk to him every day. We stay in touch, and he would always help me. He's my guy."
Sure enough, Willy helped him. 
Leody was primarily a right-handed hitter. That changed when he was eight years old thanks to Willy.
"My cousin Willy said, 'Hey, you're going to be a switch-hitter,' Leody says. "So I started switch-hitting."
More from Our Esquina:
Rangers, Astros lead effort for Uvalde Boys & Girls Club
Dana Brown visits Astros' Dominican Academy
Jose Abreu spreads mental health awareness
Leody, a speedy center fielder, signed with the Texas Rangers for $2.1 million in 2015 as an amateur free agent. According to MLB Pipeline, Taveras was one of the best prospects and athletes in the 2015 international class. Since 2017, he was considered a top prospect in the Rangers' farm system. 
The 24-year-old made his MLB debut during the Covid-shortened 60-game season in 2020. He struggled and bounced between Class AAA and the major leagues during the 2021 and 2022 seasons.
Offseason work pays off
Leody Taveras wanted to get stronger going into this past offseason. He worked hard everyday to be ready for spring training and position himself to make and stay on the 2023 roster. 
The results have paid off for Leo. 
Leody is batting .281/.326/.455 with a .781 OPS and 117 wRC+. He already has career-high numbers with 87 hits, 17 doubles, 11 home runs and 46 RBIs. 
"The kid's an athlete," Rangers manager Bruce Bochy said of Leody. "Leo's got every tool you love to have in a ballplayer. He can run (and) he can throw, (and he's) a switch-hitter with power and a center fielder who has great range out there.
"He still has yet to reach his full potential. That's how good I think he can be."
Bochy has won three World Series titles as a manager. He was the National League Manager of the Year in 1996. He has watched several of his players win prestigious awards. 
If he says Leody Taveras has yet to reach his full potential, then we can't wait to see what Willy T's cousin has in store for us.
Get the Our Esquina Email Newsletter
By submitting your email, you are agreeing to receive additional communications and exclusive content from Our Esquina. You can unsubscribe at any time.