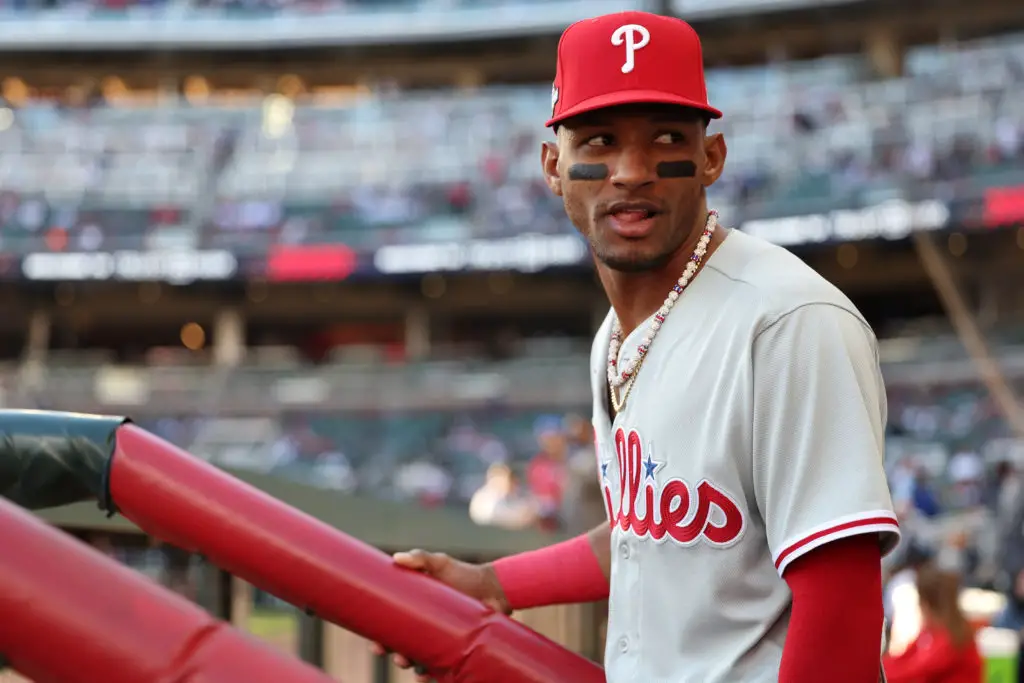 Phillies rookie Johan Rojas plays defense at Level 99
Johan Rojas covers lots of ground defensively
Johan Rojas manifested this moment and this stage years ago in the Dominican Republic. When the Philadelphia Phillies' young center fielder wasn't sharpening his skills on the fields of  San Francisco de Macoris, Dominican Republic, he would dream about starring in the big leagues while playing PlayStation.
Like many Dominican children of his generation, he longed to be the next Albert Pujols. After signing with the Phillies as a 17-year-old international free agent in January 2018, he modeled his game after Ronald Acuña Jr., the Venezuelan sensation who won the 2018 National League Rookie of the Year Award.
Now the rookie defensive wiz is competing against Acuña's Atlanta Braves in the National League Division Series. Before he dreamed of being the next Ronald Acuña, though, he simply dreamed of being a big leaguer.
"Yeah, my goal as a kid was always to make it to the big leagues," Rojas told the media before Game 2 of the Division Series. "Even when I played PlayStation, I would put myself in the game and be like, 'one day I'm going to be there.' And honestly it's a dream come true for me to be here."
The defending NL champions didn't expect to need Rojas in the majors this early. Despite an impressive showing at the 2022 Arizona Fall League, Rojas was assigned to start the season at Class AA Reading.
He played 60 games at Reading in 2022 and then 76 games there this year before skipping Class AAA to make his debut in the majors on July 15 at 22 years old. Rojas was hitting .306 with nine home runs and 45 RBIs at Reading when he was promoted.
Johan Rojas draws praise
Rojas celebrated his 23rd birthday on Aug. 14. He hit .302 with two home runs and 23 RBIs and 14 stolen bases over 59 games with the Phillies. Rojas has started all four postseason games this October for the Phillies, who host Game 3 against the Braves tied at one game apiece.
Despite his age and fewer than three full months in the majors, Rojas doesn't play like a rookie. Sure, he has a baby face and could pass for 17 years old. Defensively, though, he plays like a seasoned veteran.
MORE FROM OUR ESQUINA
Phillies future appears bright after World Series
Cabrera, Judge among Roberto Clemente Award nominees
Not all lost for Rays star Randy Arozarena this postseason
Zack Wheeler, who won Game 1 for the Phillies, notes that Rojas is fearless. Wheeler praised Rojas for being aggressive without playing scared.
"You look out there in the outfield while he's playing center, and everybody else is kind of shaded towards the lines just because he can cover so much ground," Wheeler says of Rojas. "And me as a pitcher, I love that. Give me guys out there who can cover all the ground in the world. 
"So, no, he's awesome. He's young. You said he's only been up for two months. He doesn't act like it. He acts like a vet, and that's how it should be. And that's why we have a really good locker room."
Inspired by Albert Pujols
Rojas credits the Philadelphia veterans for creating a welcoming environment. The young man who once played as Albert Pujols on PlayStation is now roaming the outfield in the playoffs.
"He's always been an inspiration to me," Rojas says of Pujols, "and honestly the whole country, and my whole family, my whole country because the achievements that he has made in his career are unbelievable."
Yes, Rojas turned the defensive level to 99 when he played as a child. Fittingly, his defense in real life is worthy of a 99 level.
"I actually created my own character multiple times," he said. "And so I would always put me as an outfielder, mostly as a center fielder. I would make sure every single time that the speed, the defense, the contact and the power were always 99."
Get the Our Esquina Email Newsletter
By submitting your email, you are agreeing to receive additional communications and exclusive content from Our Esquina. You can unsubscribe at any time.