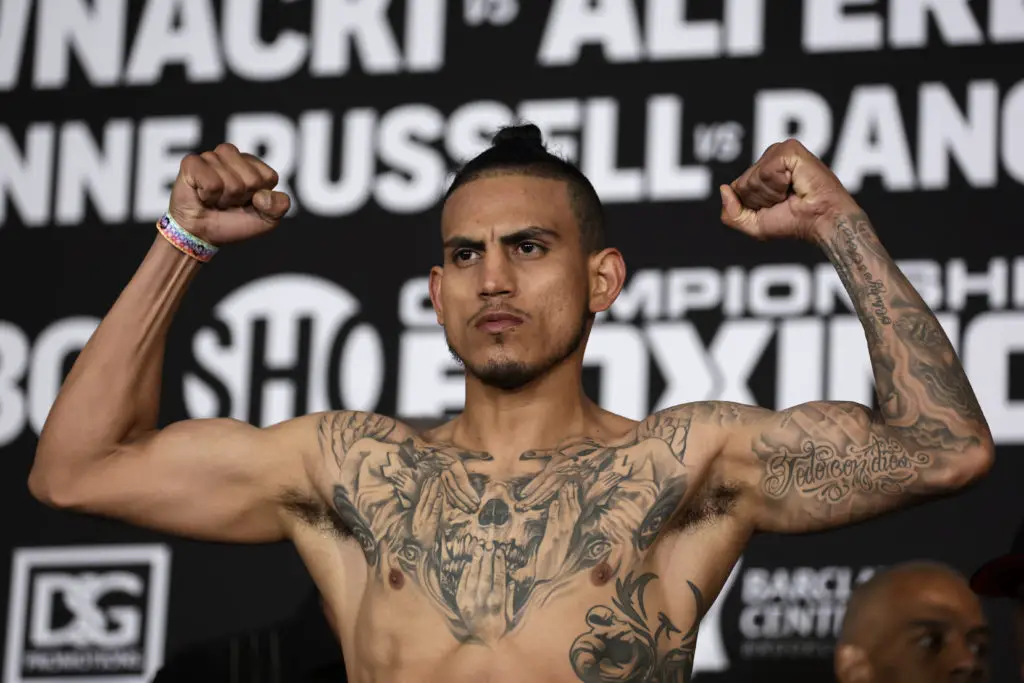 Jose Benavidez Jr. pokes at Jermall Charlo
Jose Benavidez Jr. vows to overcome Charlo's height, reach advantages
Jose Benavidez Jr. wasted no time tormenting Jermall Charlo about his weight and his absence from boxing. Charlo responded by teasing Benavidez that he was under his brother's David Benavidez's shadow and promised to defeat him and his brother. 
Benavidez vows to bring the same merciless energy from his press conference when they fight in the co-main event for the anticipated David Benvidez and Demetrius Andrade bout on Nov. 25.
Jose Benavidez Jr. and Jermall Charlo have famous siblings. Jermall's twin Jermell is the more famous of the siblings. David Benavidez is also the more accomplished brother.
But Jose Benavidez Jr. and Jermall Charlo both aim to climb the boxing ladder as they work their way back from long layoffs. Leading up to their fight in Las Vegas' Michelob ULTRA Arena, Jose Benavidez and Jermall Charlo delivered personal blows at one another during their virtual press conference on Tuesday. 
Jose Benavidez Jr. not worried about size disparity
The 5-foot-10 Benavidez Jr. steps into this matchup with a 28-2-1 record. After suffering his second loss to Danny Garcia, Benavidez rebounded by blowing off steam against his next opponent. 
He made quick work of Sladan Janjanin in August of this year as he needed only four rounds to win by technical knockout. This will be Benavidez's fourth fight since he endured a knockout defeat against Terrence Crawford in 2018. He is adamant that he's fought enough recently to have an advantage against Charlo. 
"I felt good in my last fight stepping up in weight," Benavidez Jr. said. "It's good to be active, and it's got me feeling very strong going into this fight."
Charlo hasn't fought since he defeated Juan Macias Monitel by unanimous decision in Houston in the summer of 2021. Charlo was scheduled to fight Saul "Canelo" Alvarez on September 30, but he backed out due to personal issues. His twin fought Alvarez and lost.
The 33-year-old Jermall Charlo is undefeated at 32-0 with 22 knockouts. Although he hasn't fought in over two years, Charlo says he hasn't abandoned his boxing regime.
MORE FROM OUR ESQUINA
David Benavidez pounds Plant, calls out Canelo
Canelo Alvarez was too much for Jermell Charlo
Giovanni Marquez aims to be 'future of boxing'
"My mental abilities have caught up with my physical abilities," Charlo said. "So you're gonna see the best of me. I'm naturally stronger and I've really been working on my twitch and my speed. I've sparred strong guys, so I should be at the top of my game. I'm ready to blow this dude out."
Charlo has a height and reach advantage at 6-foot-1 with a 73-inch reach. Benavidez's arm length is two inches shorter. Although he'll be fighting a bigger opponent, Benavidez is confident that his training has him prepared. 
Lessons from Crawford fight
The Panorama City, Calif., native reminded everyone that he has fought Crawford and sparred with much bigger boxers. He feels strong in the middleweight division.
"You gotta be confident," Benavidez said. I don't think he's confident in himself. I've fought at 160 pounds a few times before and I walk around at 180. The lower weights were hard to make.
"When I fought Danny Garcia, I was at 175 the week of the fight and had to lose 20 pounds. I feel strong now and ready to get this show on the road."
With brothers Jose Benavidez Jr. and David Benavidez fighting on the same night, energy and emotions might be at an all time high for the Benavidez family. They hope to celebrate two victories that night.
"I'm very thankful for this opportunity," Jose Benavidez Jr. said. "I feel great and I feel strong. I'm not really gonna do too much talking, because I know Charlo is gonna do his talking. But I don't care about any of his excuses. He's gonna see what a real puncher is on fight night.
Get the Our Esquina Email Newsletter
By submitting your email, you are agreeing to receive additional communications and exclusive content from Our Esquina. You can unsubscribe at any time.