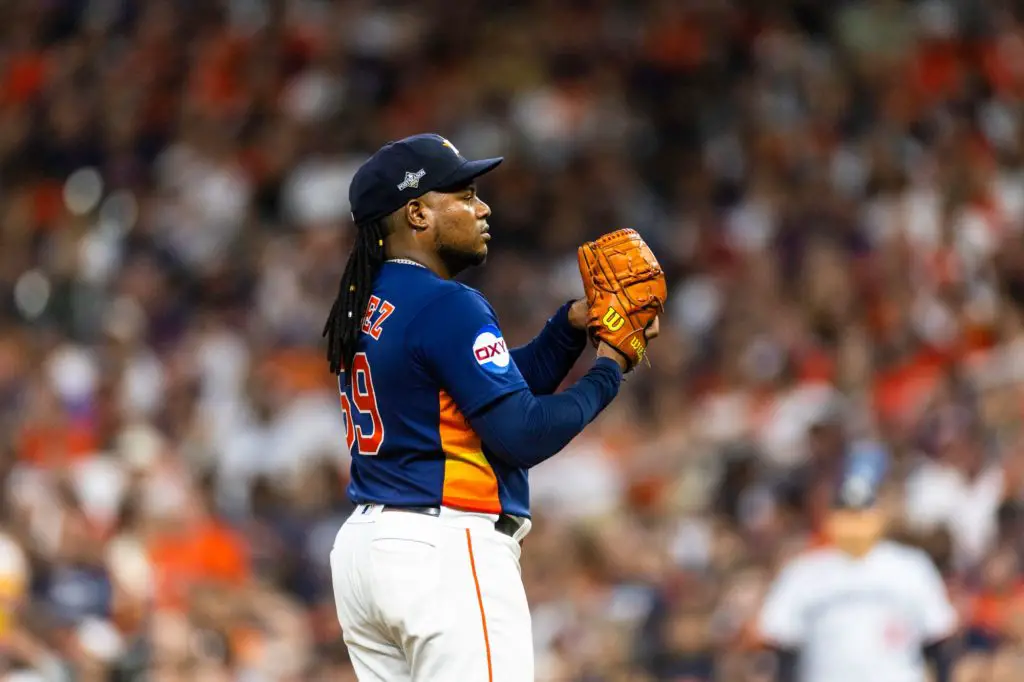 Framber Valdez in search of dominant form
Framber Valdez hopes to clinch Astros' World Series berth
HOUSTON – Astros lefthander Framber Valdez strolled through the home clubhouse listening to reggaeton music after Saturday's workout at Minute Maid Park. The two-time All-Star appeared in a positive state of mind on the eve of his start in Game 6 of the American League Championship Series.
"For me I'm just going to try to do what I did in the regular season," Valdez said. "Just try to throw strikes, try to attack the strike zone and get outs. And like you said, just try to control my emotions. 
"I think I'll be able to do that, try not to play with too much pressure or anything like that. I have to admit there will be emotions, but it's my job to be really calm."
Valdez will try to close out the ALCS on Sunday night in Game 6 at Minute Maid Park against the Texas Rangers. The Astros lead the best-of-seven series 3-2 after winning three in a row in Arlington.
Astros need quality from Framber Valdez
Emotions were high, to say the least, Friday night at Globe Life Field. Benches and bullpens cleared when Astros reliever Bryan Abreu hit Rangers outfielder Adolis Garcia on the arm in the bottom of the eighth inning.
Major League Baseball gave Abreu a two-game suspension Saturday and an undisclosed fine for the incident. Abreu can appeal his suspension. If he doesn't appeal, the Astros will be thinner in the bullpen.
Whatever the case, Valdez knows his teammates need a good performance out of him. He was a huge part of the Astros' starting rotation last postseason. He pitched 25 innings with a 3-0 record, 1.44 ERA and 33 strikeouts while holding opponents to a .161 batting average.
MORE FROM OUR ESQUINA
Astros ace Framber Valdez no-hits Guardians
Framber Valdez honors mother on Father's Day
Jose Altuve adds to his resume as the greatest Astro
Valdez, 29, hasn't been as dominant this October. He has struggled this postseason. La Grasa is 0-2 with an 11.57 ERA, 11 strikeouts and a 2.57 WHIP over two postseason starts this year. 
"In the last couple of games, it wasn't so much his emotions. It was his location," Dusty Baker said of Valdez. "He wasn't sharp. … You know, we talk about emotions. 
"But you've got to throw strikes and quality strikes in a quality location. If he does that, then emotions never come into play."
La Grasa has been a Big Game pitcher
Valdez will look to help the Astros win their fifth AL pennant and reach their sixth World Series appearance in franchise history.
Valdez has started 14 of his 15 games in his postseason career. He was the starting pitcher last year for Game 2 and 6 of the World Series against the Phillies. He won both.
The lefty had nine strikeouts in six innings while allowing two hits and one run in Houston's 4-1 victory to capture the Astros' second World Series title. The Palenque, Dominican Republic, native knows his experience matters in the postseason. He will have another big moment Sunday night.
"It's a lot," he said of his postseason experience. "It just helps with all repetitions, just being able to go through it and having done it in the past.
"This is not my first or second postseason, so that just helps me stay calm. And, God willing, with the hard work with the guys and myself, hopefully we'll be able to get the win tomorrow."
Get the Our Esquina Email Newsletter
By submitting your email, you are agreeing to receive additional communications and exclusive content from Our Esquina. You can unsubscribe at any time.