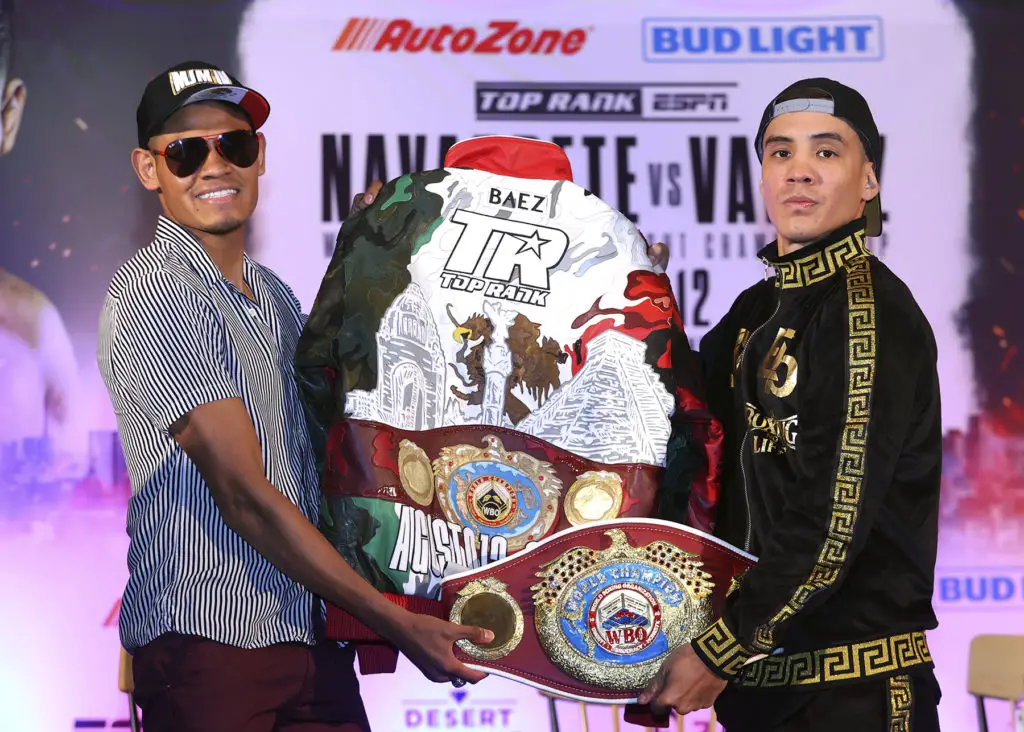 Emanuel Navarrete, Oscar Valdez set all-Mexican duel
Navarrete and Valdez want to duplicate Barrera-Morales example
Mexicans love their brawlers, especially extremely active boxers who aren't afraid to mix it up. Emanuel Navarrete and Oscar Valdez hope to live up to the Mexican boxing stereotype Saturday night at Desert Diamond Arena.
Emanuel Navarrete and Valdez would like nothing more than to replicate the excitement Marco Antonio Barrera and Erik Morales showcased at the start of the century. Valdez and Navarrete know that Mexican boxing duels are measured by the thrilling Barrera-Morales trilogy.
Navarrete's WBO junior lightweight title will be on the line against the former champion in the All-Mexican bout in Glendale, Ariz. 
Emanuel Navarrete understands Mexican rivalry
"I have said that the fight with Valdez was necessary for my career because of everything it represents," Navarrete (37-1, 31 KOs) said. "The rivalry between Mexicans is something essential. It's a good thing for the fight. 
"But boxing fans have also put a lot of pressure on me, saying that my career was missing that cherry on top. They said that I needed an impressive and iconic fight where I exert much more of myself. The fight with Valdez is that kind of fight."
The Navarrete-Valdez main event will be nationally televised on ESPN, ESPN Deportes and ESPN+.
MORE FROM OUR ESQUINA:
Jair Rodriguez says UFC's Mexican era has arrived
Mexico City Series fiesta to remember
Isaac Cruz takes good step; Terence Crawford crushes Spence
As if to drive the Mexican rivalry message, Barrera and Morales participated in the pre-fight press conference Thursday. Morales and Barrera had one of the most thrilling trilogies in boxing history, beginning with the Ring Magazine Fight of the Year in 2000.
Morales won the first bout before losing the next two. Barrera won the second bout two years later by unanimous decision to earn the WBC featherweight title. The finale was declared Ring Magazine's 2004's Fight of the Year. Barrera won the WBC super featherweight title by majority decision in that fight.
Special guests in attendance
"It's an honor for Barrera and Morales to be here," Valdez (32-1, 23 KOs) said. "It means the world to me because I grew up in the era of Barrera and Morales. These two don't know how much they inspired me. That was the era that I grew up watching. They are warriors."
Emanuel Navarrete's WBO junior lightweight title isn't the only thing on the line Saturday. The winner will receive a commemorative jacket designed by Tijuana-born fashion designer Kiko Baez.
"This is a great opportunity for these two Mexican boxers to demonstrate that Mexican boxing is always very exciting," Morales said. "I've had the opportunity to speak with both separately. Both have said that there will be a great war. So, I've come to see this great war."
Barrera and Morales will attend the fight and give the winner the commemorative jacket.
"Obviously, the fact that Barrera and Morales are here indicates that our promoter wants to tell us something," Navarrete said. "We have to do something at least similar to what they did. That is the goal."
Get the Our Esquina Email Newsletter
By submitting your email, you are agreeing to receive additional communications and exclusive content from Our Esquina. You can unsubscribe at any time.