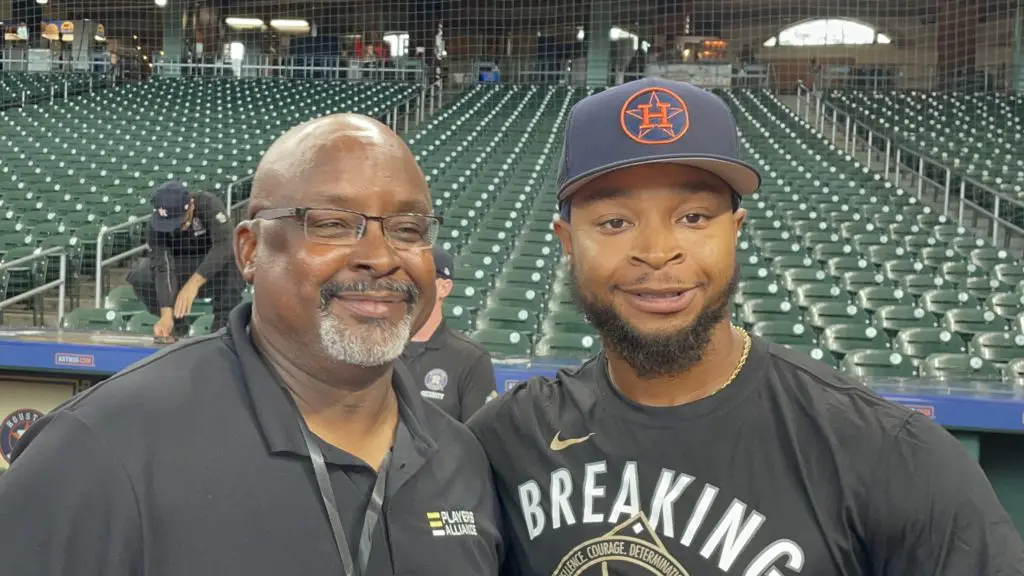 Corey Julks thanks Chuck McElroy on Jackie Robinson Day
McElroy has devoted post big league career to developing players
HOUSTON – As Major League Baseball celebrated Jackie Robinson Day, Chuck McElroy and several Black former big leaguers returned to Minute Maid Park on Saturday. He embraced Astros outfielder Corey Julks with a warm hug during batting practice.
McElroy, former Astros manager Bo Porter and several former big leaguers attended as part of the Players Alliance, which is devoted to increasing the number of African Americans in baseball. 
McElroy, who played in the majors from 1989 through 2001, has done his part as a youth coach in the Houston area. The League City Sluggers' coach taught the importance of developing each and every one of his baseball players on his team. Julks was nine years old when he played for McElroy.
"I'm very proud," McElroy said of Julks. "He's always working hard and has been listening. The one thing I teach is development. Not by winning or losing in youth sports areas, but I teach more development and see where (Julks) is now."
Corey Julks honors Jackie Robinson
Julks is slashing .289/.282/.421 with two doubles, two RBIs over 10 games this season. The rookie from the University of Houston smashed his first career home run at PNC Park early in the week.
The Houstonian continued to work on his craft and mechanics at a young age. Julks and McElroy's two sons, C.J. and Satchel, played baseball growing up together. 
The 27-year-old credits McElroy for preparing him for the next level. 
"I learned a lot from him," Julks said of McElroy. "I played with his sons. We were always grinding and putting in the work. I was always trying to learn."
Jackie Robinson Day is celebrated by all 30 MLB teams on April 15, the anniversary of Robinson breaking Major League Baseball's color barrier in 1947 with the Brooklyn Dodgers.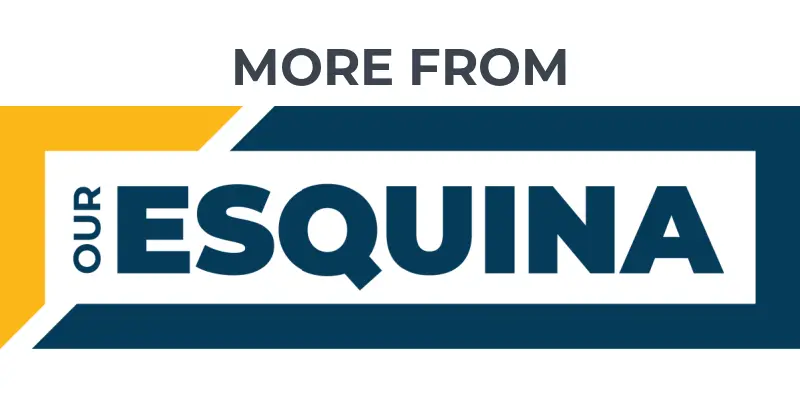 Javier Assad builds on Tijuana's baseball legacy
King Ryan Garcia vows to destroy Tank Davis
Mexican women's national team rewards fans
Language barrier not a pitch clock problem
It was a very special day for Julks as he was preparing to start his first Jackie Robinson Day on Saturday night.
'Special moment'
"Super special," Corey Julks said before the Astros defeated the Rangers 8-2. "On this day that Jackie Robinson made for guys like me and everybody else, playing this game is a special moment and I'm glad to be here for it."
Each MLB player wears No. 42, the number Robinson wore with the Brooklyn Dodgers.
Only 6.2 percent of the players on Opening Day this year are African American. Fourteen prospects from MLB Pipeline's Top 100 are African American.
Corey Julks is proud to be one of the 6.2 percent of big leaguers who are African American. He's grateful for the barriers Robinson broke for him and McElroy and all the Black players since April 15, 1947.
"He was a pioneer," Julks said of Robinson. "The first guy to do it and break barriers. It's special because everybody today wears the same number 42, so we're all equal.
"It's a beautiful thing to be a part of."
Get the Our Esquina Email Newsletter
By submitting your email, you are agreeing to receive additional communications and exclusive content from Our Esquina. You can unsubscribe at any time.