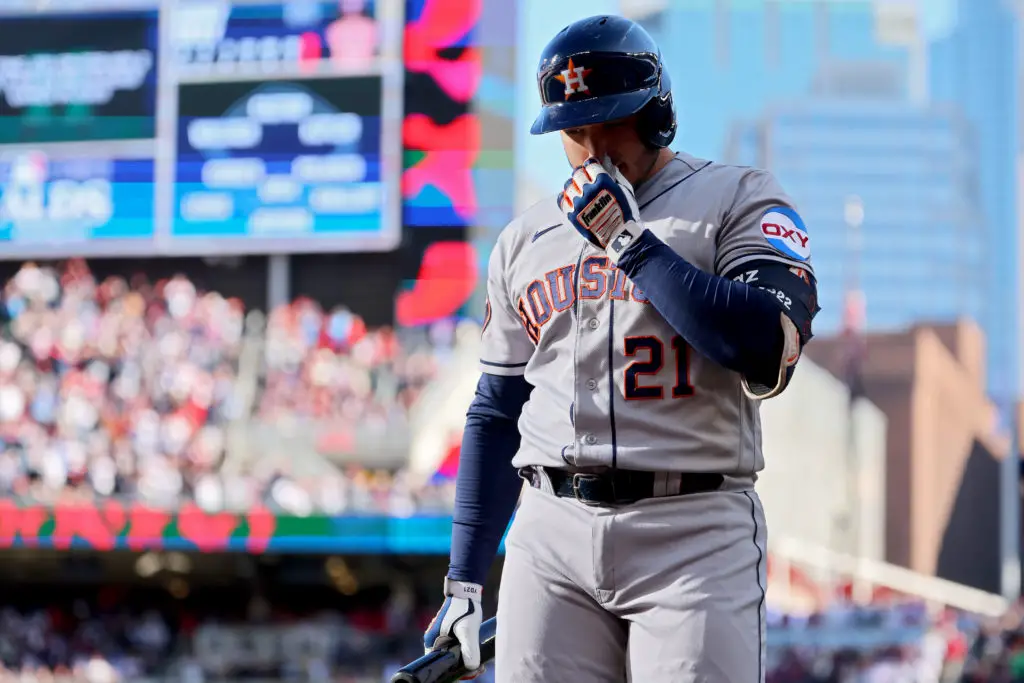 Astros rookie Yainer Diaz gets taste of postseason
Yainer Diaz serves as DH in Game 3
The Astros used Martin Maldonado and Christian Vasquez behind the plate en route to the 2022 World Series title. Yainer Diaz had one of the best seats to learn from the veteran catchers as part of the postseason taxi squad. 
Diaz watched the Astros dominate and win their second title in six years. Now, the 25-year-old from the Dominican Republic wants to build his own playoff memories and experience October baseball.
"I told myself, 'Next year I want to be a part of it as well, but I want to be a part of it by playing,'" he said. "So I'm very excited for this opportunity."
Diaz started as the Astros' designated hitter Tuesday afternoon in Game 3 of the American League Division Series. Manager Dusty Baker told him about the assignment on Monday.
Yainer Diaz makes joyous call
As soon as the rookie received the message from Baker, Diaz called his parents to let them know he was starting in his first career postseason game.
"They're in Houston right now," Diaz told the media before the Astros beat the Twins 9-1 at Target Field. "They're always asking me, 'Are you going to play tomorrow?' But as soon as I found out (Monday), I gave them a call."
Diaz signed with the Cleveland Indians (now Guardians) as an international free agent in 2016. The Guardians sent the Azua, Dominican Republic, native and right-handed pitcher Phil Maton to the Astros in a trade package for outfielder Myles Straw at the trade deadline in 2021.
MORE FROM OUR ESQUINA
Astros rookie Yainer Diaz has patience and pop
Yainer Diaz guides Astros within two outs of no-hitter
Astros catcher Martin Maldonado calls third no-hitter
Diaz made the Astros' Opening Day roster this year and never looked back. He has been one of the best rookies in the majors this season. The rookie catcher played in 104 games, batting .282 with 100 hits, 22 doubles, 60 RBIs. He also carried a 3.2 WAR.
Diaz hit 23 home runs this season, finishing with the second most homers by a rookie in franchise history. Yordan Alvarez set the franchise's rookie home run record in 2019 with 29 during his Rookie of the Year season. 
Moreover, he is one of only seven rookies in franchise history to hit 20 homers in a season. He hit 14 of his home runs on days he started behind the plate, tying Mitch Meluskey for the most homers by a rookie catcher in Astros history.
Loud chorus of supporters
Diaz has been so potent with his bat, a loud segment of the Astros' fan base has wanted him to start more behind the plate. Baker has stuck with veteran Martin Maldonado behind the plate this postseason and throughout most of the season.
"I pulled up something, and there's only been one catcher since 2010 that was a rookie or inexperienced catcher (starting for a World Series winner)," Baker told the media before Game 3. "It was Buster Posey, who was the Johnny Bench Player of the Year when he was in college, and he honed his skills in college.
"Yainer learned his skills through a very advanced course to the big leagues, but it's more advanced on his bat than it was on his catching knowledge, which isn't his fault. Experience does matter."
Yainer Diaz was 0-for-5 with four strikeouts as the Astros defeated the Twins 9-1 in Game 3. The Astros' catcher of the future will have more opportunities like the one he experienced Tuesday before 41,017 roaring fans at Target Field.
Get the Our Esquina Email Newsletter
By submitting your email, you are agreeing to receive additional communications and exclusive content from Our Esquina. You can unsubscribe at any time.