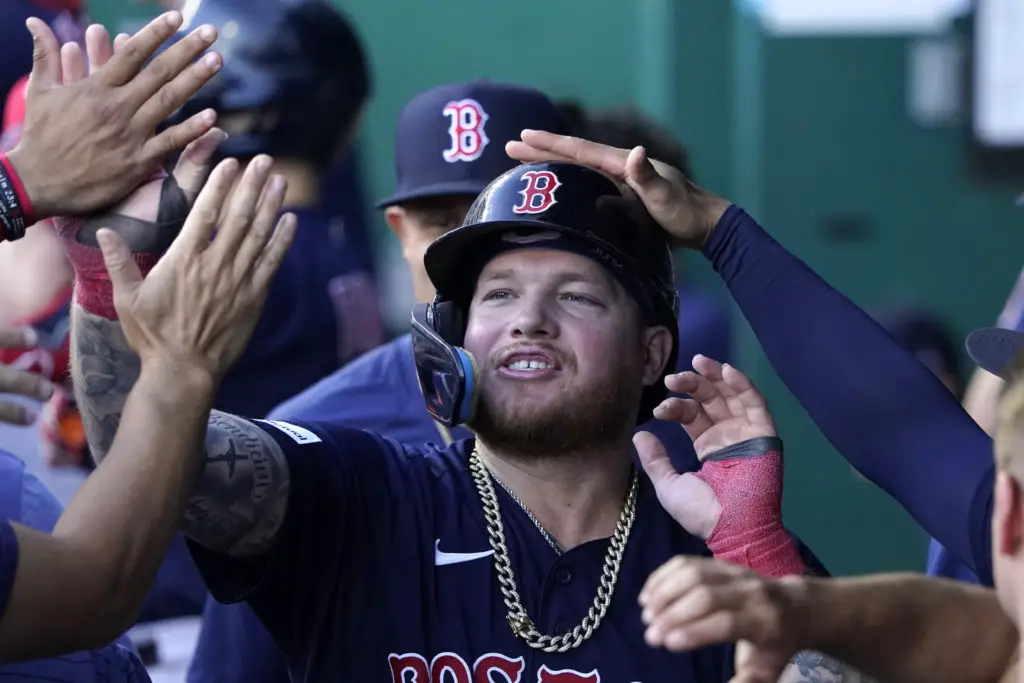 Alex Verdugo continues to grow with Red Sox
Verdugo proudly represents father's Mexican roots
HOUSTON- Growing up, Alex Verdugo would go with his parents to watch his older brothers Joe Jr. and Chris play baseball at the ballpark. 
But before that, Alex was already practically born into the sport.
"My mom always told me I had a glove and a bat in my hand," he said. "I always wanted to play catch or have someone throw to me. It even happened before T-ball."
Shelly and Joe Verdugo Sr. raised their four children in Tucson, Ariz. All of the Verdugo children were active in high school sports. However, Alex would be the only sibling to play professionally.
From Los Angeles to Boston
Dugie was drafted in the second round by the Los Angeles Dodgers in 2014. He made his MLB debut with the Dodgers on Sept. 1, 2017. The Dodgers traded Verdugo to the Red Sox in a package for 2018 AL MVP Mookie Betts in 2020. 
In his fourth year with the Red Sox, the 6-foot outfielder is batting .278/.341/.449. He has 135 hits, 34 doubles, 13 home runs and 51 RBIs. .
MORE FROM OUR ESQUINA
Red Sox: Dugie and Duran bring Mexico to Camp
Mexico earns its applause with historic WBC run
"We challenged him in the offseason to play faster and be better," Red Sox manager Alex Cora said of Verdugo. "Offensively, he went through a stretch there with a lot of swing and misses and just felt like he was dragging his bat a little bit.
"Now he's bouncing back. A few weeks ago or a few days ago I decided to put him back in the leadoff spot. And so far it's been amazing."
Verdugo capitalized on the move back to the leadoff spot with three consecutive home runs leading off a game. That leadoff homer streak tied for the second longest streak since 1900.
Team Mexico
The Mexican American Verdugo represented Mexico in two prestigious events. 
In 2017, Alex represented the Dodgers and Mexico for the World Team in the MLB Futures Game at Marlins Park (now known as loanDepot Park) in Miami. He also played for Team Mexico in the 2023 World Baseball Classic.
Team Mexico played in Pool C in Phoenix in the WBC.  Joey Sr. and the rest of the Verdugo family made the 113-mile drive from Tucson to Phoenix to watch Alex and Team Mexico play. 
Joey Sr. had the biggest smile on his face when he watched Alex take the field with the big "M" on his cap.
"For me to play for Team Mexico was an honor and a privilege," Alex Verdugo said. "I also saw how happy it made my dad. He was proud of me and proud of how I had Mexico across my chest. 
"It made me feel better and even more proud too."
Alex Verdugo proudly represents El Tri
Alex Verdugo, 27, continues to represent and show his support for El Tri. He walks up to home plate with the song "Volver, Volver" by the legendary Mexican musician Vicente Fernández.
The laces on his baseball glove, shin guard, and cleats have the colors of Mexico's flag: red, white, and green. 
Although the veteran right fielder doesn't speak Spanish well, he doesn't let the language barrier stop him from learning.
In a Red Sox clubhouse with many Latinos, Alex speaks Spanish to his teammates in a fun and silly way.
"I mess around with my teammates, and that's what we do mostly," he said. "I definitely need to get more conversational. I feel like once I get to that point, then I'll be able to keep picking up words and learn things as I go." 
Alex Verdugo set a personal goal to learn, speak and continue to have a conversation in Spanish within the next two years. He is still growing, after all, on and off the diamond.
Get the Our Esquina Email Newsletter
By submitting your email, you are agreeing to receive additional communications and exclusive content from Our Esquina. You can unsubscribe at any time.