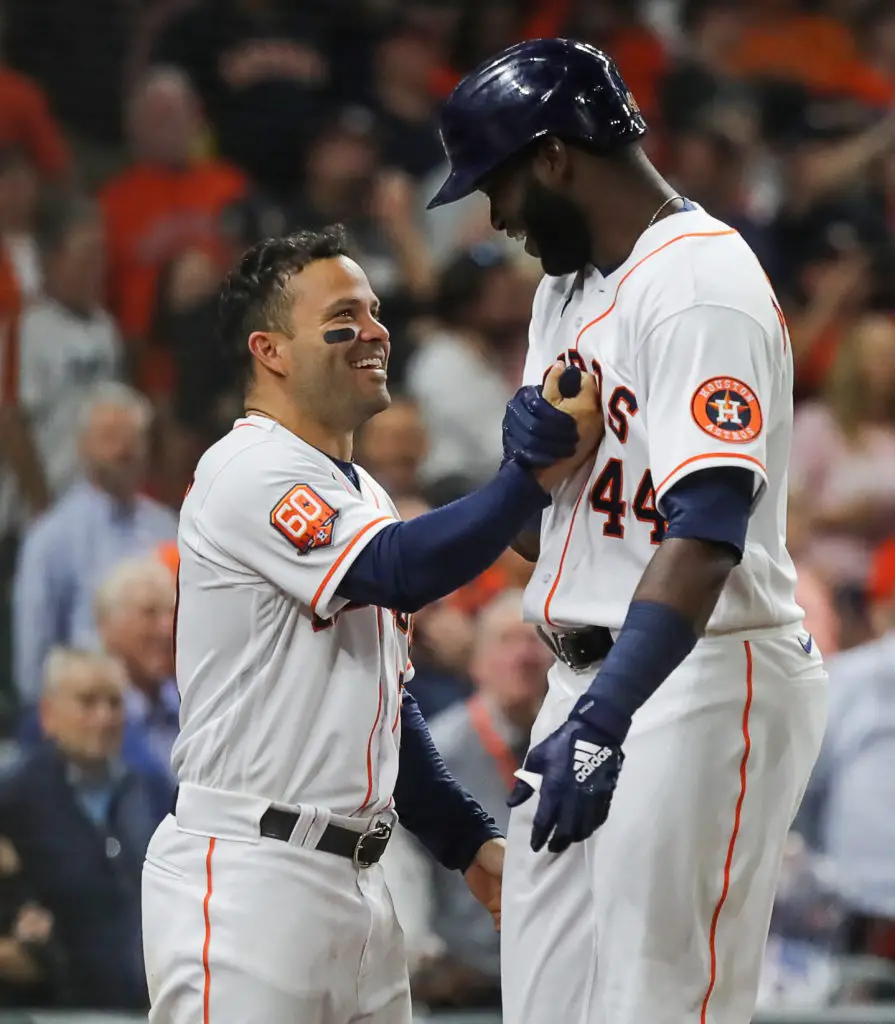 Yordan Alvarez tees off in Astros home opener
Yordan Alvarez hit a pair of majestic two-run blasts
HOUSTON – Yordan Alvarez had one request from his wife as he headed to work Monday at Minute Maid Park. She wanted one of the Yordan Alvarez bobbleheads the Astros gave the sellout crowd at their home opener.
Being the overachiever that he is, Yordan Alvarez walked out of the Astros' clubhouse late Monday with more than bobbleheads to share with his wife Monica and their young family.
In his powerful left hand, he walked out with two of his bobbleheads. With his right hand, he held the black box containing the 2021 American League championship ring he received from Jim Crane in a pregame ceremony.
And on the stat sheet, Alvarez added the two monstrous two-run homers that led the Astros to an 8-3 victory over the Los Angeles Angels.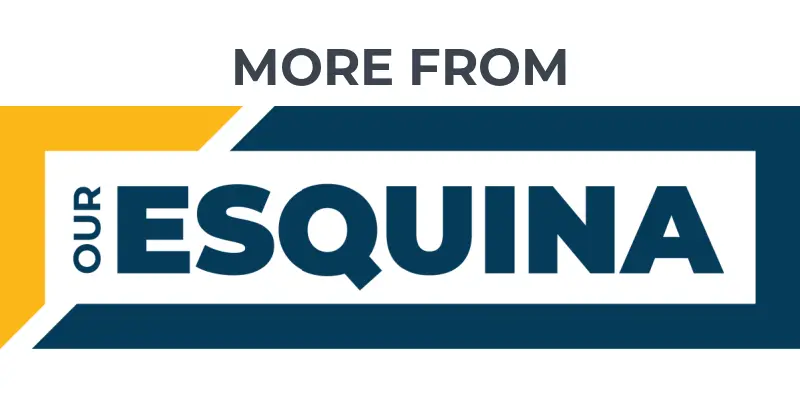 "What do you think?" Alvarez told a reporter in Spanish as he walked out with a huge smile on his face. "Does it look like me?"
Vintage Yordan Alvarez
The bobblehead and the slugger looked vintage Alvarez on his first day back from the injury list due to health and safety protocols. Because the Cuban slugger had missed five days, manager Dusty Baker intended on giving Alvarez Monday off so he could ease back into form.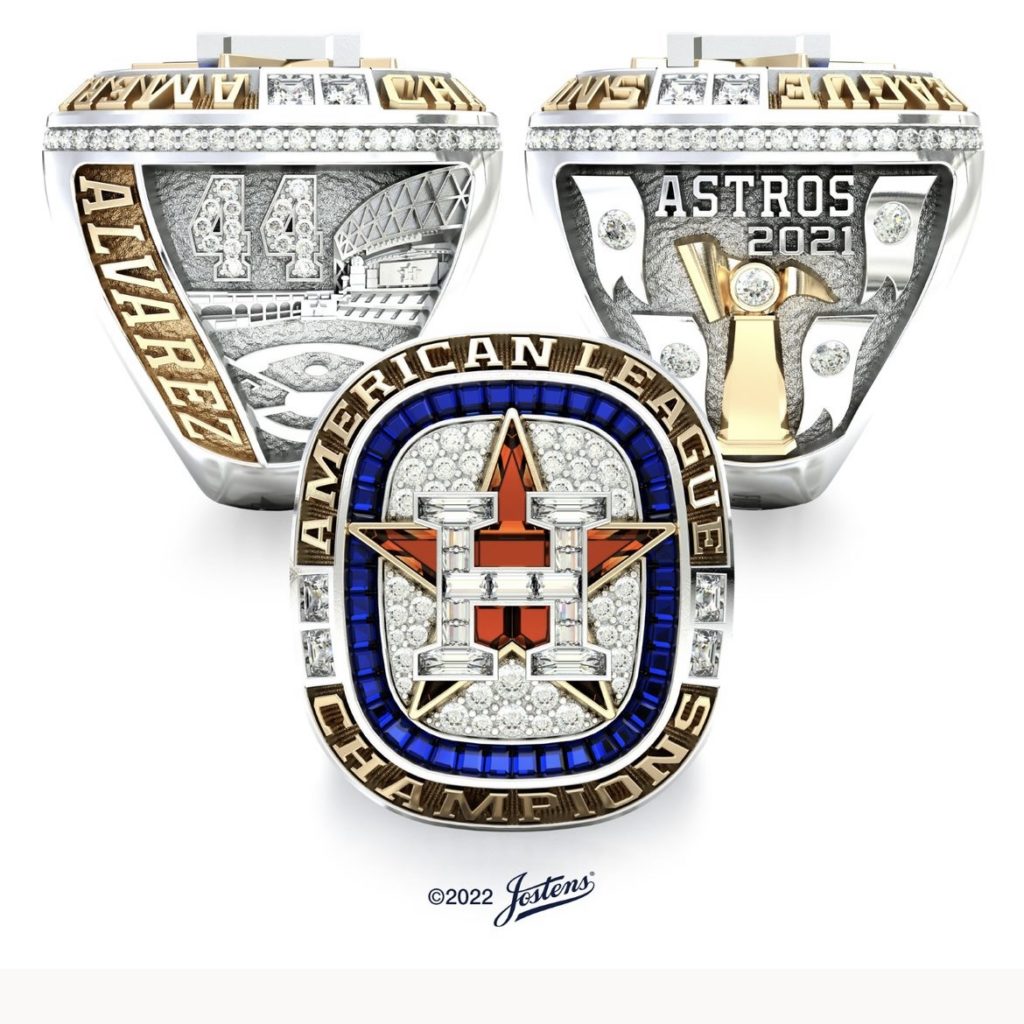 Alvarez assured Baker that he was ready to go. Baker inserted him in the cleanup spot as the designated hitter.
"They talked to me, and I was sincere," Alvarez said. "I told them how I felt, and they made the decision to let me play."
The Astros' lineup looks much better with the 2019 AL Rookie of the Year. He is one of the most dangerous sluggers in baseball, as he showed last year with career highs in home runs (33) and RBIs (104). 
As Alvarez strolled to the plate in the first inning with a man on base, future Hall of Famer Justin Verlander and Baker had a chat in the dugout.
"I was talking to Verlander on the bench … right before the first home run," Baker said. "And he goes, 'Boy, he sure does make a difference in the lineup.' Then the next thing you know he hits one out of the ballpark.
"So I'm going to go down and talk to Verlander next time whenever he's up. He really makes a difference. Like I said, he's right in the middle. He usually has somebody on base. When he hits them, usually it's a no-doubter."
415 feet of no doubt
Alvarez crushed his first two-run blast into the second deck behind the right field wall. That 415-foot shot gave the Astros an early 2-0 lead, eliciting the first thunderous roar of the season at Minute Maid Park. 
"I think when I hit the ball, I said, 'Oh wow,'" he said. "I think the stadium also got excited the same as I did. I think it was very welcomed by the crowd."
Alvarez's second two-run blast was a line drive into the bullpen behind right-center field in the seventh, giving the Astros a 7-3 lead.
Alvarez secured the ninth multi-home run game of his career and first since last Sept. 13 against the Rangers. The designated hitter/left fielder has had eight of his multi-homer games as a DH. Only Nelson Cruz with 13 has had more multi-home run games as a DH than Alvarez since 2019. 
It's important to note that Alvarez missed most of the abbreviated 2020 season recovering from surgeries in both knees.
Alvarez spent most of his time on the recent IL isolated in a room.
"He came back better than when he left," Baker said. "He was struggling a little bit when he left. He told me he was ready. So if he says he's ready, I guess I got to take his word, especially after tonight's performance."
Yordan Alvarez had no doubts
Alvarez, 24, wasn't surprised by his performance. 
"I didn't have any doubts," he said. "I know my ability, but I was a bit anxious to see what was going to happen."
Alvarez, his teammates and their fans liked what they saw. The stoic slugger even displayed his sly, charming smile as he walked out of the clubhouse with the two bobbleheads for his wife.
"No," he said playfully when asked if the bobbleheads looked like him. "I don't think so, no."
Judging by his smile, it appeared as though Alvarez approved of the bobblehead. More importantly, his swing looked as powerful as ever. There's no doubt about that.
Get the Our Esquina Email Newsletter
By submitting your email, you are agreeing to receive additional communications and exclusive content from Our Esquina. You can unsubscribe at any time.