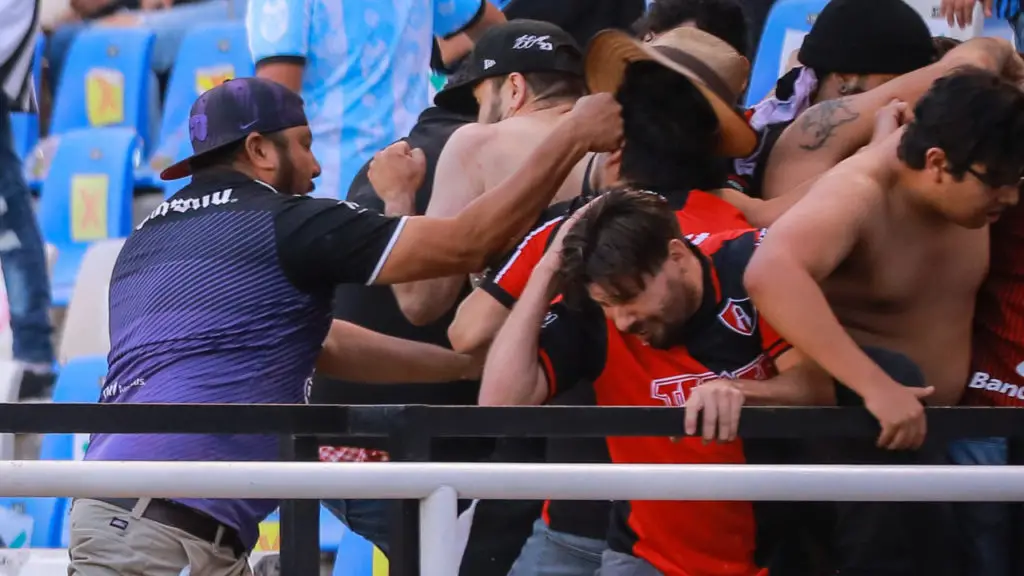 Soccer riot in Queretaro, Mexico, leaves 22 injured
Multiple feared dead after Queretaro riot
Violent clashes between soccer fans in Queretaro, Mexico, left almost two dozen injured Sunday evening, prompting Liga MX to suspend the rest of its schedule this weekend. 
The soccer riot spilled onto the playing field at Estadio La Corregidora as fans of home team Queretaro attacked fans of Atlas. The referees stopped the match in the 60th minute after fans seeking refuge from the violence went on the field.
At least 22 were reportedly injured, some seriously, during the riot. Multiple victims were feared dead. Videos and pictures from the scene showed vicious attacks.  
Horrific scenes in Queretaro
In one video, fans could be seen taking turns kicking an unconscious man who lost his clothes in the attack. The victim was kicked in the head and on the torso numerous times as his naked body showed little sign of life.
As women and small children ran toward safety, many took off their shirts and replica jerseys that identified them as fans of Atlas, which is based in Guadalajara.
"Liga BBVA MX laments profoundly and condemns the terrible incidents that happened this afternoon at Corregidora Stadium during the Queretaro and Atlas game," Liga MX president Mikel Arriola said in a video released on social media. "It's a situation of grave violence that worries us, consumes us and obligates us to respond energetically against those responsible.
"First, let me express my solidarity with the families of those who were injured and express that we are being very vigilant about their health status through reports from Queretaro's civil protection authorities."
Sunday slate suspended
In response to the tragedy, Arriola announced the postponements of the remaining games for Week 9 of the season in "solidarity with those affected" by the tragedy at Estadio La Corregidora.
The scenes from Queretaro were horrific. In one scene, stadium security personnel appeared to open a gate as fans stormed through toward Atlas fans.
Young families could be seen running in distress throughout the stadium. Mobs wearing Queretaro gear could be seen hitting fans over the head with chairs, punches and kicks.
Mexico will co-host the 2026 FIFA World Cup with the United States and Canada. Mexico has already been sanctioned by FIFA for its fans' use of a homophobic chant.
Arriolo vowed to work with league, local and state officials to identify the culprits. He promises to seek maximum, unprecedented penalties against the rioters.
Full review of riot promised
Moreover, he vowed to review reports from commissioners and referees to identify those responsible for the violent acts. Arriola vowed to issue unprecedented penalties to the rioters. Furthermore, he promises to make an example of the rioters. 
"The violence doesn't form a part of Mexican soccer," he said.
"We want secure stadiums and to enjoy games in peace," Arriola said. "That's why Liga MX will undergo a full review of our security protocols and how we work with the authorities with each state and municipality to generate a safe and family atmosphere that we should have in each of our stadiums."
Get the Our Esquina Email Newsletter
By submitting your email, you are agreeing to receive additional communications and exclusive content from Our Esquina. You can unsubscribe at any time.