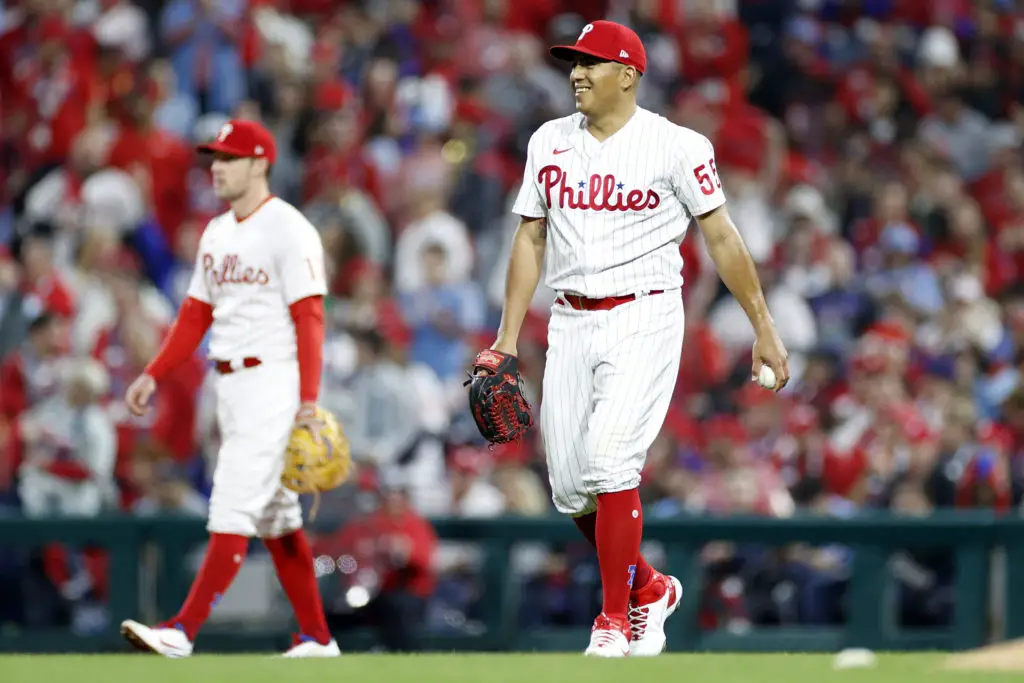 Ranger Suárez leads Phils to 2-1 World Series lead
Ranger Suárez is only the second starting pitcher from Venezuela to win a World Series game.
PHILADELPHIA – Coming up through the Phillies organization, Ranger Suárez was lucky enough to have fellow Venezolano Les Straker by his side. Straker was a member of the 1987 Minnesota Twins that won the World Series, an experience he often talked about with Suárez.
"One of the first things (Straker) told me was what a beautiful thing it is to make it to a World Series," Suárez said. "As a Venezuelan, you're coming from a different place. And now you're here and people love you. It's a great feeling to have and to experience."
On Tuesday night, the 27-year-old lefty became only the second starting pitcher from Venezuela to win a World Series game.
He earned the 7-0 victory in Game 3, giving the Phillies a 2-1 lead in the best-of-seven World Series.
Teammates feed off of Suárez's energy
From the moment Suárez stepped on the field to take his warm up pitches, fans showered him with support. You probably couldn't tell because of his cool and calm demeanor on the field, but Suárez felt that energy.
"The fans were excellent tonight, as always," he said. "They definitely give you a plus. They inject that energy that you don't get anywhere else. The whole postseason they've been wonderful."
He felt that energy when right fielder Nick Castellanos made a sliding catch to rob José Altuve of a base hit. He felt that energy after each of the five home runs his teammates hit gave him the run support he needed to complete five scoreless innings before handing the ball over to the bullpen.
What he doesn't know is that his teammates feed off his energy, focus, and aggressiveness in the strike zone.
"He's going to get it and go," Castellanos said. "He's going to be around the strike zone and he's going to compete. So, as defenders and everything, we're locked in because we know the game is going to start happening"
Earlier, Castellanos admitted that the farther away from the batter you are as a defender, the easier it is to lose focus. When Suárez is on the mound, that doesn't really happen because he moves so quickly and isn't afraid to allow contact.
The comeback kid
It also helps when the 2022 Fielding Bible Award winner continues to nonchalantly field comebackers with ease.
"It's always fun to be able to see him get a ground ball back to him or a line drive," said Bryce Harper, who hit a two-run homer to put the Phillies ahead in the first. "He's just so at ease about everything that he does and it's just so much fun to watch."
Even though it took Ranger Suárez a decade to get here, no matter the result, someday he'll be able to look back and see that he did everything he could to bring the trophy back to Philadelphia.
As an added bonus, he'll see that in his first five postseason appearances, his team was undefeated. He joins Freddy Garcia, who won Game 4 of the 2005 World Series against the Astros, as the only Venezuelan starting pitchers to win a World Series game.
"Ever since I signed with the Phillies, I dreamt about making it to the World Series," he said. "Look at us now. We're here. It's not only that I want this, it's also that the city of Philadelphia wants this and I'm very happy for them too."
The Phillies are now two games away from winning their first World Series title since 2008. If they can complete the job, Suárez will be a huge reason why.
Get the Our Esquina Email Newsletter
By submitting your email, you are agreeing to receive additional communications and exclusive content from Our Esquina. You can unsubscribe at any time.