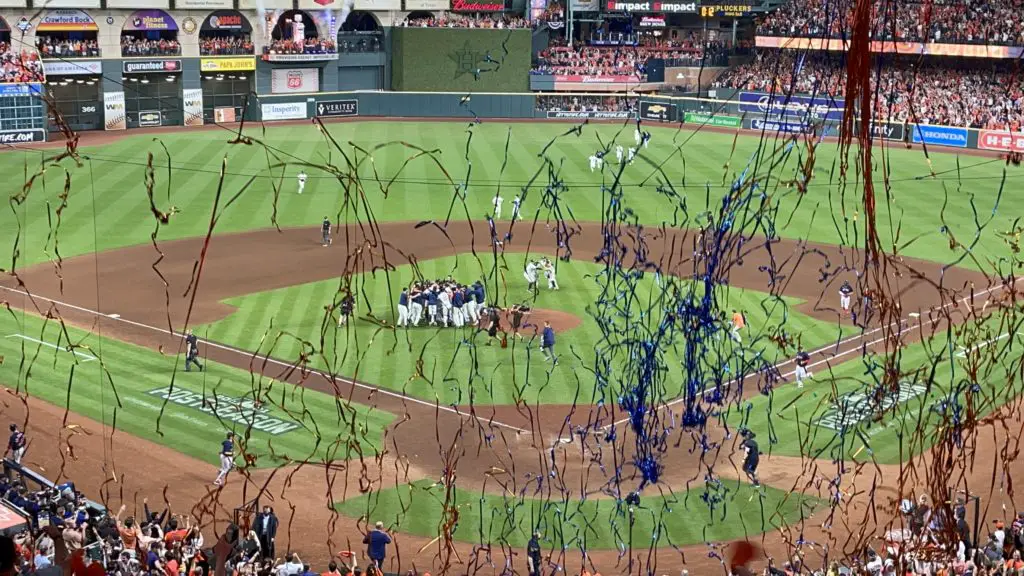 Play Ball: MLB lockout ends
Season set to open April 7
The MLB lockout is over. Major League Baseball and the MLB Players' Association agreed on a new collective bargaining agreement, reinstating a full, 162-game season set to start on April 7. Players can accrue their full service time and pay in 2022.
The new CBA ended the 99-day MLB lockout. It was the second longest work stoppage in MLB history. The agreement also allows the baseball world to take a much needed breath after weeks of the highs and lows that tense negotiations tend to bring.
"I am genuinely thrilled to be able to say that Major League Baseball is back and we're going to play 162 games," MLB commissioner Rob Manfred said. "I do want to start by apologizing to our fans. I know the last few months have been difficult."
The votes demonstrated that players and owners were ready to get back to business after the long MLB lockout. All eight of the MLBPA's executive committee members reportedly voted against MLB's final proposal. But player reps voted overwhelmingly in favor by a vote of 26-4.
"Our union endured the second-longest work stoppage in its history to achieve significant progress in key areas that will improve not just current players' rights and benefits, but those of generations to come," MLBPA executive director Tony Clark said. "Players remained engaged and unified from beginning to end, and the process re-energized our fraternity."
Rookie raises after MLB lockout
The biggest sticking point in negotiations during the MLB lockout was the Competitive Balance Tax (CBT). That so-called luxury tax will increase from $230 million in 2022 to $244 million at the end of the deal. The CBT was $210 million in 2021.
It was reported that players turned down a larger offer from owners in exchange for a 14-team postseason. Both sides agreed to a 12-team postseason, which is up from 10. It should generate more revenue and interest in the sport come October/November.
Players earning a minimum salary will receive a drastic 23% raise in 2022, from $575,500 to $700,000. That number will increase every year by $20,000 until the CBA expires at the end of the 2026 MLB season. The minimum salary will be $780,000 in 2026.
This CBA will also usher in a pre-arbitration bonus pool of $50 million. Players who are not eligible for arbitration – like Vladimir Guerrero Jr. – will have a chance to make additional money. The money will be divided among the top 30 pre-arbitration players based on their Wins Above Replacement (WAR) and other awards.
What else is in the agreement?
There are a few other items included in the CBA that are sure to improve the product on the field. The most popular of these items is the implementation of a universal designated hitter. Gone are the days of having two different leagues in the same sport playing under a different set of rules.
Also, there's the implementation of a whole new set of rules, which are sure to increase the pace and rhythm of the game. Effective 2023, MLB will ban the shift, implement a pitch clock, and increase base sizes.
Moving forward, baseball can also implement rule changes by providing 45 days' notice. Previously, the league was required to provide a notice of one year. A committee of six league appointees, including four players, are required to ratify any changes.
Double headers will no longer be seven innings. There will be no ghost runner on second base in extra innings. Sure, these rules may resurface in the future.
So strap on, because the next few weeks are going to be a frenzy. With free agency and the trade market open for business, there will be a lot of movement ahead of Opening Day on April 7. Play ball!
Get the Our Esquina Email Newsletter
By submitting your email, you are agreeing to receive additional communications and exclusive content from Our Esquina. You can unsubscribe at any time.