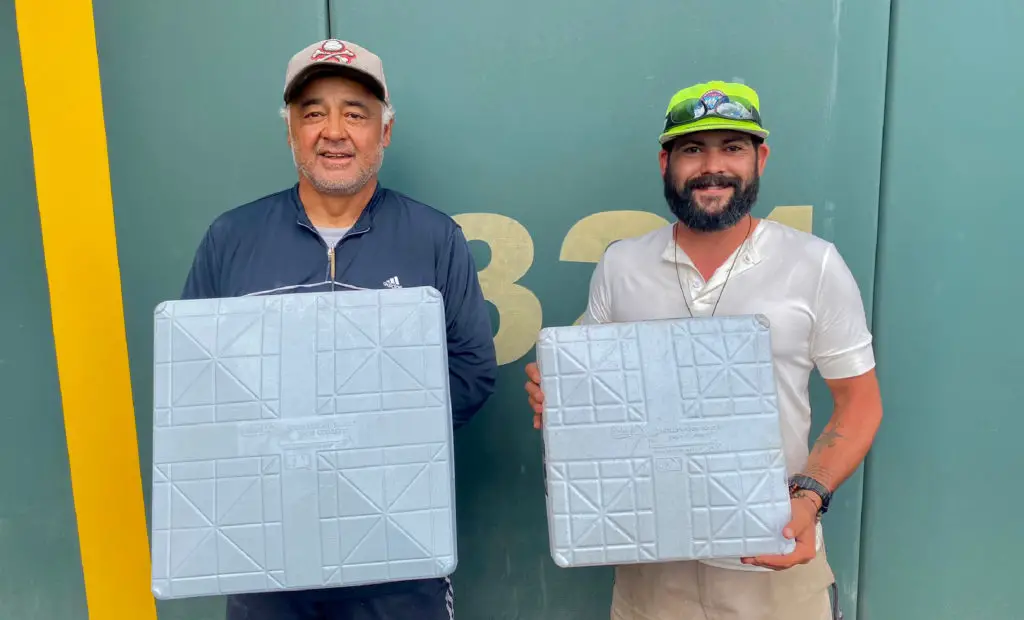 MLB rules: Change is good
MLB and MLBPA agree to rule changes starting 2023.
It was another heartbreaking day for fans of Major League Baseball as regular season games were cancelled through April 14. The good news is that MLB and the MLBPA are closer than they were a week ago, so a deal appears imminent. It's only a matter of time.
So, instead of boring you with the details of the Competitive Balance Tax (CBT) or qualifying offers or international drafts and the like, I want to talk about a set of rule changes that will surely make the product on the field – whenever the product finally makes it to the field – better.
Earlier this week, in the midst of all the back and forth between MLB and the MLBPA, it was announced that both sides agreed to implementing three new rules, effective 2023.
They are banning the shift, adding a pitch clock and increasing  base sizes. 
At first glance, these rule changes appear random. Comical even. But the end result could yield a game with a better pace that is fairer and super entertaining.
Let me break it down for you.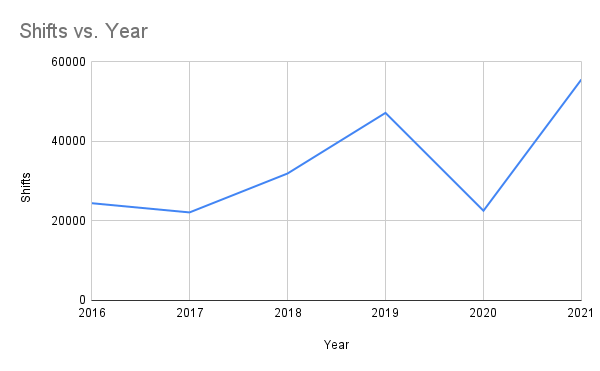 Banning the shift
We begin with banning the shift. Beginning in 2016, the start of the statcast era, to 2021, the percentage of times a team shifts per plate appearance has increased from 13.7% of the time to 30.9%. At its lowest, in 2017, teams shifted 12.1% of the time. At its highest, they shifted 34.1% of the time. A staggering range of 22%. As a result, batting average on balls in play (BABIP) dropped from .300 to .292 in MLB.
It became commonplace to see teams impose exaggerated shifts on left handed power hitters like Joey Gallo. And why wouldn't they when the Gallos of the world continue to hit into those shifts?
The image above shows an extreme shift the Houston Astros used against Gallo in 2018. That season, Gallo was shifted on in 84.3% of his plate appearances, shockingly the 4th lowest of his career. With no shift, that season, he posted a weighted on base average (wOBA) of .414. With it, that number dropped to .330.
Shifts have become so outrageous that scoring a game properly has become a near impossible task. Take this 2021 game between the Astros and the San Diego Padres as an example.
In this example, Kyle Tucker hits a fly ball to right field where it is caught by the third baseman Manny Machado. Why? Because of an extreme shift.
In banning the shift, MLB is intending to even the playing field between defense and offense. Sure, shifts have existed since the game's inception, but was it ever intended to get to the point where a third baseman is shagging down a routine fly ball in right field? We can all agree that it was not.
Pitch clocks
The most consequential of the three rule changes might be the introduction of a pitch clock. Reportedly, whenever the new Collective Bargaining Agreement is signed, it will include a 14-second pitch clock with bases empty and a 19-second clock with runners on.
This comes on the heels of a hugely successful experiment conducted in the Minors in 2021, where a 15-second with bases empty (17 seconds with runners on) pitch clock was instituted in Low-A. The rule dictated that a pitcher must start his delivery within 15 seconds or he is charged with a ball. The batter is required to be in the batter's box and ready with eight seconds left on the clock. If not an automatic strike was called.
This led to a decrease of 21 minutes average time of a nine-inning game, from 3:02 to 2:41, according to Jayson Stark of The Athletic. This would be monumental for MLB, which hasn't seen game times average in the  2:40s in three decades.
Stark also noted a change in rhythm and pace. The game flowed better and had very little down time. In turn, improvements were noted in runs per game, batting average, slugging, home runs, walks, and hit by pitches.
| | | | | | | |
| --- | --- | --- | --- | --- | --- | --- |
| | Runs/G | AVG | SLG | HR% | BB% | HBP% |
| Without clock | 5.5 | 0.244 | 0.379 | 1.8% | 11.7% | 2% |
| With clock | 6 | 0.269 | 0.429 | 2.4% | 10% | 1.8% |
Source: MLB Research
If successful, this could be what revitalizes baseball's popularity in America. We could actually live in a world where an MLB game is roughly as long as an NBA game.
Increased base size
It is unclear what the exact size of the proposed larger base will be. However, in the Minors last season, bases were increased from 15 square inches to 18 square inches. It also featured less of a ramp,  which is intended to help runners avoid going through the bag. 
From such a close distance, it appears that the larger bases look a bit ridiculous. We've become accustomed to our 15 square inch bases. Why make them larger?
Last season, Class AAA tested the larger bases. The results of this experiment were promising as stolen base attempts and stolen bases increased quite a bit.
"Runners were successful on 76% of stolen base attempts at the Triple-A levels this season through (September 26, 2021)," Kyle Glaser of Baseball America wrote. "The success rates ranged between 69-72% each season from 2015-19."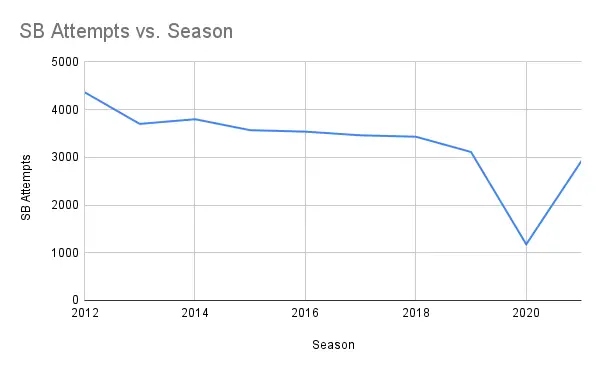 Conversely, in MLB, stolen base rates have been dropping steadily with the advent of analytics. Just in the last decade, stolen base attempts have dropped from 4,365 in 2012 to 2,924 in 2022. That's a 67% drop in just 10 years.
So, try to control your urge to panic as baseball prepares to finally enter the 21st century. Every American professional sport has embraced changes. It has resulted in popularity soaring. In a time when attention spans continue to decrease, why not shorten games while at the same time making them more exciting?
Photo by Danny Torres, host of Talkin' 21 Podcast
Get the Our Esquina Email Newsletter
By submitting your email, you are agreeing to receive additional communications and exclusive content from Our Esquina. You can unsubscribe at any time.