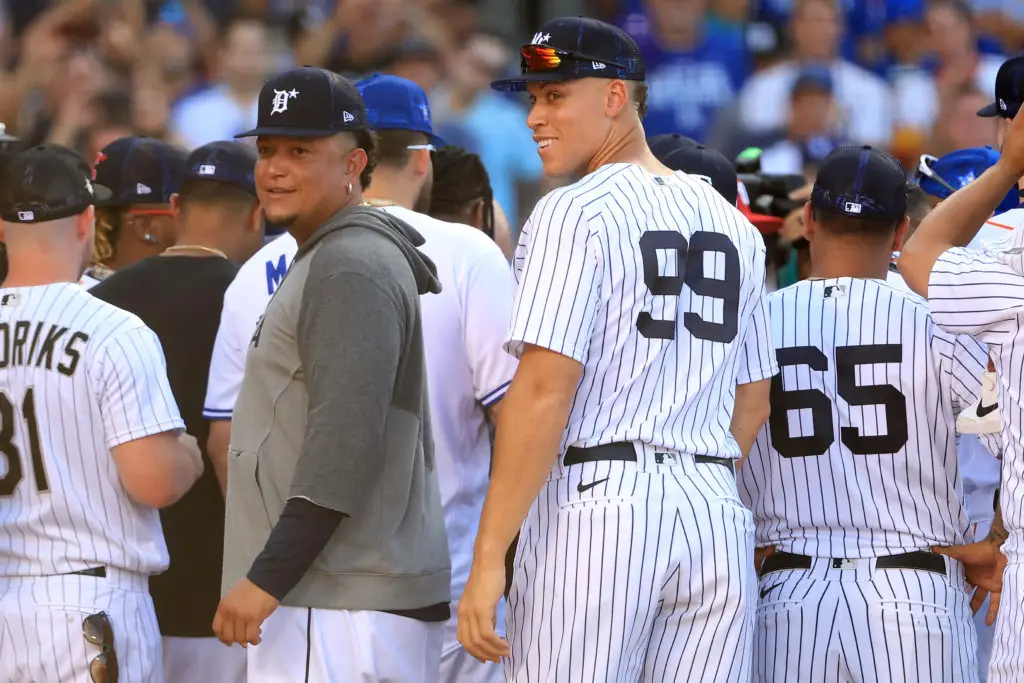 Miggy Cabrera hopes Aaron Judge gets Triple Crown
Miguel Cabrera hopes Aaron Judge joins him in Triple Crown club.
BALTIMORE – If the 2023 MLB season ended today, Yankees slugger Aaron Judge would win the Triple Crown. It would be the first time that a player has won the Triple Crown since Tigers legend Miguel Cabrera won it a decade ago, in 2012.
Sitting at his locker in Camden Yards, Cabrera searches for the words to describe what Judge has accomplished this season.
"You have to be grateful that we're in the presence of this," Cabrera said. "I'm just appreciating it and enjoying it, and I wish him all the best. I hope that he keeps breaking records and that he wins the Triple Crown, which is something that not many players have done in the big leagues."
Winning the Triple Crown is one the rarest feats in baseball. It has been accomplished only 27 times in MLB history by 22 men. 
That's fewer men than have ever thrown perfect games (23).
Before Miggy, the last Triple Crown winner was Hall of Famer Carl Yastrzemski in 1967.
The 39-year-old veteran from Maracay, Venezuela, is rooting for Judge to accomplish this feat.
"Of course I do because it's something for the fans, for himself, and for his family," Cabrera said of Judge's Triple Crown chase. "It's something that's historic. On top of that, he plays for a team with a large tradition and fame. And (the Triple Crown) will only put him on a whole different level."
On hitting 60 home runs
Miguel Cabrera laughs when asked about the historic achievement Judge accomplished Tuesday. The Yankees slugger hit his 60th homer of the season to tie Babe Ruth for second on the American League's single-season home run list.
"His accomplishment yesterday or the whole season?" he asked sarcastically on Wednesday.
The night before, Judge hit his 60th home run of the season.
Sure, this home run occurred one night. However, it is a culmination of an entire season that continues to unfold.
Miggy is no stranger to history. In the last two seasons, he has reached the 500-home run and 3,000-hit milestones. Only six other players have joined both of those exclusive clubs in baseball history.
Cabrera doesn't mince words when it comes to accomplishments like hitting 60 or more home runs in a single season.
"It's incredible. Throughout the whole year (Judge) has been consistent," Cabrera said. "It's something that you have to admire as a player and as a fan of baseball. You have to learn to enjoy it and to be grateful that we're witnessing history at this moment. The same goes for Albert Pujols."
In the second half of this season, St Louis Cardinals legend Albert Pujols is making a serious run at the 700-home run mark. Pujols hit just six home runs in the first half of the season. Since the All Star break, the Santo Domingo, Dominican Republic, native has added 13 more to his total. Pujols sits at 698 for his career with two weeks left to play.
It's safe to say that by the end of the season, MLB fans will walk away with a season to remember. And Aaron Judge will forever be the face of it.
Get the Our Esquina Email Newsletter
By submitting your email, you are agreeing to receive additional communications and exclusive content from Our Esquina. You can unsubscribe at any time.