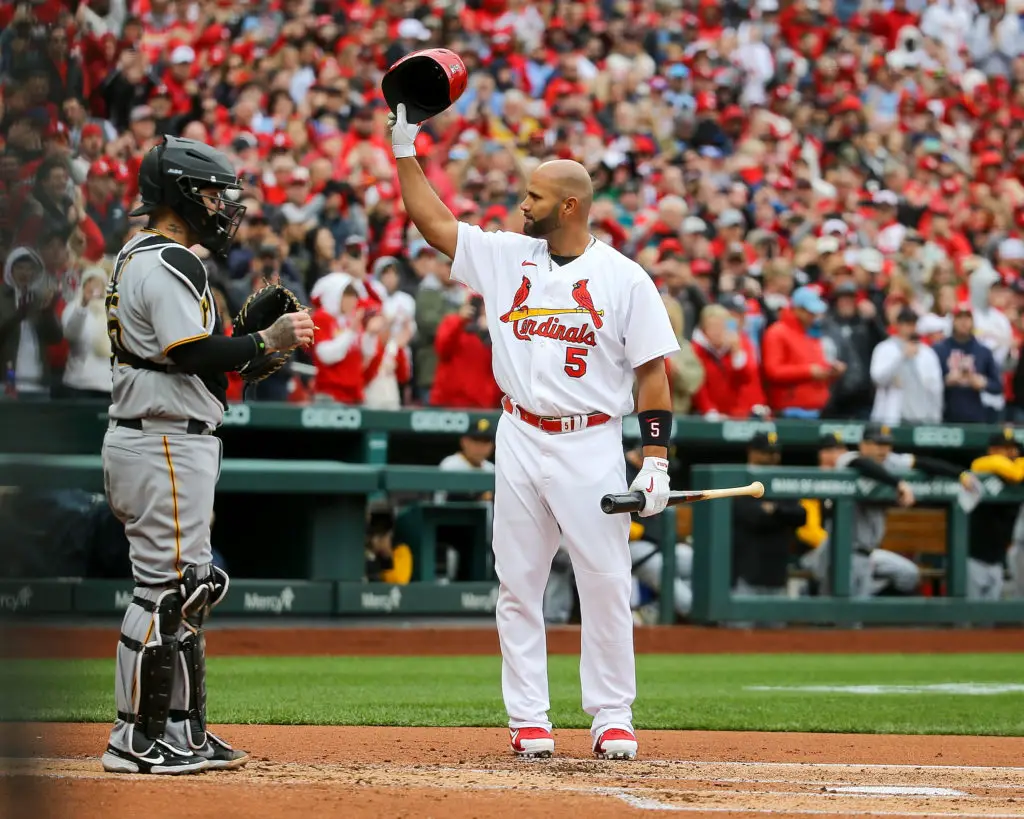 Five takeaways from Opening Week in MLB
Pujols' return highlights five big takeaways from Opening Week in MLB
A little over a month ago, we weren't sure if we would have baseball this season. Deep in the quicksand that were the negotiations between the MLB Players Association and owners, who would have thought we'd be here, one week into the 2022 MLB season, ready to recap deliver five takeaways from Opening Week?
So much went down in baseball's first week. Juan Soto hit his 100th career home run. Clayton Kershaw was perfect through seven innings before being pulled, and Vladimir Guerrero Jr. hit three home runs against the New York Yankees.
However, nothing stood out on Opening Week more than the following:
Pujols' return to St. Louis has all the feels
Prior to the start of the season, I dreamt of Albert Pujols returning to the St. Louis Cardinals for a farewell tour. On March 28, my dream came true with the Cards announcing the signing of the Dominican slugger.
Since then, it's been a whirlwind for the 42-year-old from Santo Domingo, Dominican Republic. First, it was announced that his wife of 22 years, Diedre had a brain tumor removed. Then, ahead of Opening Day, he released a statement confirming that he and his wife were getting a divorce.
None of it took away from his emotional re-introduction to Cardinals fans on Opening Day. St. Louis fans showered "The Machine" with love as he stepped up to the late. Feeling the love, Pujols tipped his cap to the crowd, officially beginning the final season of his career back where it all started.
Girl Power: Alyssa Nakken makes history, again
During the Pandemic-shortened 2020 season, Alyssa Nakken became the first full-time female coach in MLB history. This helped pave the way for more teams to hire women for important roles within big league organizations. The Yankees named Rachel Balkovec manager of their Class A minor league affiliate, the Tampa Tarpons.
On a random Tuesday game in April, Nakken made history again. After San Francisco Giants' first base coach Antoan Richardson was ejected in the third inning against the San Diego Padres, Nakken replaced him. She became the first woman to coach on the field in MLB history.
"I was prepared for this moment," she said after the game. "I never knew if or when it would happen, but was ready to step in when the team needed me to. I think it means a lot."
It absolutely does.
Kwan of a kind
If not for an odd technicality, Steven Kwan's historic streak of at-bats without a swing and miss would still be intact. To start the season, the 24-year-old lefty reached base 18 times in five games, surpassing Jay Bruce's record of 17.
In those games, Kwan saw 115 pitches without swinging and missing. That's the longest steak of pitches without a swing and miss for a batter to start his career since 2000, according to Elias Sports Bureau.
On Wednesday, that streak came to an end. In the second pitch of his first at-bat against Cincinnati Reds starter Nick Lodolo, Kwan foul tipped an 82-mph curveball into the glove of catcher Tyler Stephens. Unfortunately, in baseball this is considered a swing and a miss.
Kwan saw 116 pitches without swinging and missing to start the season. Not too shabby.
The unwritten still rules on Opening Week
If you were hoping to see unwritten rules go during the lockout, you're out of luck. On Tuesday, the old grouch made a comeback when Giants super-utility Mauricio Dubón bunted for a single with his team up 11-2 in the sixth inning against the San Diego Padres.
Padres manager Bob Melvin chirped from the top step of the dugout afterward but offered no comment after the game. However, veteran first baseman Eric Hosmer did not hold back.
"I definitely told him how I felt, how we felt about it," he said. "He said it was a sign given to him by their staff. I just told him I think you've got to be a little bit smarter in that situation. You've been playing professional ball for a good amount of time obviously if you're at this level. You've got to be smarter than that."
Unfortunately for the Padres, the move by the 27-year-old from Honduras was correct. Under the new Collective Bargaining Agreement, divisional ties will no longer be settled by a tiebreaker. Instead, run differential will come into play. This means that "running up the score" is actually a good strategy, especially against divisional opponents.
Tanking is still a BIG (league) problem
Another big issue not really addressed in the new CBA is tanking. Even during the lockout, the Oakland Athletics and the Reds went into firesale mode.
Here's a list of players both teams traded away or let walk in free agency:
A's
Traded Chris Bassitt to the New York Mets for Adam Oller and J.T. Ginn.
Traded Matt Olson to the Atlanta Braves for Cristian Pache, Shea Langeliers, Ryan Cusick and Joey Estes.
Traded Matt Chapman to the Toronto Blue Jays for Zach Logue Gunnar Hoglund, Kirby Snead and Kevin Smith
Traded Sean Manaea and Aaron Holiday to the Padres for Adrian Martinez and Euribiel Angeles
Reds
Lost Nick Castellanos to the Philadelphia Phillies free agency.
Traded Jesse Winker and Eugenio Suarez to the Seattle Mariners for Justin Dunn, Jake Fraley, Brandon Williamson and a player to be named later.
traded Sonny Gray and Francis Peguero to the Minnesota Twins for Chase Petty
For the third consecutive season, the Baltimore Orioles have the lowest payroll in MLB. Trailing not too far behind in that time span are the Pittsburgh Pirates. Combined, since 2020, both teams have spent approximately $260 million. That's less than the Los Angeles Dodgers salary in 2022 alone.
Get the Our Esquina Email Newsletter
By submitting your email, you are agreeing to receive additional communications and exclusive content from Our Esquina. You can unsubscribe at any time.