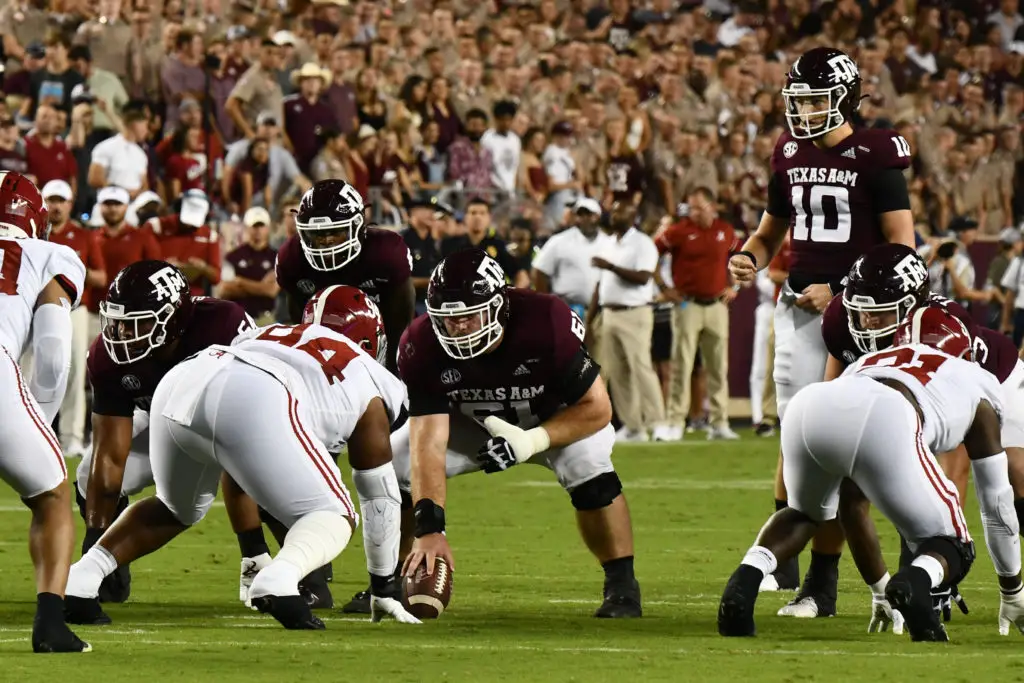 Zach Calzada Highlights Week for Latinos in College Football
Eastern Michigan's José Ramirez starred on defense
Zach Calzada made this week's choice easy. There are more than 100 Latinos in college football, and one of them quarterbacked his team over No. 1 Alabama this weekend.
Actually, two Latinos played crucial roles in Texas A&M's 41-38 upset victory over Alabama on Saturday night at Kyle Field. Seth Small, the son of a Mexico City native, kicked the winning field goal as time expired. So Our Esquina is adding a special teams recognition to our weekly roundup of Latinos in college football.
At Our Esquina, where we amplify Latino voices in sports, arts and culture, we're keeping track of all the Latinos playing college football. This is our weekly list of Latinos in college football. This is a look to see how they and their teams fared.  
We want to highlight their achievements and tell their stories during the season.
Here are our Offensive, Defensive and Special Teams Players of the Week.
Offensive Player of the Week, Zach Calzada 
Texas A&M junior quarterback Zach Calzada threw for three touchdowns, 285 yards and led the 18-point underdog Aggies to an upset win over No. 1 ranked Alabama. 
The previously unranked Aggies entered the home contest with confidence waning, having lost two straight games to Arkansas and Mississippi State.  The Aggies started the game hot and jumped out to a 14 point halftime lead. 
The Crimson Tide overcame that and another fourteen point deficit to eventually take a lead at 38-31 late with five minutes in the fourth quarter. 
The steely Calzada, a grandson of Cuban refugees, responded with four pass completions. The last one was a 25-yard touchdown to tie the game with three minutes remaining. A strong defensive effort forced the Crimson Tide to punt after just one set of downs and less than a minute off the clock. 
Calzada then led the Aggies on an eight play, 54-yard drive that ended with a 28-yard game-winning field goal by Seth Small. 
Latino Defensive Player of the Week José Ramirez
Eastern Michigan sophomore defensive end José Ramirez, a 6-foot-2, 251-pound from Lake Alfred, Fla., filled up the stat sheet against Miami of Ohio.
He had six tackles, one sack, a tackle for loss and five quarterback hurries. He also forced a fumble in the Eagles' 13-12 homecoming win over Miami of Ohio. 
Latino Special Teams Player of the Week, Seth Small
Texas A&M kicker senior kicker Seth Small opened and capped the scoring for the Aggies in their victory over Alabama.
The son of a Mexico City native was peligroso, as he likes to say often in the morning on Game Day when his father Ricardo asks him how he feels.
Small was 2 for 2 on field goal attempts while also going perfect on his five PATs on a night his locker neighbor Zach Calzada starred.
Growing list of Latinos in College Football
Each week we hear of new Latinos College Football player. Last week we learned of Eastern Michigan's Ramirez while watching him in person against Northern Illinois. 
This week, the new addition to our list is Jesus Echevarria, a defensive end at Washington State. Please let us know of other Latinos on college football rosters. 
Other noteworthy aspects of Latinos in College Football:
UTSA tight end sophomore Oscar Cardenas scored his first collegiate touchdown for the Roadrunners in a 52-46  win over the Western Kentucky Hilltoppers. The touchdown gave the undefeated Roadrunners a 24-21 lead just before halftime. The Roadrunners are tied with UTEP Miners atop the Conference USA West standings. UTSA's athletic department is led by a Latina, Lisa Campos. 
Arizona State defensive line coach Robert Rodriguez was featured prominently during the Friday night ESPN broadcast of Sun Devils' victory over Stanford. The Sun Devils also wore a Mayan- themed helmet during the game in honor of Hispanic Heritage Month.
LAST NAME, FIRST NAME
TEAM
POSITION
STATS
TEAM RESULT
Aguilar, Luis
NAU
K
BYE
Alonso, Mandy
Virginia 
DL
3 tackles, 2 solo, 1 TFL, 1 QB Hurry
W, 34-33Louisville
Araiza, Matt 
San Diego St.
P/K
FG- 1/1PAT- 4/4
W, 31-7New Mexico
Aranda, Dave 
Baylor 
Head Coach 
W, 45-20West Virginia
Arias, Daniel 
Colorado 
WR 
BYE
Arroyo, Elijah
Miami (FL)
TE
BYE
Arroyo, Marcus
UNLV
Head Coach 
BYE
Avalos, Andy
Boise State
Head Coach
W, 26-17BYU
Aybar, Wilfredo
Stanford
LB
NO STATS
L, 28-10Arizona State
Banda, Ephraim 
Utah State
Def. Coord/Safeties
BYE
Barr-Mira, Nicholas
UCLA
K
FG- 2/2PAT- 4/4
W, 34-16Arizona
Borregales, Andrés
Miami (FL)
K
BYE
Calzada, Zach
Texas A&M
QB
21-31, 285 YDS, 3 TD, 1 INT
2 rushes, 12 yds. 
W, 41-38Alabama 
Camarena, Evan 
Portland State
CB
3 tackles
L, 42-35Idaho
Canales, Mike "Chico"
Maryland 
Analyst 
L, 66-17Ohio State 
Cardenas, Oscar
UTSA
TE
2 rec., 19 yds., 1 TD
W, 52-46Western Kentucky
Cavazos, Lejond
Ohio State 
CB
1 tackle 
W, 66-17Maryland 
Coley, James
Texas A&M
TE Coach
W, 41-38Alabama
Corral, Matt
Ole Miss 
QB
14/21, 287 yds., 2 TD
15 rushes, 94 yds., 2 TD
W, 52-51Arkansas 
Corrales, Beau 
North Carolina
WR
NO STATS
L, 35-25Florida State
Cristobal, Mario 
Oregon 
Head Coach
BYE
Cropper, Jalen 
Fresno St. 
WR
BYE
Cruz, Gunner 
Arizona  
QB
4/7, 48 yds, 1 rush, -7 yds.
L, 34-16UCLA
Davila, Peter
Albany 
DB Coach 
L, 31-24William & Mary
Diaz, Manny
Miami (FL)
Head Coach 
BYE
Echevarria, Jesus 
Washington St. 
DL
2 tackles
W, 31-24Oregon State
Escobar, Alex 
NM State
RB
1 rush, 0 yds.2 rec., 20 yds. 
L, 55-28Nevada
Escobar, Ivan 
NM State
DL
NO STATS
L, 55-28Nevada
Fernandez, Aaron 
Southern Utah
RGC/OL
L, 41-20Sacramento State 
Figueroa, Nick 
USC
DL
4 tackles, 2 solo
W, 42-26Utah
Flores, Joah
New Mexico 
WR
NO STATS
L, 31-7San Diego State
Flores, Justin 
Maine 
WR coach 
L, 33-23Elon
Fuente, Justin 
Virginia Tech 
Head Coach 
L, 32-29Notre Dame
Flores, Reynaldo
UTEP
RB
1 rush, 8 yds. 
4 rec., 48 yds.
W, 26-13Southern Miss
Garcia, Elijah 
Rice 
DL
BYE
Garcia, Jake 
Miami (FL)
QB
BYE
Garcia, Julio
UNLV
OL
BYE
Garcia, Xavier 
Temple 
Def. GA
W, 52-3Cincinnati
Garcia- Castaneda, Isaiah 
NM State
WR
5 rec., 76 yds.
L, 55-28Nevada
Gonzalez, Billy 
Florida
WR/ Passing Game Coord. 
L, 42-0Vanderbilt
Gonzales, Christian 
Colorado
CB
BYE
Gonzales, Danny 
New Mexico 
Head Coach
W, 31-7San Diego State
Gonzales, Paul
TCU
Safeties Coach 
L, 52-31Texas Tech
Gutierrez, Daniel 
UNLV
K
BYE
Hernandez, Dan
Eastern Illinois 
OL Coach
BYE
Hernandez, Zach 
Cal Poly 
DB
NO STATS
L, 45-7Montana State
Infante, Gabe 
Temple
RB Coach
L, 52-3Cincinnati
Jackson, Jim 
Rice 
TE Coach 
BYE
Longoria, Esai
Montana Tech
OL
Total Offense- 253 yds. 
L, 28-23College of Idaho
Loya, Logan 
UCLA
WR
NO STATS
W, 34-16Arizona 
Lozano, Alex
Portland State
LB
3 tackles, 2 TFL, 1 sack
L, 42-35Idaho
Madrigal, Anthony 
San Jose St.
LB
NO STATS
L, 32-14Colorado State 
Magana, Jorge 
Montana Tech
LB
NO STATS
L, 27-23College of Idaho
Maldonado, Dino
NM State
QB
NO STATS
L, 55-28Nevada
Maldonado, Gunner 
Arizona 
Safety
5 tackles, 1 INT
W, 34-16UCLA
Martinez, Adrian 
Nebraska 
QB
18-28, 291 YDS, 3 TD, 1 INT
8 rushes, 38 yds., 1 TD
L, 32-29Michigan
Martinez, Cameron 
Ohio State 
SAF
1 tackle
W, 66-17Maryland 
Martinez, RJ
NAU
QB
BYE
Martinez, Marc
Tarleton St. 
LB coach
BYE
Martinez, Willie 
Tennessee
CB coach 
W, 45-20South Carolina
Mateos, Eric 
Baylor 
OL
W, 45-20West Virginia
Matthews, Jesse
San Diego State 
WR
1 rec., 6 yds. 
W, 31-7New Mexico
Mejia, Christian 
Washington St. 
DL
NO STATS
W, 31-24Oregon State
Melo, Lucas 
Davenport University 
Run Game Coordinator/Defensive Line
W, 18-13Northern Michigan
Mendez, Julian 
Ottawa University 
Offensive Coordinator 
W, 37-14University of St. Mary
Mirabal, Alex
Oregon 
OL Coach 
BYE
Montano, Abraham 
Fresno State
K
BYE
Montero, Antonio
Rice
LB
BYE
Morales, Kamari 
North Carolina 
TE
1 rec., 21 yds, 1 TD
L, 35-25Florida State
Navarro, Jaime 
San Jose St. 
OL
Total Offense- 267 yds. 
L, 32-14Colorado State
Navarro, Juan 
NCCU 
DL Coach
L, 27-16Tennessee Tech
Navarro, Donny 
Illinois 
WR
1 rec., 16 yds.
L, 24-0Wisconsin
Nunez, Jay
Eastern Michigan
Sp. TeamsAssoc. HC
W, 13-12Miami (OH)
Olave, Chris 
Ohio State
WR
7 rec., 120 yds, 2 TD
W, 66-17Maryland 
Ornelas, Jesse
Central Oklahoma 
RB Coach
W, 49-9Northeastern State 
Ortega, Josh 
UTEP
DE
2 tackles, 1 sack, 1 TFL, 1 QB Hurry
W, 26-13Southern Miss
Ortega- Jones, Julian 
Texas St. 
WR 
NO STATS
W, 33-31South Alabama
Ortiz, Angel
Ottawa Univ. (AZ)
WR Coach
W, 48-6Texas College
Pacheco, Isaih
Rutgers
RB
11 rushes, 47 yds.


L, 31-13Michigan State
Padilla, David
Charleston Southern 
Ass't AD for Football
L, 31-24Robert Morris 
Pagan, Justice 
Portland State
LB
NO STATS
L, 42-35Idaho
Perales, David 
Fresno State
DL
BYE
Ponce, Frank 
Appalachian State 
Offensive Coordinator 
BYE
Ramirez, José
Eastern Michigan
DE
6 tackles, 3 solo, 1 sack, 1 TFL, 5 QB Hurries, 1 forced fumble 
W, 13-12Miami (OH)
Ramirez, Manny 
Texas Southern
OL Coach 
W, 35-31Southern 
Regalado, Marco
Washington State
Director of On-Campus Recruiting
W, 31-24Oregon State
Restrepo, Xavier
Miami (FL)
WR
BYE
Reveles, Miguel
La Verne
Offensive Coordinator
L, 51-7Redlands 
Rivas, Eddie 
Texas State
OL
Total Offense- 400 yds. 
W, 33-21South Alabama 
Rivas- Sandoval, Cesar
Southeastern University 
Head Coach
L, 34-10Ave Maria 
Rodriguez, Anthony 
Portland State
TE
1 rec., 2 yds. 
L, 42-35Idaho
Rodriguez, Chris 
Kentucky 
RB
16 CAR, 147 YDS, 1 TD
1 rec., 3 yds., 1 TD
W, 42-21LSU
Rodriguez, Drew
Towson St. 
QB coach
W, 21-14Stony Brook
Rodriguez, Jacob
Virginia 
RB
1 rush, 1 yard2 rec., 13 yds. 
W, 34-33Louisville
Rodriguez, Joel
FIU
OL coach 
L, 45-33Charlotte
Rodriguez, Juan 
Fresno State 
TE
BYE
Rodriguez, Justin 
UTSA
RB
NO STATS
W, 52-46Western Kentucky
Rodriguez, Malcolm
Oklahoma St.
LB
BYE
Rodriguez, Oscar
Akron
Assoc. HC/ ILB
W, 35-20Bowling Green
Rodriguez, Robert 
Arizona St.
DL coach
W, 28-10Stanford 
Rojas, Manny 
Delaware 
Def. Coordinator
L, 22-15Rhode Island
Rubio, Cruz 
Cal Poly 
LS
NO STATS
L, 45-7Montana State
Sanchez, Angel
Montana Tech
CB
1 tackles, 2 Pass Breakups
L, 27-23College of Idaho
Santa Cruz, Victor 
Hawaii 
Defensive Ends coach
BYE
Santana, Bryce 
New Mexico
DE
NO STATS
W, 31-7San Diego State
Santana, JuanCarlos 
Tulsa 
WR
1 rec., 11 yds. 
W, 35-29Memphis 
Segura, Justin 
NM State
DL
NO STATS
L, 55-28Nevada
Silva, Cesar 
Fresno State
K
BYE
Small, Seth
Texas A&M 
K
FG- 2/2, PAT- 2/2
W, 41-38Alabama
Sori-Marin, Mariano
Minnesota 
LB
BYE
Soto, Anthony
Lenoir-Rhyne 
Offensive Coordinator/ /OL
W, 38-31Tusculum 
Steele, Chris 
USC
CB
1 tackle, 1 pass defended
L, 42-26Utah
Umana, Orlando 
Ole Miss
OL
611 total yards
W, 52-51Arkansas
Velazquez, Alonzo
Wyoming 
OL
Total Offense- 257 yds.
L, 24-14Air Force
Ybarra, Austin
Montana Tech
LB
NO STATS
L, 27-23College of Idaho
Get the Our Esquina Email Newsletter
By submitting your email, you are agreeing to receive additional communications and exclusive content from Our Esquina. You can unsubscribe at any time.