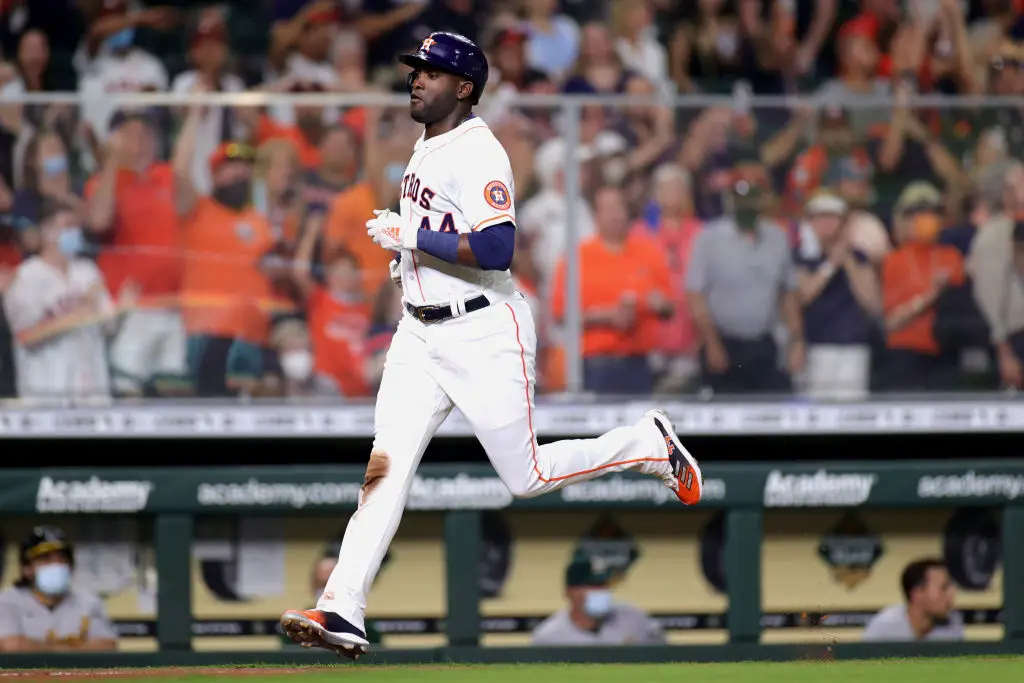 Yordan Alvarez ready to move past knee concerns
Cuban slugger Yordan Alvarez is off to strong start after surgery on both knees
Yordan Alvarez has no doubt about his knees. And it's clear the Astros' young designated hitter doesn't understand why anybody else is worried about them. 
As far as the 2019 American League Rookie of the Year is concerned, he has nothing to prove with his two surgically repaired knees anymore. The Cuban slugger is more focused on helping the Astros and embracing the excitement from playing before fans at Minute Maid Park again.
"No, in no way, in no way," Alvarez said when asked if he thought he needed to prove anything with his knees. "Since I got to spring training, I said I felt fine with my knees. I don't know why they keep asking me the same thing."
The Astros have to like what they're seeing from Alvarez and his knees so far. Alvarez was 2-for-4 with a double, a solo home run and one RBI Thursday night to help the Astros beat the A's 6-2 in their home opener.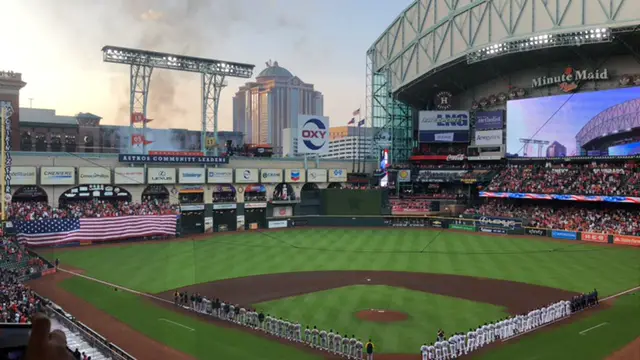 Up 2-0, Alvarez got the Astros' three-run rally started in the sixth inning. He hit a monstrous solo home run into the second deck behind the right field wall. Then he embraced the cheers from the first home crowd since Game 7 of the 2019 World Series, 526 days earlier.
Exciting return of fans
"It was super emotional to be back at our stadium and for the fans to also be anxious to have baseball back," Alvarez said. "It's something that's very exciting to have the fans back. More than anything it gives us more motivation to do a good job to put on a show for them."
Manager Dusty Baker has not been surprised by the Astros' impressive output this season. But he acknowledged he didn't know what to expect from Alvarez.
Baker didn't manage the Astros in 2019 when Alvarez hit 27 home runs with 78 RBIs as a rookie. Because he contracted the Covid virus and then suffered a season-ending knee injury, the native of Las Tunas, Cuba, was limited to only two games last year. 
Alvarez, 26, underwent arthroscopic knee surgery on both knees last Aug. 26. There was definitely reason to wonder about his health.
He's off to a strong start, though. He's hitting .333 with a 1,030 OPS with four doubles, two home runs and eight RBIs.
"Yordan, I mean, he's the one that's probably exceeded expectations," Baker said. "I didn't know what to expect coming out of spring training with his legs. He's running good. He's feeling well. It's a good feeling to pencil him in every day."
Alvarez also sliding well. 
He has slid into base twice without a problem in consecutive series after fellow Cuban Aledmys Diaz had been on him to slide. The Cuban slugger slid at second in the fourth inning after hitting a one-out double into the left-center field gap.
"He assured me when he slid in Anaheim that it was a big deal for him to slide," Baker said. "I know that Aledmys had been getting on him about not sliding in order to get my confidence in him and his sliding. 
"He's moving great. I don't see limping. I don't see a difference in his gait, and he's going to get better and better as the season goes on. We just have to keep him healthy."
Yordan Alvarez on strong RBI pace
Alvarez already has 30 home runs over his first 96 games. He downplayed the stat when it was mentioned to him after the game. Moreover, he has 90 RBIs. Only Hall of Famer Joe DiMaggio (94), Walt Dropo (102 RBI) and Rudy York (95 RBI) had more RBIs in their first 96 games.
"Truly, I don't think of any of that," he said of the 30 home runs. "I just try to do the best I can do."
He also doesn't want anybody worried about his knees. He clearly wasn't trying to prove a point with his necessary slide at second.
"That was the play at the moment," he said. "I had to run hard or else it would be an out."
The Astros' 6-foot-5 slugger is feeling good, and that's the most important thing for him. 
Featured photo by Carmen Mandato/Getty Images
Get the Our Esquina Email Newsletter
By submitting your email, you are agreeing to receive additional communications and exclusive content from Our Esquina. You can unsubscribe at any time.