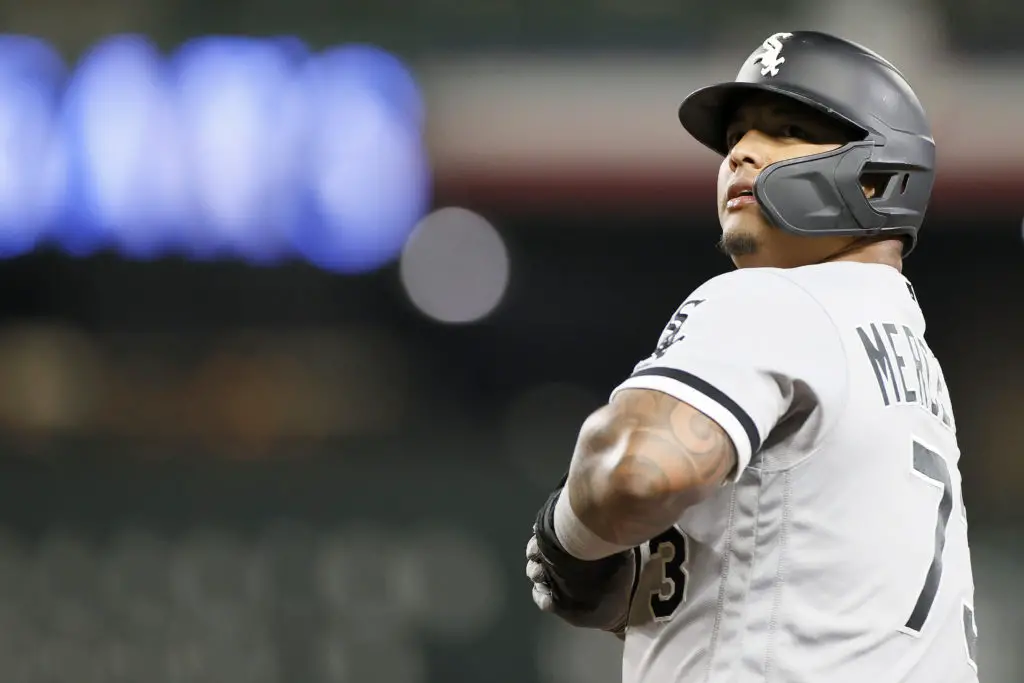 White Sox: Yermín Mercedes hints at possible retirement, recants
White Sox rookie Yermín Mercedes says "it's over" in cryptic Instagram post.
During spring training, Chicago White Sox rookie Yermín Mercedes met with his agent Daniel Szew and talked about seizing the moment. The kid from La Romana, Dominican Republic, was tired of being a minor league journeyman.
Mercedes was tired of talking a big game and having nothing to show for it. He was a 28-year-old rookie looking to finally break in with the organization. Having spent 10 years in the minors with just one big league game to speak of, it was about time he made a name for himself.
"There's no reason you can't be the oldest Rookie of the Year ever," Szew told him. For a while, the possibility of this looked pretty good.
Given his first opportunity, Mercedes had a 2021 debut for the ages. It was only his second big league game, and he was determined to stand out. 
By game's end, the rookie's statsheet read 5-for-5 with a double and four RBIs. The rest of the month of April was more of the same. He finished with a .415 batting average, a 1.113 OPS, a Player of the Week award, and had no plans of ever looking back.
Unfortunately, the league adjusted to Mercedes. By the time the White Sox optioned him back to their Class AAA affiliate, Mercedes was hitting just .271 with a .732 OPS
That was three weeks ago.
Now, the man once referred to as the "Yerminator" is hinted at a possible retirement in a cryptic Instagram post that reads, "It's over."
Did La Russa Break Yermín Mercedes?
When Tony La Russa was hired to manage the Chicago White Sox, the move didn't make much sense. Sure, the man is a Hall of Famer, but he also represented the old guard, which is exactly what the game was looking to move away from.
What La Russa represented to many was on full display in a blowout game in May. With the White Sox up 15-4 against the Minnesota Twins, Yermín Mercedes had the audacity to break one of baseball's unwritten rules.
With Twins catcher Willians Austudillo on the mound and a 3-0 count, Mercedes swung at a 47 mph eephus pitch, hitting it 429 feet to center field.
In La Russa's postgame comments, the frustration was palpable. How dare Mercedes break these sacred rules?
"The fact that he is a rookie who was excited helps explain why he just was clueless," La Russa said at the time. "But now, he's got a clue."
Many have speculated that this interaction could be the cause of Mercedes' sudden decline. His stats before and after the fact would support that claim
Up to May 17, 2021: .364/.410/.574
After May 17, 2021: .162/.236/.207
However, it appears that the 76-year-old manager is a supporter of Mercedes. When asked for his reaction to Mercedes' possible retirement, La Russa hinted that the two were close.
"As you know," La Russa began, "several times (Mercedes) talked about how close we were. He knows that I'm a supporter of his."
Just Frustrated
According to Tony La Russa, Yermín Mercedes might just be frustrated.
"You know, you've been in the big leagues and you go to AAA," La Russa said. "It's an adjustment and you've got to figure out a way to tough it out"
To his credit, Mercedes has been playing very well at Class AAA Charlotte. In the 15 games since he's been there, he's hitting .298 with a .997 OPS. 
However, this hasn't been enough for the Chicago White Sox to give him another opportunity. Even after their starting catcher Yasmani Grandal was sidelined with a knee injury.
Though many saw it as an opportunity to bring Mercedes back, the White Sox opted to call up catcher Seby Zavala instead. In seven games since being recalled, Zavala is hitting just .167 with a .528 OPS. He remains in the big leagues.
What's more, as the 2021 MLB season enters the dog days of August, some of the team's injured stars are primed to return from lengthy stints on the injured list. Eloy Jiménez recently started a rehab assignment in Charlotte and hinted that Luis Robert is not far behind.
All of this pushes Mercedes further back on the list of players the team prioritizes. Understandably, this could be frustrating.
After 10 years in the minors and then finally getting to taste stardom in MLB, something must have just snapped in Mercedes. What that was, we don't know.
When asked if he cared to comment on Yermín Mercedes' message, his agent Daniel Szew simply replied, "I can't yet. I'm sorry."
Until we know more, we're left to decipher an Instagram post in which he says that he's stepping away "for a while." Followed by the more definitive proclamation of "it's over."
Updates
One day after announcing the end, Yermín Mercedes is now recanting. "I'm back," he concluded his most recent Instagram post, which included an image of a Phoenix engulfed in flames.
According to Chicago White Sox reporter James Fegan, Mercedes remains on the active roster with the Charlotte Knights and was in uniform for their game in Durham.
Get the Our Esquina Email Newsletter
By submitting your email, you are agreeing to receive additional communications and exclusive content from Our Esquina. You can unsubscribe at any time.