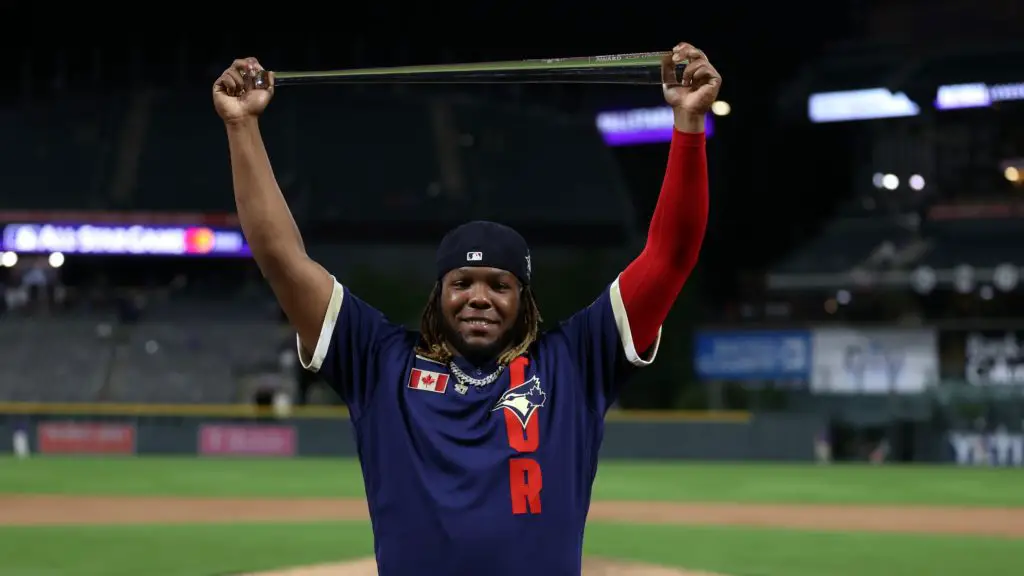 Vladimir Guerrero Jr. lives up to All-Star Game promise
Vladimir Guerrero Jr., 22, becomes youngest All-Star Game MVP
DENVER – Vladimir Guerrero Jr. promised to secure the All-Star Game's Most Valuable Player Award before he even boarded a plane to Colorado. That's how confident the Toronto Blue Jays' young slugger is in his abilities.
He made that vow to Blue Jays teammates Lourdes Gurriel Jr. and George Springer on Friday.  Guerrero then repeated that prediction at Coors Field when Hall of Famer Pedro Martinez asked for his favorite. 
"They told me if I went to the All-Star Game, go for the MVP," Guerrero said of Gurriel and Springer. "I made the promise that I would go for it. Thank God it came true."
Guerrero, 22, fulfilled his promise, literally and figuratively before a sellout crowd of 49,184. He also became the youngest All-Star Game MVP after helping the American League beat the National League 5-2, extending the AL's winning streak to eight games. 
Guerrero was only 11 years old when his father earned his ninth and final All-Star selection. He admittedly doesn't have many memories of his Hall of Fame father's All-Star Game performances. 
Guerrero remembers his father winning the Home Run Derby at the 2007 All-Star Game, but that's essentially the only All-Star memory he has of his father. 
Vladimir Guerrero pays tribute with glove
He wore a special blue glove Tuesday with a picture that was taken of him when he was three years old with his father in matching Expos uniforms in 2002. The glove was designed and given to him by a coach's brother. He wore it to the Midsummer Classic because it brought back good memories for him. Guerrero's bat, however, is what left the crowd and his fellow All-Stars in awe.
He gave the AL a 2-0 lead with a majestic 468-foot homer to left. His countryman and good friend Fernando Tatis Jr. lifted both arms and put his glove over his head almost immediately after Guerrero made contact.
"Stay standing (at the plate) a little bit longer," Tatis yelled to his friend as Guerrero jogged past him.
Guerrero was 1-for-3 with two RBIs in his first All-Star Game. His home run was the longest hit at an All-Star Game since Statcast began tracking them in 2015.
Although he was born in Montreal while his father played for the Expos, he was raised in his father's native Dominican Republic. He identifies as Dominican and is claimed by the Dominican, so he'll go down as the eighth Dominican to win the All-Star Game MVP Award.
Vladimir Guerrero Jr. read before the All-Star Game that the Angels' Japanese pitching and slugging sensation Shohei Ohtani would win the MVP Award.
"But all came out well," he said, "and thank God I was the one who won it."
AL MVP race preview with Ohtani
The All-Star Game was merely a preview of what could be a tight AL MVP race between the Angels' Ohtani and Guerrero. 
While Guerrero draws comparisons to his Hall of Fame dad, Ohtani is drawing comparisons to the iconic Babe Ruth because of his prowess on the mound and at the plate. 
Guerrero is probably the underdog in that race at this point. It will be difficult to vote against him, though, if he wins the Triple Crown. Guerrero currently leads the majors in batting average (.332), RBIs (73), on-base percentage (.430) and OPS (1.089).
Ohtani leads the majors with 33 home runs, followed by Guerrero and Tatis with 28 apiece. He downplayed any talk of the Triple Crown on Tuesday night. Noting that there were two months left in the season, he said he could just as easily surge or go on a skid. Meanwhile, the comparisons to his father will likely continue.
"It's probably most fair to separate the two," Rays and AL manager Kevin Cash said. "They're both very talented. Vladi Sr. was very talented, and I think Vladi Guerrero Jr. is going to probably pave his own way to being really special. 
"They can hit any pitch. If there's one thing similar it's that they can handle any ball in the zone."
Guerrero Sr. was 29 when he won his lone MVP Award in 2004. His son is barely 22. 
"Now it's his turn to be a fan," Junior said. "It was his turn to play before, and now I'm the one on the field and feeling good."
Get the Our Esquina Email Newsletter
By submitting your email, you are agreeing to receive additional communications and exclusive content from Our Esquina. You can unsubscribe at any time.