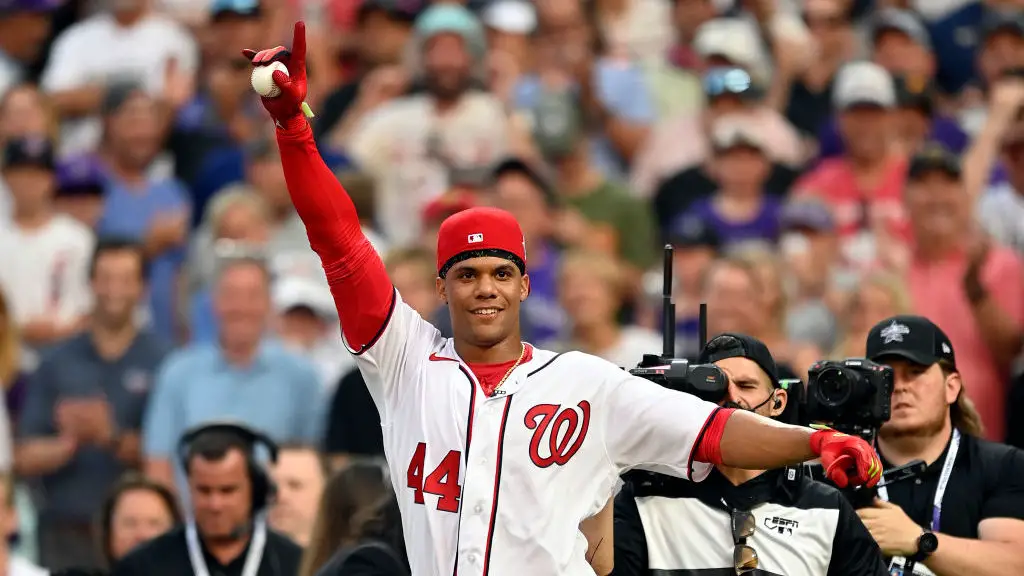 Juan Soto, Vladimir Guerrero Jr., Fernando Tatis Jr. usher in new era
Juan Soto, Vladimir Guerrero Jr. and Fernando Tatis Jr. enjoy pushing each other
DENVER – While they waited to meet up with Juan Soto, it was as though they were back in the Dominican Republic as Vladimir Guerrero Jr. and Fernando Tatis Jr. caught up with each other. The kids spent a long time chatting early Monday before joining the rest of the All-Stars at Coors Field.
By the evening, they rallied around Soto, the third member of the charismatic and talented Dominican trio. They roared and hollered as Soto drilled majestic shots during the Home Run Derby, including a 520-foot thunder strike. 
The San Diego Padres' Tatis wore a large gold medallion with "El Niño" on it. His nickname translates to "The Child." The children are definitely leading baseball these days. Tatis, Guerrero and Soto are all 22 while making their first All-Star Game appearances. 
Barring injuries, they'll surely be regulars at the Midsummer Classic for years. Soto already has a World Series ring and a batting title. He may not be dubbed El Niño, but last season he became the youngest National League batting champion in baseball history.
"They're phenoms," said Jose Ramirez, the Cleveland Indians' three-time All-Star. "They're ballplayers that have great shape, and they're showing all their talents. They're incredible."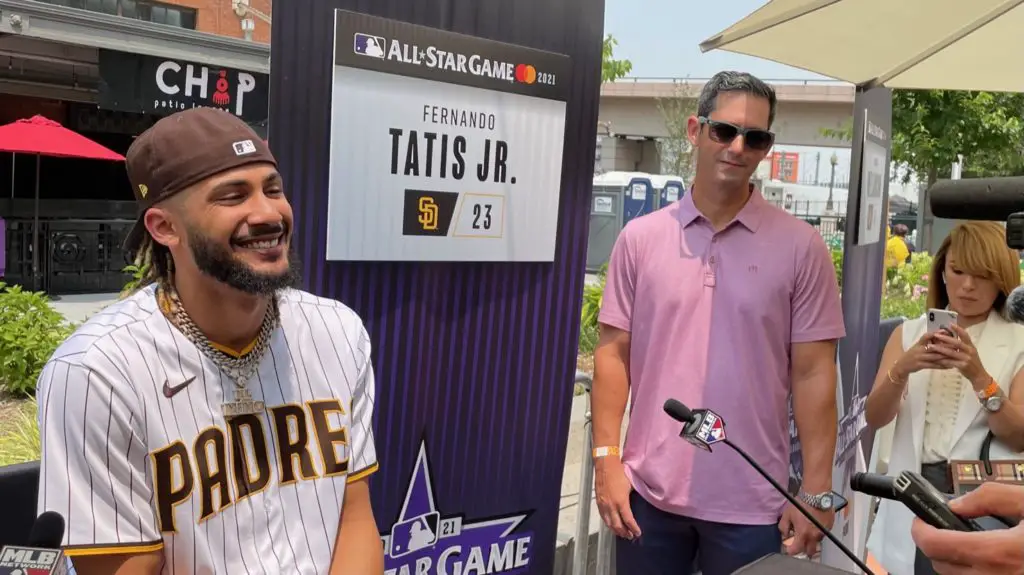 When asked which of his three young countrymen he'd pick to start a team, Ramirez picked Tatis.
Ramirez likes Tatis' aggressiveness and the way he plays the game. When asked the same question, Tatis smiled, laughed and asked a question of his own.
Dynamic trio
"Do I have to pick one?" he said with a hearty laugh.
For this exercise, Tatis was told he'd have to pick one. He chose Soto, who is batting .283 with 11 home runs and 42 RBIs this season for the Nationals. 
"I don't know if I could pick one," Tatis said. "It's amazing the talent the DR is bringing. Vlady is a unique hitter. I saw him through the minor leagues. I saw him coming since we were kids, same with Soto. 
"What he's doing now, I saw it coming. Those are two amazing talents. The Dominican Republic and the world of baseball is blessed to have them today over here. I truly admire their work."
Guerrero, the son of Hall of Famer Vladimir Guerrero, Sr., is having one of the best seasons in baseball. He leads the majors in batting average (.332), on-base percentage (.430) and OPS (1.089).
Japanese slugger/pitcher Shohei Ohtani is the only player with more home runs in the majors this year than Guerrero and Tatis, who each have 28. Ohtani has 33 so far. Tatis leads the NL in that category. 
Juan Soto proud of trio
Soto takes pride in seeing Dominicans among baseball's leaders, especially his fellow 22-year-old pals. 
"It's just great," Soto said. "We feel really proud of ourselves. We know where we come from and how hard we got to work to be here. It's just great to be here and just share the field with all the stars. We know where we're coming from. It's amazing."
Guerrero also leads the majors in RBIs with 73. If he keeps this pace, he'll challenge for the elusive baseball Triple Crown, which hasn't been accomplished since Miguel Cabrera pulled it off in 2012.
Tatis leads the NL with 20 stolen bases to go with his league lead in homers. He's eighth in batting average (.286), one spot ahead of Soto (.283).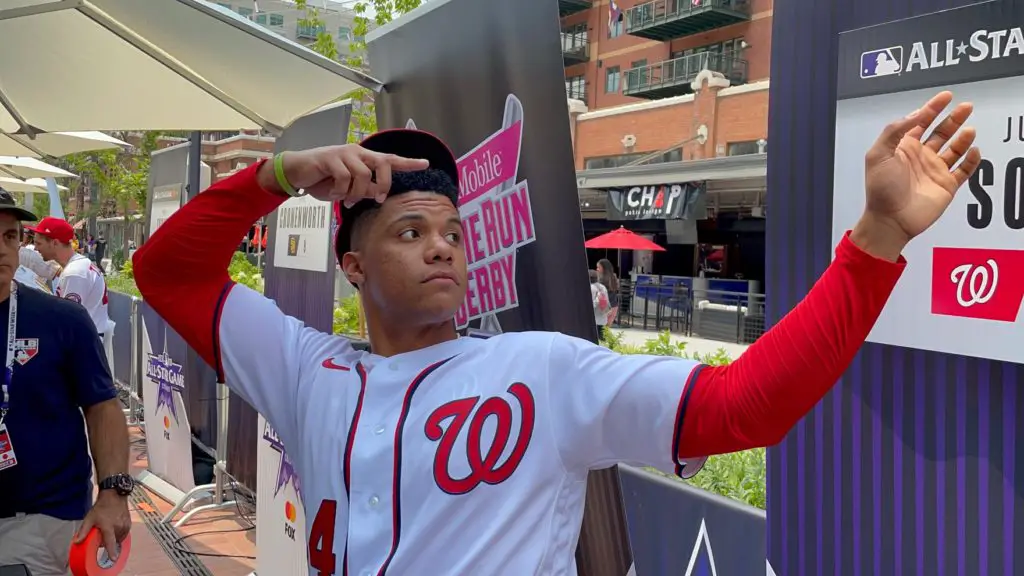 Soto and Guerrero Jr. both said they'd pick Tatis if they had to pick one member of the trio to start a team.
"He's a ballplayer who can steal bases," Guerrero said. "He can hit home runs. You know, Fernando Tatis."
Mutual support
They don't speak daily, but they text often. When they're struggling, they can count on each other. Tatis knows he'll have a text with encouragement from Guerrero and Juan Soto when he's struggling.
Moreover, they feed off each other. They long to be the best player in baseball, so they definitely have a friendly rivalry as well.
"We definitely push each other," Tatis said. "We don't talk on a daily basis but definitely in special moments when one of us is struggling you can definitely trust those messages are going to be there. I think we've created a really good bond, the three of us. And that's something that's going to be for the long run."
This is just the beginning for Los Niños at the Midsummer Classic.
Get the Our Esquina Email Newsletter
By submitting your email, you are agreeing to receive additional communications and exclusive content from Our Esquina. You can unsubscribe at any time.