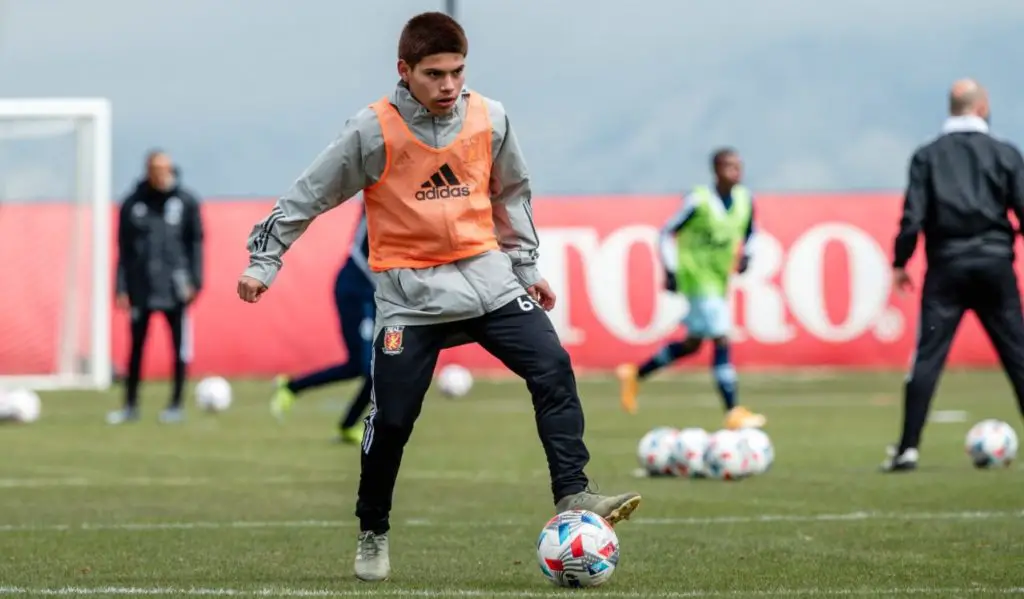 RSL prospect Julio Benitez, 15, carries late father's lessons
Since losing father to Covid, Julio Benitez works to lift family out of modest trailer
Julio Benitez got as many jobs as he could as his father fought COVID last December. The American soccer prodigy worked in construction from 6 a.m. until 6 p.m. in Mesa, Arizona. Then the 15-year-old boy went to soccer practice for 90 minutes before returning to the trailer he shared with his six siblings and parents.
Benitez was exhausted when he returned home to sleep on a couch while his younger sisters slept on the trailer's floor. When he wasn't working construction, he had a job on a landscaping crew. He had another job making cabinets. Benitez also tried to keep up with his schoolwork remotely.
A year after wearing the captain's armband for the United State's under-15 national team in Poland, the skillful midfielder carried a heavy burden emotionally and physically. After barely turning 15, Benitez was busy supporting his family while his father Juan was hospitalized for almost a month. 
Juan Benitez ultimately succumbed to COVID on Dec. 31, leaving seven children and his wife Dulce Marin. 
"It made me realize to value people around you that you love so much," said Benitez, a Real Salt Lake academy product who signed a pro contract with the USL's Real Monarchs in March.
Benitez is bracing for his first Father's Day without the man who taught him the game of soccer and much more. The reserved youngster was four years old when his father, an immigrant from Guadalajara, Mexico, took him to a park to play soccer for the first time near their home in Mesa.

It didn't take long to see Julio had a special gift with the ball at his feet.
Young U.S. captain
By 14, he was called up to the U.S. U-15 national team for the UEFA Development Tournament in Poland in 2019. He captained the U.S. against Poland in the second game of that tournament. 
Julio arrived at Malbork Stadium that day and found that coach Gonzalo Segares had placed the captain's armband in the chair in front of his locker stall. The U.S. tied Poland 3-3 before losing in penalty kicks.
Julio Benitez was given one of those captain armbands from that tournament. He brought it home and proudly displayed it to his parents.
Juan Benitez was proud of his son although he remained loyal to El Tri.
"My father always cheered for Mexico, Mexico, Mexico," Julio recalls.
Benitez spent part of 2020 in Utah attempting to secure a pro contract with Real Salt Lake. He returned home late in the fall as his father battled COVID.
Julio spent only about a week with his father during the final month of Juan Benitez's life. 
"Now I value every time I have time with my family," Julio says. "I want to spend it with them as much as I can. Most of the year I'm far away from them playing soccer."
Juan Benitez always told his son that there aren't any real friends in the world. He was reminded early that friends don't always have your best interest in mind.
"It's always you by yourself," Benitez remembers his father saying. "It's about you and your family. That's all you have in this world, you and your family that really care the most."
That advice proved prophetic for a boy who now carries on without his father. He was left speechless recently when he contemplated what it would feel like to spend this Father's Day without his dad.
Julio Benitez braces for Father's Day
Julio shook his head, looked up and attempted to give his thoughts. No words came out. He shrugged his shoulders. He fought back tears, kept his emotions in check and remained silent until the subject changed.
The people who know him best described him as private and reserved off the field. His demeanor changes when he steps on the pitch. That's when he becomes a vocal leader and a dominant presence, a leader strong enough to warrant the captain's armband. 
Cody Worden, who coached Julio with the RSL Academy, noticed that Benitez was already quite mature before his father died. He has grown up even more since losing his father, though.
"He is so far beyond his years," said Worden, who is now the RSL elite talent director and Real Monarchs assistant coach. "He's like a mature 28-year-old.  He has gone about his business the way he always has.  He's always been a grinder and a hard worker.  
"Since this happened – and it was very unfortunate – he stayed home and went through the grieving process and he was there with his family, but once he got back he was back to work.  He's such a motivated and driven kid. That's his nature."

Soccer isn't Benitez's only concern
Julio has worried about responsibilities most American 15-year-old boys don't even consider. He worries about his mother and his younger siblings. 
The same boy who worked in construction and landscaping while taking classes remotely now dreams of pulling his family out of their trailer. He hopes his soccer skills help lift him and his family out of their modest lifestyle.
It's no longer just about himself. He's one level closer to Major League Soccer, one step closer to perhaps being able to support his family. 
"I've never done it for myself," he said. "I told my mom I've always been doing it for them. I want my siblings to have a better future and just move them out of the trailer pretty soon."
At 15, Julio Benitez plays and sounds like a much older player. He's only a boy, but the weight and responsibility he puts on his shoulder have forced him to grow up quickly. He'll remember his dad on Sunday and mourn him before getting back to work. He has a family to help support
Get the Our Esquina Email Newsletter
By submitting your email, you are agreeing to receive additional communications and exclusive content from Our Esquina. You can unsubscribe at any time.