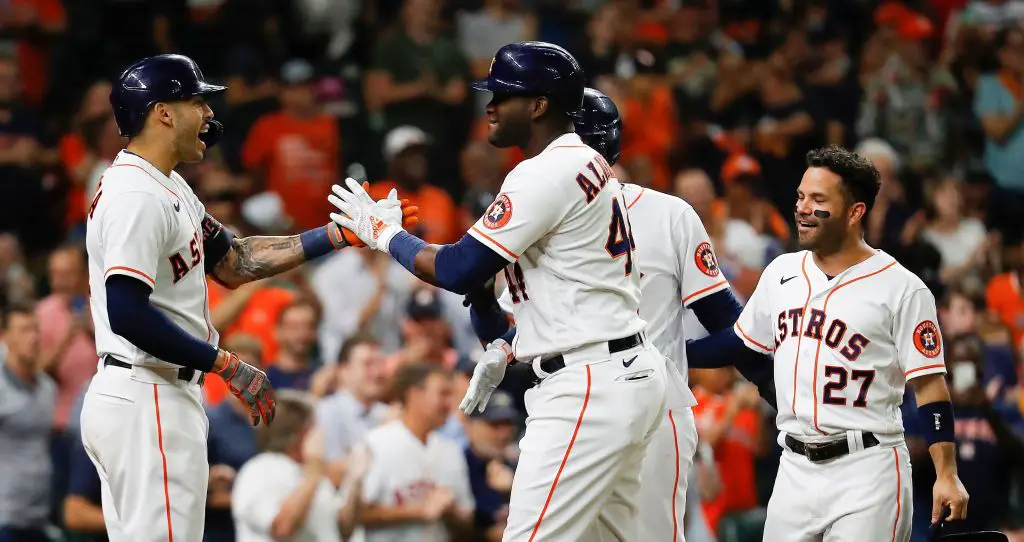 Papy Power: Yordan Alvarez leads Astros over A's
Altuve "grateful to God" to have Yordan Alvarez on Astros
Yordan Alvarez rejoined the Astros with extra motivation Tuesday. He arrived at Minute Maid Park with his growing family on his mind after missing the final three games in Cleveland. The day off Monday allowed him an extra day with his newborn son Jordan.
Heir Jordan even helped his father by sleeping through the night for the first time, allowing the slugger his first good night of sleep since the birth. Then Yordan Alvarez immediately thought of his son in the first inning after hitting a two-run homer to cut the Astros' early deficit against the Oakland A's.
Alvarez thought of his wife Monica, daughter Mia and baby Jordan again after he tied the game at 6 with a three-run blast the other way into the Crawford Boxes behind the left field wall.
"Sure, after you connect a lot of things go through your head," Alvarez said after the 9-6 victory over the A's. "It's a moment that you're having a great game. You hit a home run and a lot of positive things go through your head."
Yordan, Monica and Mia, who was born in 2018, welcomed baby Jordan into their young family over the weekend. The 2015 American League Rookie of the Year appreciated the reception he got from his teammates when he returned. 
He seemed to smile more than usual in batting practice. And even though they completed a four-game sweep over Cleveland by winning the final three games without him, Jose Altuve and the rest of the Astros were grateful to have the big Cuban back in the lineup.
Altuve grateful to have Yordan Alvarez back
"I'm very happy for the performance Alvarez is having this season," said Altuve, who gave the Astros the lead for good with a two-run single in the sixth. "As I was saying earlier, we don't know what to expect from him because he's an incredible hitter. 
"He can do everything at home plate – walk, hit doubles, home runs. He's an RBI machine. As I said earlier, I'm grateful to God that he could be part of our team."
Alvarez, who also homered Thursday before going on the paternity list, finished the night 3-for-3 with 4 RBIs and three runs. Moreover, he is on a 19-game on-base streak, hitting eight home runs and 22 RBIs with a .338 average over that period.
The two-homer game was his first since crushing former teammate Gerrit Cole of the Yankees for two blasts on May 6 at Yankee Stadium. His blasts at Yankee Stadium in May were gratifying because of the way Yankee fans had treated the Astros.
These shots were special in a more personal manner. Alvarez even had a little dance in the dugout after tying the game.
Super emotional
"It was super emotional," he said. "I think it was a super exciting moment. The team is losing and you deliver the batazo that puts the game back at zero. I was super excited."
The AL West-leading Astros extended their lead in the division to 4 ½ games over the second-place A's.
This Oakland series is the biggest of the season so far. There's plenty of baseball to be played, no doubt, but these games could prove crucial later in the division race.
For Alvarez, it was even more personal. There is more at stake each night for him.
"I have another motive," he said, "another motive to get here and do things."
Featured photo by Bob Levey/Getty Images.

Get the Our Esquina Email Newsletter
By submitting your email, you are agreeing to receive additional communications and exclusive content from Our Esquina. You can unsubscribe at any time.