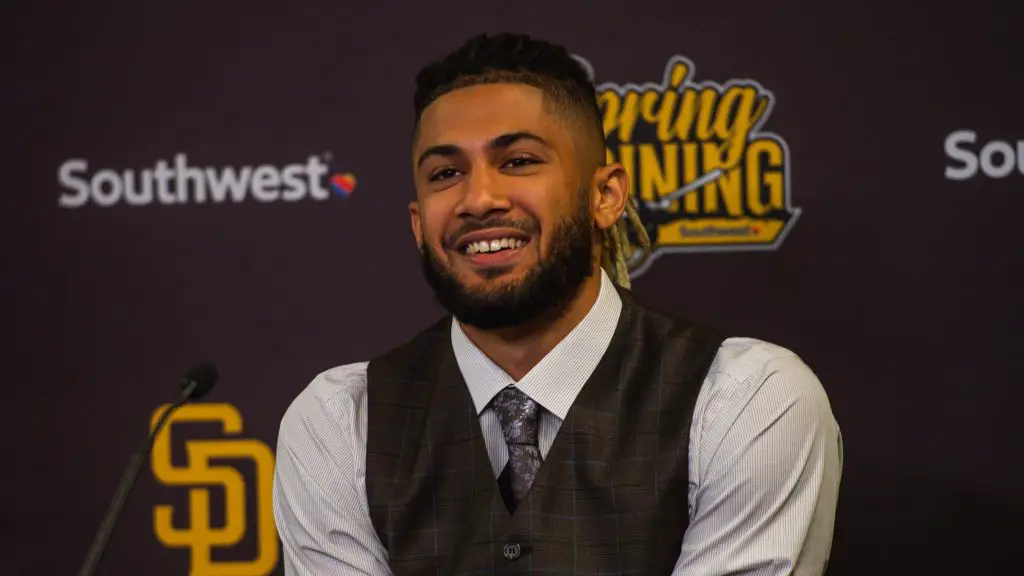 Padres' Fernando Tatís Jr. Embraces High Expectations
San Diego Padres shortstop Fernando Tatís Jr. is ready to do what it takes to become the LeBron James of MLB.
As San Diego Padres general manager A.J. Preller tells it, the concept of a 14-year deal for his superstar phenom was actually Fernando Tatís Jr.'s. idea from the jump.
In fact, when the organization went to the young shortstop with a 12-year offer, Tatís simply said, "why not my whole career?"
In typical fashion, Fernando Tatis Jr. is not going to play by the norms of the sport. He is carving his own path and embracing all the challenges that come along with it.
Nearly five years ago, the Padres traded James Shields to the Chicago White Sox in exchange for two prospects. Today, the Padres officially announced the extension of one of those prospects, Fernando Tatís Jr., to a 14-year, $340 million deal, the longest in MLB history.
In taking such a prolonged contract, Tatís could potentially be giving up money. However, agreeing to this deal was not all about the paper.
"It's been my mindset since I started playing," Tatis said. "The team that gives me a chance, I will embrace 100%, and why not?"
With less than a season's worth of games in the big leagues, Tatís has become something of a de facto leader on his team and of the sport. One good example of this was when he broke the unwritten rule of swinging at a 3-0 pitch while his team was ahead in a meaningless 2020 game.
Most of the baseball world jumped on his side when criticism was thrown at him. This led to a record-breaking barrage of grand slams by the San Diego Padres and a show of support from his veteran teammates.
The Face of MLB
Fernando Tatís Jr. is the embodiment of MLB's "Let the Kid's Play" ad campaign.
Folks stop what they're doing to watch when he goes to the plate because he brings the same energy a kid playing Wiffel Ball or vitilla brings. Like you see in those children's games, sometimes the results are just fascinating.
The bat flips …
The speed …
The fielding…
"El Niño" can do it all while making it look easy too.
It won't be easy for Tatís to live up to the hype around him. Nevertheless, he's ready to have the type of impact on MLB that LeBron James and Patrick Mahomes have on the NBA and NFL respectively.
"There's a lot of things I still need to accomplish to be even close to those guys," he said. "I feel like the main thing is going to be winning, and I'm looking forward to that challenge."
Entering the 2021 season, the San Diego Padres have made a number of moves to improve their team. As it currently stands, just two teams stand between them and a World Series, according to Oddshark.
Don't be surprised if Tatís and the Friar Faithful manage to pull it off.
Photo by Matt Thomas/San Diego Padres
Get the Our Esquina Email Newsletter
By submitting your email, you are agreeing to receive additional communications and exclusive content from Our Esquina. You can unsubscribe at any time.