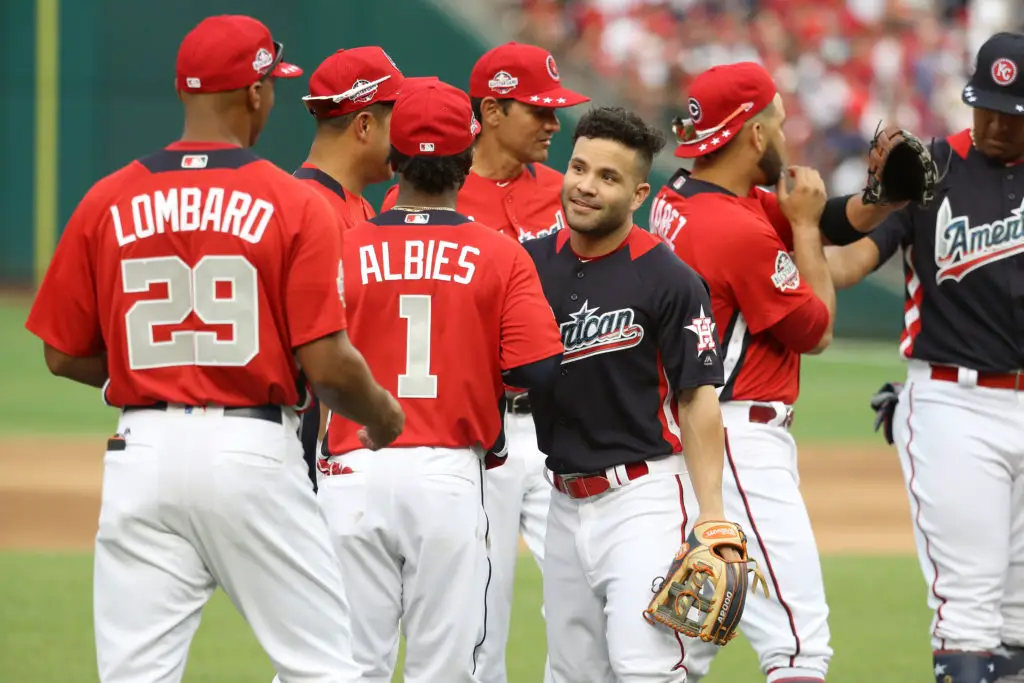 Little Giants Jose Altuve, Ozzie Albies take big stage
Ozzie Albies used Jose Altuve's success as inspiration
HOUSTON – Jose Altuve had already earned four of his seven All-Star berths and won two of his three batting titles by the time Ozzie Albies broke into the majors in 2017. That's the season the Astros' Little Giant secured the AL MVP Award and proved size doesn't matter.
Altuve was on the verge of winning his first batting title in 2014 when Albies arrived in the United States to begin his professional career with the Atlanta Braves' organization. At the time, Albies was 17 years old and fresh out of his native Curacao.
Albies was shorter than most teammates. He was closer to Altuve's 5-foot-6 than Albies' listed height of 5-foot-8.
More World Series
Lovable Dusty Baker guides Astros to World Series
Andrew Dunn-Bauman amplifies Astros' Latino voices
"He's a guy I've always watched the way he plays," Albies, 24, says of Altuve, 31. "He plays hard. He's been one of the examples I always watch to do the same, try to do the same or even better."
The two diminutive second basemen will start opposite of each other in the World Series, beginning with Game 1 at Minute Maid Park on Tuesday night.
Similar questions
When you're their size, people tend to doubt you. Altuve was sent away twice from the Astros' Venezuelan academy before he finally secured a contract and a modest $15,000 bonus as a 16-year-old.
Even then, scout Al Pedrique fibbed Altuve's height to get then-general manager Tim Purpura's approval. Purpura laughed and asked Pedrique if Altuve was the same kid who was a few inches shorter a few days earlier.
Ultimately, Altuve proved to be one of the greatest Venezuelan signings in the Astros' rich history in that South American country. Bobby Abreu, Richard Hidalgo and Freddie Garcia are just three other stars who came out of the Astros' Venezuelan academy. 
Albies faced similar questions about his height, but the Braves knew he was a special talent in Curacao. They gave him a $350,000 signing bonus in 2013 when he was 16.
That's $304,000 more than they gave likely Hall of Famer Andruw Jones and $250,000 in 1993. Albies' bonus was $250,000 more than the Braves gave superstar and 2018 National League Rookie of the Year Ronald Acuña in 2014.
So there's no doubt the Braves appreciated the eventual two-time All-Star's talent. Nonetheless, some questioned Albies' height. And when they wondered about his size, Albies always had one perfect example for inspiration and to shut up the cynics.
Ozzie Albies noticed Altuve was smaller
"They were saying I can't do the job. I can't get the job done because I'm small," Albies says. "I'm like, 'Altuve's smaller than me, and he's done it.'
They've both doing it now.
Altuve is in the World Series for the third time in five seasons. The seven-time All-Star has already won a World Series title, an AL Most Valuable Player Award, one ALCS MVP Award, five Silver Slugger, three batting titles.
Albies, who is in his first World Series, already has one Silver Slugger and two All-Star berths. With Altuve as an example and an inspiration, Albies has silenced those who wondered about his height.
They're now on baseball's biggest stage together playing the same position.
Featured photo by Rob Carr/Getty Images.
Get the Our Esquina Email Newsletter
By submitting your email, you are agreeing to receive additional communications and exclusive content from Our Esquina. You can unsubscribe at any time.