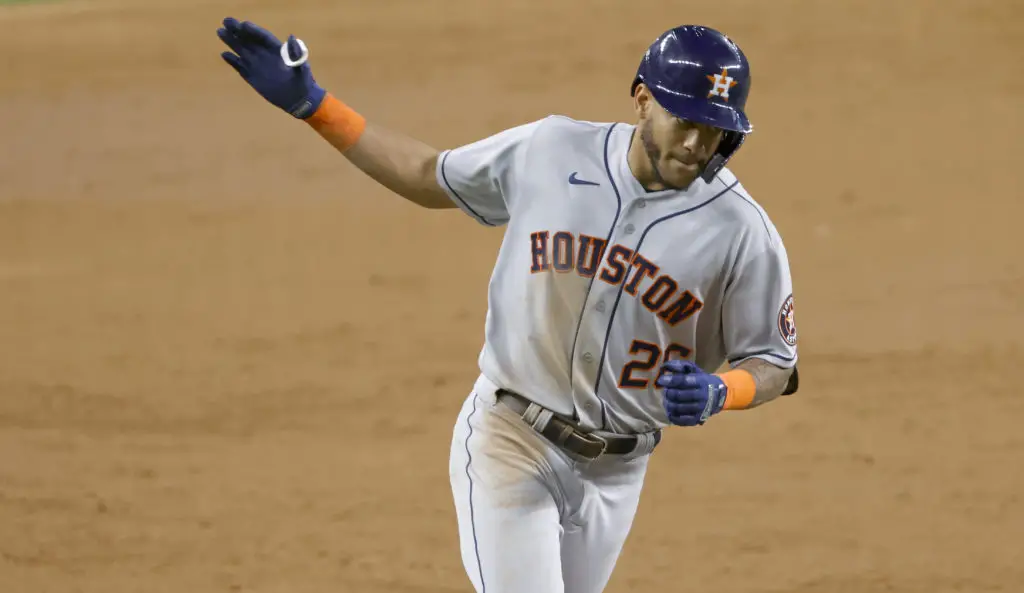 Jose Siri Shows Humility, Charisma on Historic Night
Jose Siri's No. 100 pendant tells the inside story
The pendant Jose Siri wore on his necklace said it all Monday night. It spoke about the Astros' rookie's confidence, his perseverance and his historic performance. 
Siri wore a pendant with the No. 100. In Latino urban culture, "Al Cien" means something was off the hook. The rookie outfielder from Sabana Grande de Boya, Dominican Republic, was Al Cien all night like nobody has ever been in their first start in the majors.
Siri homered twice and drove in five runs while going 4-for-5 against the Rangers in the 15-1 rout. He's the first player in Major League Baseball history to homer twice and collect five RBIs in his first big league start.
After Siri hit his first home run of the night and his career, Astros teammate Carlos Correa greeted him with a simple message in Spanish at Globe Life Field.
Great Jose Siri message
"Que Grande tu eres. Me gusta. Me gusta," Siri says Correa told him. That translates in English to, "You are great. I like it. I like it."
Siri, 26, has endeared himself to Astros teammates with humility off the field and confidence on it. By his demeanor on the field, you could hardly tell he languished in the minors for eight years before finally reaching the majors this month. 
He fires imaginary arrows after hits and flashes a smile throughout. Jose Siri kept the imaginary bow and arrows after his teammates approved of it, he noted.
"He is super humble," Astros slugger Yordan Alvarez said on Siri during the Astros' postgame media Zoom conference Monday. "You see the way he plays, his desire to play. He loves what he's doing."
The young man is Al Cien. Confident and modest too. 
Hell, it can be said he even acted as though he had been there before. Not too high, not overwhelmed, not surprised by his historic performance.
Memorable night for Jose Siri
"That's a night to remember for the rest of your life," Astros manager Dusty Baker told the Houston media on the postgame Zoom conference. "Everybody was happy for him. He was happy. He didn't act that happy, but I'm sure inside he was blowing up."
Siri might have shown more excitement if he had realized how rare his feat had been. Nobody had secured such stats in his first MLB start since MLB began recording runs batted in, after all, in 1920.
He didn't realize until after the game that he had become the first player in MLB history to hit two homers and have five RBIs in his first start. 
"I'm very happy," Jose Siri. "My family is happy. I will tell them that, but I didn't know that."
As for the key to his success and perseverance? It's simple, Siri noted.
Never quit
"Well, I would say never quit," he said. "Always work, believe in God, and God will one day reward you."
Siri's perseverance was rewarded Monday night. As they say throughout Latin America, he was Al Cien.
He even finished his Zoom conference with an old Sammy Sosa gesture, minus the kiss to the sky.
Siri had conducted his postgame Zoom interview with the help of the Astros' talented translator Andrew Dunn-Bauman. As he finished the interview, he pounded his chest twice in the same way Sosa once did.
Then he got up from his chair and said, "Thank You."
Those were the only two English words he uttered, and they said a lot about the humble rookie from the Dominican.
He was "Al Cien" on his necklace and on the field, and humble and grateful off of it.
Get the Our Esquina Email Newsletter
By submitting your email, you are agreeing to receive additional communications and exclusive content from Our Esquina. You can unsubscribe at any time.