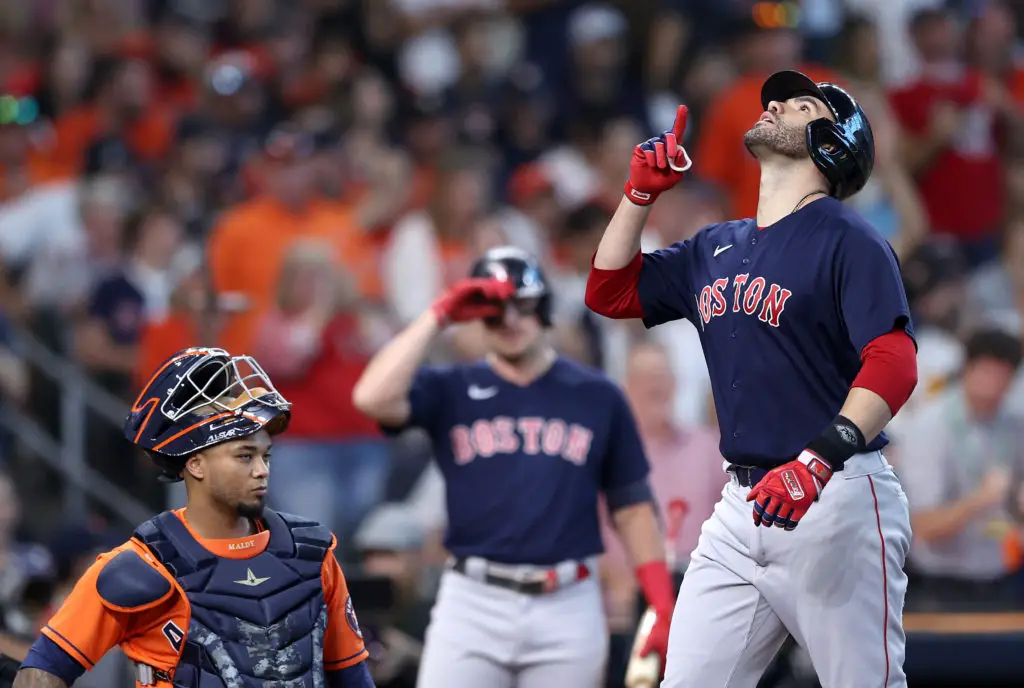 Grand history for J.D. Martinez, Rafael Devers
J.D. Martinez punishes former team again
HOUSTON – J.D. Martinez was deemed a victim of the Astros' success on March 21, 2014, when he was designated for assignment by the team. That's how former Astros general manager Jeff Luhnow explained the decision to give up on the slugger. 
That explanation seemed silly considering the Astros weren't having much success. They had just lost a franchise record 111 games in 2013, including 15 in a row to close that season. 
That was one of only a few personnel decisions Luhnow got wrong during an extremely successful tenure before he was terminated. J.D. Martinez and the Astros have both surged after breaking up. Each has won a World Series while becoming postseason mainstays since then. The slugger was an All-Star and MVP candidate by 2015, the same year the Astros returned to the postseason for the first time in a decade.
On Saturday afternoon at Minute Maid Park, Martinez even made postseason history. He hit one of the Red Sox's two grand slams in Game 2 of the American League Championship Series.
More postseason coverage
Previewing the 2021 NLCS: Dodgers vs. Braves
Russ Ortiz: 'I always knew Dusty Baker cared'
Cuban Stars Make Major Impact in MLB Postseason
Martinez hit the first grand slam of the afternoon with a shot the other way to give the Red Sox a 4-0 lead. Rafael Devers hit the second in the second inning.
Afterward J.D. Martinez was surprised that no team had hit two grand slams in a postseason game until Saturday. He credited Devers and Alex Verdugo for grinding it out to load the bases against Astros righthander Luis Garcia.
J.D. Martinez at ease
"But that situation, the pressure is on him," Martinez said. "It's not on me to come through there. It's the first inning. He has bases loaded. I'm trying to tell myself that, trying to stay relaxed and just looking for a pitch so I can just put a barrel on it."
That's exactly what he did. An inning later, the Red Sox loaded the bases again. They jumped on Garcia, who exited with knee discomfort. 
Garcia was pulled after Kevin Plawecki drew a leadoff walk in the second inning. Righthander Jake Odorizzi needed 15 minutes to warm up. Then the Red Sox jumped on him too. 
Christian Arroyo singled to right. One out later, Kike Hernandez, another player the Astros gave up on, singled to left-center field to load the bases. Devers followed with his blast to right field.
Postseason history
It was also only the sixth time in MLB history – in the regular season or postseason – that a team hit a pair of grand slams over the first two innings of a game.
"It felt really good," Devers said after the 9-5 victory. "Obviously, Houston, they're a really good team, and we know we have to score a lot of runs in order to beat them. So it was good to get those runs early in the game."
The best-of-seven ALCS is now tied at one game apiece heading back to Fenway Park for the next three games. 
In 2018, the Astros were victims of Martinez's success when he helped the Red Sox eliminate the then-defending champions in the ALCS. 
Martinez hopes to make the Astros victims of his success again. Longtime good friends such as Jose Altuve hope to make him the victim of the Astros' success again.
Get the Our Esquina Email Newsletter
By submitting your email, you are agreeing to receive additional communications and exclusive content from Our Esquina. You can unsubscribe at any time.