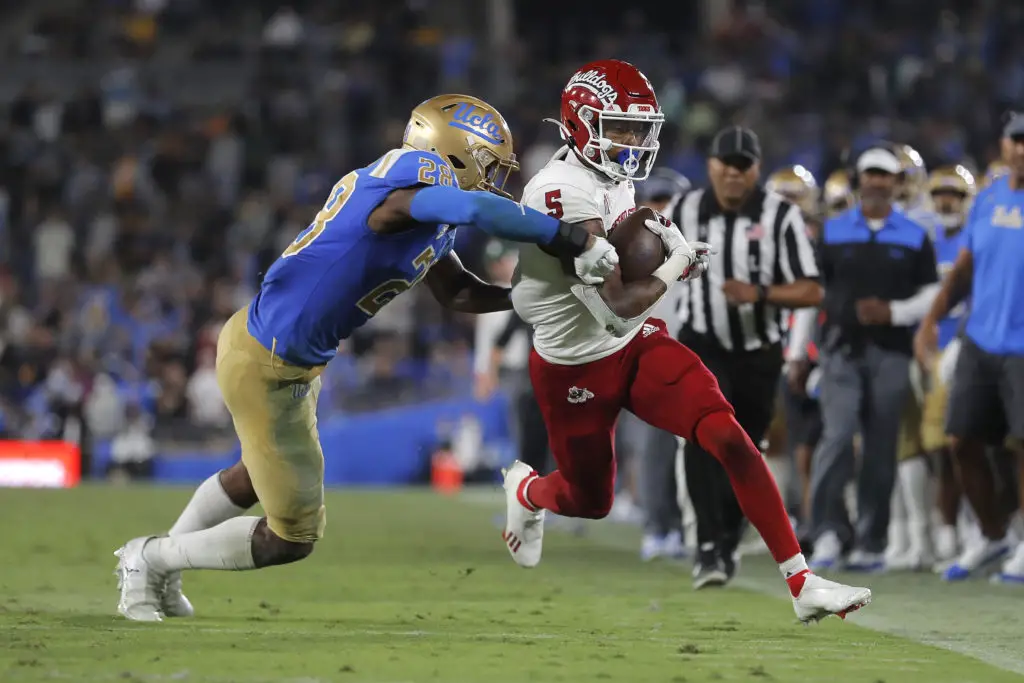 Fresno State's Jalen Cropper Soars Over UCLA
Jalen Cropper highlights weekly list of Latinos in College Football
Jalen Cropper did it all on Saturday, helping the Fresno State Bulldogs pull off the biggest upset in college football this weekend. He was one of two Latino wide receivers who proved clutch in upsets over Pac-12 teams.
It was another spectacular weekend for Latinos in college football. Ole Miss quarterback Matt Corral, last week's Our Esquina Offensive Player of the Week, continued to make a strong case for the Heisman Trophy.
Like Corral, though, we like to spread the ball around at Our Esquina, where we amplify Latino voices and stories in sports, arts and culture. We are tracking all the Latinos playing or coaching college football.
We want to highlight their achievements and tell their stories during the season, as we did leading up to Cuban American Zach Calzada's first start for Texas A&M.
Here is a look at the outstanding performances of this past weekend. 
In the Mountain West Conference, two Latino wide receivers were key in upset victories over Pac-12 opponents in the Los Angeles area. 
Latino Offensive Player of the Week
Fresno State wide receiver Jalen Cropper. 
Cropper had 14 catches for 141 yards. His final reception, a 13-yard touchdown with 14 seconds remaining, gave the visiting Bulldogs the 40-37 victory over the UCLA Bruins in the Rose Bowl.
Jalen Cropper, a junior wide receiver, was an All-Mountain West honorable mention selection in 2020. He also rushed for a touchdown in the first quarter against UCLA.
Cropper prepped locally at two Fresno area high schools and is the son of Aaron Cropper and Lisette Moreno. Jalen Cropper's family made the trek down and represented in Pasadena.
San Diego State wide receiver Jesse Matthews threw a two-point conversion pass at the end of the third overtime to give the Aztecs a 33-31 upset win over the Utah Utes. 
The pass was reminiscent of the Philly Special, popularized by the Eagles in the Super Bowl LII victory over the New England Patriots. 
Matthews, a San Diego native, is a junior and a former walk-on who earned a scholarship. 
Matthews is the nephew of two former NFL players, quarterback Moses Moreno and linebacker Zeke Moreno. 
Latino Defensive Player of the Week
Cameron Martinez, safety, Ohio State.
In a 41-20 victory over Tulsa, Cameron Martinez returned an interception 61 yards for a score in the final minutes of the contest. The pick 6 sealed the victory for the Buckeyes over the pesky Golden Hurricanes, who were within one score as late as the fourth quarter.
Martinez also defended three passes and was part of two tackles. 
The Muskegon, Mich., native is a sophomore academically and only participated in one game during the 2020 season. He is majoring in psychology. Martinez was recognized as an OSU Scholar-Athlete in 2020-21. 
Other impressive performances:
RJ Martinez, a freshman quarterback at FCS program Northern Arizona University.
The 6-foot, 185-pound true freshman from Austin guided the underdog Lumberjacks to a 21-19 massive upset over Arizona, the loser of fifteen straight games. 
RJ is the son of Ray and Jennifer Martinez.
Below is our list of Latinos in college football. Please email juanlozano@ouresquina.com if you have a name we should add on this list. 
Latinos in College Football
LAST NAME, FIRST NAME
TEAM
POSITION
STATS
TEAM RESULT
Aguilar, Luis
NAU
K
PAT-3/3
W, 21-19Arizona
Alonso, Mandy
Virginia 
DL
Tackles, 2- Total
L, 39-59North Carolina 
Araiza, Matt 
San Diego St.
P/K
9 punts, 51.4 avg.FG: 1-3PAT- 4/4
W, 33-31Utah 
Aranda, Dave 
Baylor 
Head Coach 
W, 45-7Kansas 
Arias, Daniel 
Colorado 
WR 
1 rec., 8 yds.
L, 0-30Minnesota
Arroyo, Elijah
Miami (FL)u
TE
1 rec.,7 yds. 
L, 17-38Michigan State
Arroyo, Marcus
UNLV
Head Coach 
L, 3-48Iowa State 
Avalos, Alex
Boise State
Head Coach
L, 20-21Oklahoma State
Banda, Ephraim 
Utah State
Def. Coord/Safeties
W, 49-45Air Force 
Barr-Mira, Nicholas
UCLA
K
FG-1/1PAT- 4/4
L, 37-40Fresno State 
Borregales, Andrés
Miami (FL)
K
1-2, FGsLong: 55PAT: 2/2
L, 17-38Michigan State
Calzada, Zach
Texas A&M
QB
19-33, 275 YDS, 3 TD, 1 INT
W, 34-0New Mexico
Camarena, Evan 
Portland State
CB
1 tackles
W, 21-7Western Oregon
Canales, Mike "Chico"
Maryland 
Analyst 
W, 20-17Illinois 
Cardenas, Oscar
UTSA
TE
2 rec., 15 yds. 
W, 27-13MTSU
Coley, James
Texas A&M
TE Coach
W, 34-0New Mexico
Corral, Matt
Ole Miss 
QB
23-31, 335 yds., 3 TD
13 rushes, 68 yds., 4 TD's
W, 61-21Tulane 
Corrales, Beau 
North Carolina
WR
NO STATS
W, 59-39Virginia 
Cristobal, Mario 
Oregon 
Head Coach
W, 48-7Stony Brook
Cropper, Jalen 
Fresno St. 
WR
14 rec., 141 yds. 1 TD
1 rush, 1 yd., 1 TD
W, 40-37UCLA
Cruz, Gunner 
Arizona  
QB
NO STATS
L, 19-21NAU
Davila, Peter
Albany 
DB Coach 
L, 24-62Syracuse 
Diaz, Manny
Miami (FL)
Head Coach 
L, 17-38Michigan State
Escobar, Alex 
NM State
RB
1 rush, 1 yd. 
W, 43-35Carolina State
Escobar, Ivan 
NM State
DL
NO STATS
W, 43-35South Carolina State
Fernandez, Aaron 
Southern Utah
RGC/OL
W, 40-35Southern Utah
Figueroa, Nick 
USC
DL
NO STATS
W, 45-14Washington State
Flores, Reynaldo
UTEP
RB
BYE
BYE
Flores, Justin 
Maine 
WR coach 
W, 31-26Merrimack
Fuente, Justin 
Virginia Tech 
Head Coach 
W, 27-21West Virginia
Garcia, Elijah 
Rice 
DL
Tackles- 8- Total 2- Solo
L, 0-58Texas
Garcia, Julio
UNLV
OL
130 yds.- Total offense
L, 3-48Iowa State
Garcia, Xavier 
Temple 
Def. GA
L, 3-28Boston College
Garcia- Castaneda, Isaiah 
NM State
WR
3 rec., 78 yds., 1 TD
W, 43-35South Carolina State
Gonzalez, Billy 
Florida
WR/ Passing Game Coord. 
L, 29-31Alabama
Gonzales, Christian 
Colorado
CB
Tackles- 1 solo, 
L, 0-30Minnesota
Gonzales, Danny 
New Mexico 
Head Coach
L, 0-34Texas A&M
Gonzales, Paul
TCU
Safeties Coach 
BYE
Gutierrez, Daniel 
UNLV
K
1/1- FG
L, 3-48Iowa State
Hernandez, Dan
Eastern Illinois 
OL Coach
L, 24-31Illinois State
Hernandez, Zach 
Cal Poly 
DB
2 solo tackles, 1 Fumble Recovery
L, 14-48South Dakota
Infante, Gabe 
Temple
RB Coach
L, 3-28Boston College
Jackson, Jim 
Rice 
TE Coach 
L, 0-58Texas 
Lozano, Alex
Portland State
LB
2 tackles, 2 TFL, 1 sack 
W, 21-7Western Oregon
Madrigal, Anthony 
San Jose St.
LB
NO STATS
W, 17-13Hawaii
Magana, Jorge 
Montana Tech
LB
NO STATS
W, 31-29Rocky Mtn. College 
Maldonado, Dino
NM State
QB
24-33, 321 YDS, 3 TD
5 rushes, 21 yds.
W, 43-35South Carolina State
Martinez, Adrian 
Nebraska 
QB
19-25, 289 yds., 1 TD, 1 INT 
17 rushes, 34 yds., 1 TD
L, 16-23Oklahoma
Martinez, Cameron 
Ohio State 
SAF
Tackles- 
2- total , 1-solo
3 PD, 1 INT, 61 yds., 1 TD
W, 41-20Tulsa
Martinez, RJ
NAU
QB
11-16, 88 yds. , 1 TD, 1 INT
6 rushes, 43 yds.
W, 21-19Arizona
Martinez, Marc
Tarleton St. 
LB coach
L, 35-40Southern Utah
Martinez, Willie 
Tennessee
CB coach 
W, 56-0Tennessee Tech
Mateos, Eric 
Baylor 
OL
W, 45-7Kansas 
Matthews, Jesse
San Diego St. 
WR
2 rec., 11 yds. 2 pt. conversion pass
W, 33-31 Utah
Mejia, Christian 
Washington St. 
DL
Tackles- 3- total, 1 TFL
L, 14-45USC
Melo, Lucas 
Davenport University 
Run Game Coordinator/Defensive Line
L, 14-20Northern Michigan 
Mendez, Julian 
Ottawa University 
Offensive Coordinator 
L,  14- 33MacPherson University  
Mirabal, Alex
Oregon 
OL Coach 
W, 48-7Stony Brook
Montano, Abraham 
Fresno State
K
1 tackle,2/2 – FG4/4- PAT
W, 40-37UCLA
Montero, Antonio
Rice
LB
Tackles- 6-total, 1-solo, 0.5- TFL
L, 0-58Texas
Morales, Kamari 
North Carolina 
TE
1 rec., 3 yds.
W, 59-39Virginia 
Navarro, Jaime 
SJSU
OL
Total offense-291 yards
Hawaii 
Navarro, Juan 
NCCU 
DL Coach
W, 20-13Winston-Salem
Navarro, Donny 
Illinois 
WR
3 rec.,27 yds.1 KR, 22 yds.3 PR, 11 yds.
L, 17-20Maryland 
Nunez, Jay
Eastern Michigan
Sp. TeamsAssoc. HC
W, 42-28UMASS
Olave, Chris 
Ohio State
WR
NO STATS.
W, 41-20Tulsa
Ornelas, Jesse
Central Oklahoma 
RB Coach
L, 10-14Missouri Southern
Ortega, Josh 
UTEP
DE
BYE
BYE
Ortega- Jones, Julian 
Texas St. 
WR 
2 rec., 28 yds. 
Incarnate Word
Ortiz, Angel
Ottawa Univ. (AZ)
W, 45-31Texas Wesleyan
Pacheco, Isaih
Rutgers
RB
12 rushes, 67 yds., 2 TD's
1 rec., -3 yds.
W, 45-13Delaware
Padilla, David
Charleston Southern 
Ass't AD for Football
L, 14-41Monmouth 
Pagan, Justice 
Portland State
LB
2 tackles
W, 21-7Western Oregon
Perales, David 
Fresno State
DL
Tackles-1, solo
W, 40-37UCLA
Ponce, Frank 
Appalachian State 
Offensive Coordinator 
W, 44-10Elon
Ramirez, Manny 
Texas Southern
OL Coach 
BYE
Regalado, Marco
Washington State
Director of On-Campus Recruiting
L, 14-45USC
Restrepo, Xavier
Miami (FL)
WR
1 rec. 7 yds. 
L, 17-38Michigan State
Reveles, Miguel
La Verne
Offensive Coordinator
L, 12-22Pacific Lutheran
Rivas, Eddie 
Texas State
OL
Total Offense  – 448 yards 
L, 34-42 Incarnate Word
Rivas- Sandoval, Cesar
Southeastern University 
Head Coach
W 20-14, Thomas More
Rodriguez, Anthony 
Portland State
TE
NO STATS
W, 21-7Western Oregon
Rodriguez, Drew
Towson St. 
QB coach
W, 35-7 North Dakota State
Rodriguez, Jacob
Virginia 
RB
3 rushes, 14 yds3 rec., 23 yds. . 
L, 39-59North Carolina 
Rodriguez, Joel
FIU
OL coach 
W, 54-21Texas Tech
Rodriguez, Juan 
Fresno State 
TE
3 rec., 25 yds. 
W, 40-37UCLA
Rodriguez, Justin 
UTSA
RB
NO STATS
W, 27-13Middle Tennessee 
Rodriguez, Malcolm
Oklahoma St.
LB
8 tackles, 5 solo, .5 TFL
W, 21-20Boise State
Rodriguez, Oscar
Akron
Assoc. HC/ ILB
W, 35-14Bryant 
Rodriguez, Robert 
Arizona St.
DL coach
W, 27-17BYU
Rojas, Manny 
Delaware 
Def. Coordinator
L, 13-45Rutgers
Rubio, Cruz 
Cal Poly 
LS
NO STATS 
L, 14-48South Dakota
Santa Cruz, Victor 
Hawaii 
Defensive Ends coach
L, 13-17San Jose St.
Santana, JuanCarlos 
Tulsa 
WR
7 rec.,78 yds.
L, 20-41Ohio State 
Segura, Justin 
NM State
DL
Tackles- 1- solo, 1- TFL, 2- QB hurry
W, 43-35South Carolina State
Sori-Marin, Mariano
Minnesota 
LB
Tackles- 4 -solo, 2 TFL
W, 34-0Colorado
Soto, Anthony
Lenoir-Rhyne 
Offensive Coordinator/ /OL
Total offense-337 yards
L, 21-28Newberry
Steele, Chris 
USC
CB
Tackles- 1 total 
W, 45-14Washington State
Umana, Orlando 
Ole Miss
OL
Total offense- 707 yds. 
W, 63-21 Tulane 
Velazquez, Alonzo
Wyoming 
OL
Total offense- 378 yards
W, 45-12Ball State
Ybarra, Austin
Montana Tech
LB
W, 31-29Rocky Mtn.College
Get the Our Esquina Email Newsletter
By submitting your email, you are agreeing to receive additional communications and exclusive content from Our Esquina. You can unsubscribe at any time.