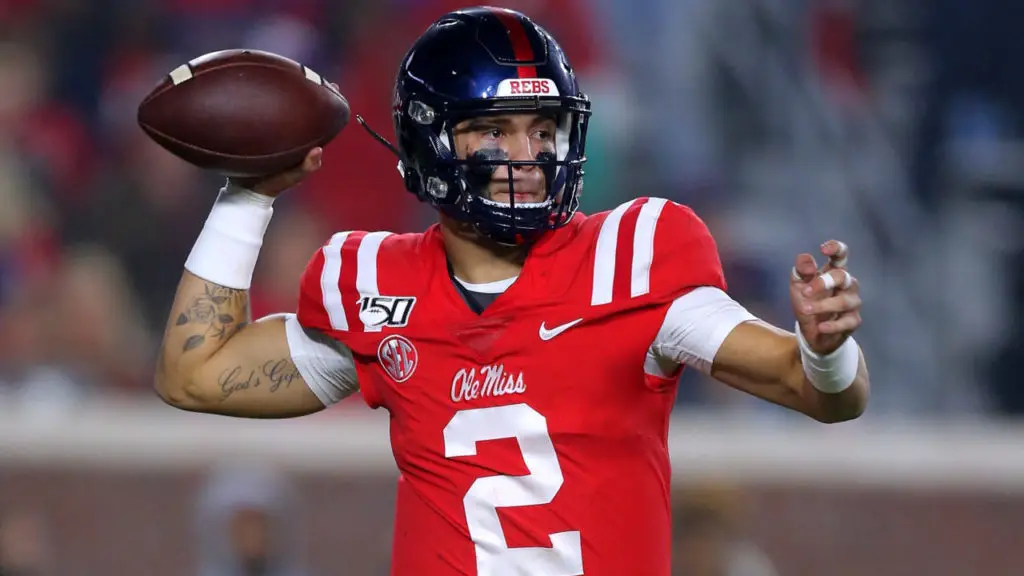 College Football: Mario Cristobal, Matt Corral Highlight Latino Impact
Weekly Roundup of Latino contributors in College Football
Ole Miss quarterback Matt Corral and Oregon coach Mario Cristobal arguably shone brightest among Latino contributors in college football this weekend.
The Cuban American Cristobal guided the Oregon Ducks to an upset over Ohio State in Columbus, Ohio, despite another standout performance from last week's Our Esquina Offensive Player of the Week, Ohio State wide receiver, Chris Olave. 
Cristobal, 50, is in his fourth season at the helm of the Ducks. The victory over Big Ten power Ohio State is his best win as head coach of the Pac-12 power, and that's saying a lot. 
After the victory, the Ducks jumped from No. 12 in the AP Top 25 to No. 4.
Boise State's Andy Avalos earned his first career victory as head coach, leading the Broncos over UTEP 54-13 last Friday.  
Latino Offensive Player of the Week, Matt Corral
Ole Miss quarterback Matt Corral.
In a 54-17 victory over Austin Peay, Matt Corral threw five touchdowns and completed 21-of-33 attempts for 281 yards. Corral, 22, junior from Southern California. He very well could be playing his final college football season as he may declare for the 2022 NFL Draft. 
Corral was named the Walter Camp Football Foundation Bowl Subdivision National Offensive Player of the Week after his performance. 
Latino Defensive Player of the Week, Malcolm Rodriguez
Oklahoma State linebacker Malcolm Rodriguez. The fifth-year senior led the Cowboys with 13 total tackles, eight of them solo, in a 28-23 victory over Tulsa. 
In a Week 1 contest victory over Missouri State, Rodriguez had another stellar performance as he was in on fifteen tackles. 
Rodriguez, a former safety converted to linebacker before the 2019 campaign, has adapted well to the new position. He has led the Cowboys in tackles the last two seasons. He's a team captain and a Second Team Academic All-Big 12 selection in 2020. 
Rodriguez is known as a "super senior" after electing to play an extra season following an NCAA eligibility ruling that gave players an extra season because of the COVID-19 pandemic.
Other notable Latino contributors
Texas A&M sophomore quarterback Zach Calzada came off the bench in Denver to help the No. 5 Aggies avoid the upset. Considering that starting quarterback Haynes King suffered a lower leg injury, it won't be surprising if Calzada and Matt Corral face each other this season.
At Our Esquina, where we amplify Latino stories and voices in sports, arts and culture, we'll keep track of all the Latinos playing college football.
This is our second weekly list of Latinos in college football. We want to highlight their achievements and tell their stories during the season.  
Our list has grown since last week. If you know of somebody who is missing from this list, please let us know.  Email JuanLozano@ouresquina.com for any additions.
LAST NAME, FIRST NAME
TEAM
POSITION
STATS
TEAM RESULT
Alonso, Mandy
Virginia 
DL
Tackles, 3- Total, 1- solo 
W, 42-14Illinois
Araiza, Matt 
SDSU
P/K
7 punts, 53.1 avg., 3 inside 20
FG: 1-2
W, 38-14Arizona 
Aranda, Dave 
Baylor 
Head Coach 
W, 66-7Texas Southern 
Arias, Daniel 
Colorado 
WR 
3 rec., 37 yds.
L, 7-10Texas A&M
Arroyo, Elijah
Miami (FL)
TE
1 rec., 11 yds. 
W, 25-23, Appalachian State
Avalos, Alex
Boise State
Head Coach
W, 54-13UTEP
Banda, Ephraim 
Utah State
Def. Coord/Safeties
W, 48-25North Dakota 
Borregales, Andrés
Miami (FL)
K
3-4, FGsLong: 43
W, 25-23, Appalachian State 
Calzada, Zach
Texas A&M
QB
18/38-183 yds., 1 TD
7 rushes-28 yds.
W, 10-7 Colorado 
Camarena, Evan 
Portland State
CB
6 tackles, 3 solo1 Pass Defended
L, 24-44Washington State
Canales, Mike "Chico"
Maryland 
Analyst 
W, 62-10Howard 
Cardenas, Oscar
UTSA
TE
1 rec. 19 yds. 
W, 54-0Lamar
Coley, James
Texas A&M
TE Coach
W, 10-7 Colorado 
Corral, Matt
Ole Miss 
QB
21/33 281 yds., 5 TD's
8 rushes, 35 yds.
W, 54-17Austin Peay
Corrales, Beau 
North Carolina
WR
NO STATS
W, 59-17Georgia State 
Cristobal, Mario 
Oregon 
Head Coach
W, 35-28Ohio State
Cruz, Gunner 
Arizona  
QB
10-19, 70 yds.1 TD, 1 INT
L, 38-14San Diego St. 
Davila, Peter
Albany 
DB Coach 
L, 14-16Rhode Island 
Diaz, Manny
Miami (FL)
Head Coach 
W, 25-23Appalachian State 
Escobar, Alex 
New Mex. St. 
RB
NO STATS
L, 25-34New Mexico 
Escobar, Ivan 
New Mex. St.
DL
NO STATS
L, 25-34New Mexico 
Figueroa, Nick 
USC
DL
Tackles- 1 solo and 1 TFL
L, 28-42Stanford
Flores,Reynaldo
UTEP
RB
5 rushes, 38 yds.1 rec., 9 yds
L, 13-54Boise State
Flores, Justin 
Maine 
WR coach 
L, 7-55James Madison 
Fuente, Justin 
Virginia Tech 
Head Coach 
W, 35-14Middle Tennessee St. 
Garcia, Elijah 
Rice 
DL
Tackles- 6- Total 3- Solo.5- TFL.5- Sack
L, 7-44Houston
Garcia, Julio
UNLV
OL
155 yds.- Total offense
L, 10-37Arizona State 
Garcia, Xavier 
Temple 
Def. GA
W, 45-24Akron
Garcia- Castaneda, Isaiah 
New Mexico St. 
WR
3 rec., 98 yds, 1 TD
L, 25-34New Mexico 
Gonzalez, Billy 
Florida
WR/ Passing Game Coord. 
W, 42-20South Florida
Gonzales, Christian 
Colorado
CB
Tackles- 6 solo, 2 TFL
L, 7-10Texas A&M
Gonzales, Danny 
New Mexico 
Head Coach
W, 34-25New Mexico State
Gonzales, Paul
TCU
Safeties Coach 
W, 34-32California 
Gutierrez, Daniel 
UNLV
K
1/1- FG1/1- PAT
L, 10-37Arizona State 
Hernandez, Dan
Eastern Illinois 
OL Coach
L, 10-17Dayton
Hernandez, Zach 
Cal Poly 
DB
6 solo tackles, 1 TFL, 1 sack 
L, 10-63Fresno State
Infante, Gabe 
Temple
RB Coach
W, 45-24Akron
Jackson, Jim 
Rice 
TE Coach 
L, 7-44Houston
Lozano, Alex
Portland State
LB
4 tackles, 3 solo1 pass defended 
L, 24-44Washington State
Madrigal, Anthony 
SJSU
LB
NO STATS
BYE
Magana, Jorge 
Montana Tech
LB
NO STATS
BYE
Maldonado, Dino
NM State
QB
14/35- 203 yds. 2 TD- 2 INT
6 rushes, 46 yds.
L, 25-34New Mexico 
Martinez, Adrian 
Nebraska 
QB
13/19- 242 yds, 2 passing TD's 
9 rushes, 112 yds.
Martinez, Marc
Tarleton St. 
LB coach
W, 54-7Fort Lewis 
Martinez, Willie 
Tennessee
CB coach 
L, 34-41Pittsburgh
Mateos, Eric 
Baylor 
OL
W, 66-7Texas Southern 
Mejia, Christian 
Washington St. 
DL
1 solo tackle
W, 44-24 Portland State
Melo, Lucas 
Davenport University 
Run Game Coordinator/Defensive Line
W, 10-6Walsh University 
Mendez, Julian 
Ottawa University 
Offensive Coordinator 
L, 14-38Avila University 
Mirabal, Alex
Oregon 
OL Coach 
W, 35-28Ohio State 
Montano, Abraham 
Fresno State
K
1 tackle,0/0 – FG9/9- PAT
W, 63-10Cal Poly
Montero, Antonio
Rice
LB
Tackles- 10 total, 2 -solo, 2- TFL
L, 7-44Houston 
Morales, Kamari 
North Carolina 
TE
4 rec., 42 yds.
W, 59-17Georgia State
Navarro, Jaime 
SJSU
OL
NO STATS
BYE
Navarro, Juan 
NCCU 
DL Coach
L, 10-44Marshall 
Navarro, Donny 
Illinois 
WR
2 rec.,11 yds.
2 KR, 22 yds.
L, 14-42Virginia
Nunez, Jay
Eastern Michigan
Sp. TeamsAssoc. HC
L, 7-34Wisconsin
Olave, Chris 
Ohio State
WR
12 rec.,126 yds.
L, 28-35Oregon 
Ornelas, Jesse
Central Oklahoma 
RB Coach
L, 21-31Emporia State 
Ortega, Josh 
UTEP
DE
Tackles- 1, solo
L, 13-54Boise State
Ortega- Jones, Julian 
Texas St. 
WR 
NO STATS. 
W, 23-17FIU
Pacheco, Isaih
Rutgers
RB
18 rushes, 44 yds.
W, 17-7 Syracuse 
Padilla, David
Charleston Southern 
Ass't AD for Football
BYE
Pagan, Justice 
Portland State
LB
4 tackles, 1-solo, 1-5 – TFL
L, 24-44Washington State
Perales, David 
Fresno State
DL
Tackles-1, solo
W, 63-10Cal Poly
Ponce, Frank 
Appalachian State 
Offensive Coordinator 
L, 23-25Miami (FL)
Ramirez, Manny 
Texas Southern
OL Coach 
L, 7-66Baylor 
Regalado, Marco
Washington State
Director of On-Campus Recruiting
W, 44-24Portland State 
Restrepo, Xavier
Miami (FL)
WR
1 rec. 18 yds. 
W, 25-23Appalachian State
Reveles, Miguel
La Verne
Offensive Coordinator
L, 25-59Chapman
Rivas- Sandoval, Cesar
Southeastern University 
Head Coach
BYE
Rodriguez, Anthony 
Portland State
TE
1 solo tackle 
L, 24-44Washington State
Rodriguez, Drew
Towson St. 
QB coach
L, 14-26New Hampshire
Rodriguez, Joel
FIU
OL coach 
W, 23-17FIU
Rodriguez, Juan 
Fresno State 
TE
2 catches, 27 yds. 
W, 63-10Cal Poly
Rodriguez, Justin 
UTSA
RB
2 carries, 4 yds. 1 rec. , 9 yds. 
W, 54-0 Lamar
Rodriguez, Malcolm
Oklahoma St.
LB
13 tackles, 8 solo, .5 TFL
W, 28-23Tulsa
Rodriguez, Oscar
Akron
Assoc. HC/ ILB
W, 45-24Temple
Rodriguez, Robert 
Arizona St.
DL coach
W, 37-10UNLV
Rojas, Manny 
Delaware 
Def. Coordinator
W, 27-10St. Francis
Rubio, Cruz 
Cal Poly 
LS
1 solo tackle 
L, 10-63Fresno State
Santa Cruz, Victor 
Hawaii 
Defensive Ends coach
L, 27-45Oregon St.
Santana, JuanCarlos 
Tulsa 
WR
4 rec.,61 yds.
L, 23-28Oklahoma State
Segura, Justin 
New Mexico St. 
DL
Tackles- 2- solo, .5 TFL
L, 25-34New Mexico 
Soto, Anthony
Lenoir-Rhyne 
Offensive Coordinator/ /OL
BYE
Steele, Chris 
USC
CB
Tackles- 4 total3- solo
L, 28-42Stanford
Velazquez, Alonzo
Wyoming 
OL
347 yds.- Total offense
W, 50-43Northern Illinois
Ybarra, Austin
Montana Tech
LB
BYE
Get the Our Esquina Email Newsletter
By submitting your email, you are agreeing to receive additional communications and exclusive content from Our Esquina. You can unsubscribe at any time.