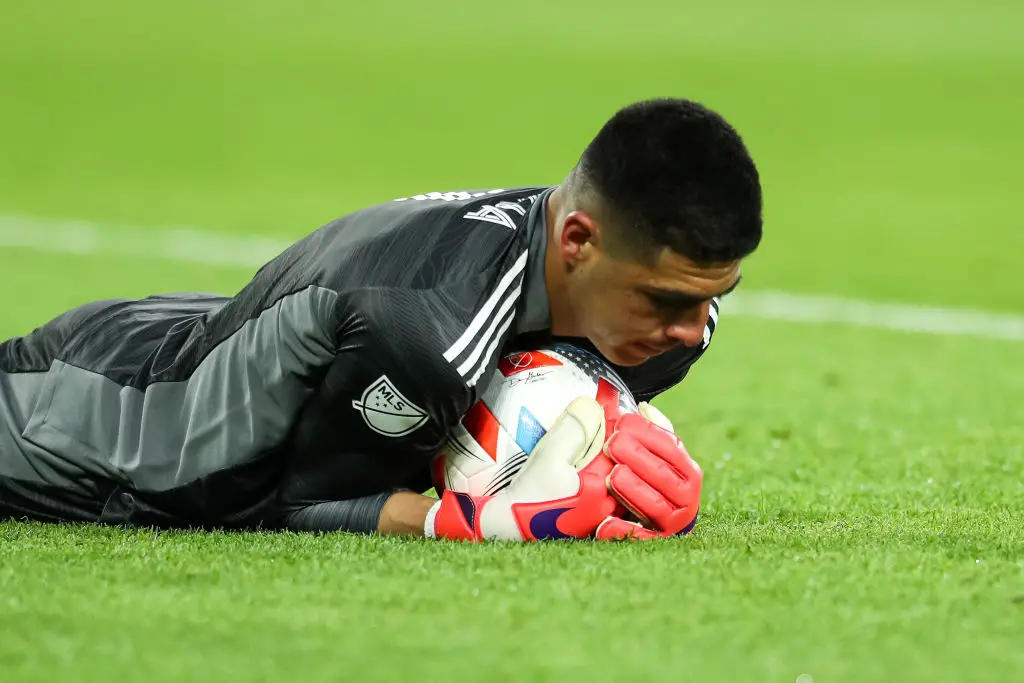 David Ochoa Exposes U.S. Soccer's Culture
U.S. Soccer must build a true multicultural culture
David Ochoa is not the first dual-national player to switch allegiances countries. The Real Salt Lake goalkeeper likely won't be the last. Ochoa's decision to represent the Mexican national team instead of the United States had seemingly been confirmed weeks ago when he posted a picture training with Mexico's Gold Cup squad.
It's a consistent problem for U.S. Soccer. How can they foster a culture where Mexican Americans feel like they belong? 
Ochoa talks about this in his article in the Players' Tribune. He discussed the feeling of not belonging. Not here, nor there. Ni de aqui, ni de allá. That's the feeling a lot of Mexican Americans have, myself included. You share the same Latino culture with other Latinos, with a few differences depending where your family is from.
For Mexican Americans, that feeling can often mean waking up Sunday mornings to watch the Mexican league, making some carne asada as you settle in to watch the national team play, sometimes even just having some tortillas with most meals.
When you leave the place that you recognize as home you try to find similarities in your new home, to make it feel like the home you know. That's harder to do when few people share those experiences. I know for a fact that when I left to college I struggled with that too.
David Ochoa experience is similar
If it wasn't for my Mexican American roommate, I would've had a much harder time adjusting to the new environment. I'm sure that for Ochoa, being able to not only train with his heroes but get that type of feeling, the feeling of home, while being with said heroes made the decision much easier. 
Sure, there are some people saying that David Ochoa made his decision because he couldn't stand being behind three other Goalies on the depth chart. Some claim that being on the Mexican team will be an easier path for him.
Those same people are the ones saying they don't understand how you can grow up in America and choose to represent a different country. This isn't a choice made in a vacuum, nor one that is made with spite.
It's a choice that factors in your past, present and your future. Fans will always struggle to understand these types of decisions, but that's unfortunately part of fan culture. 
David Ochoa not alone
It's a choice that will be in the spotlight for the foreseeable future. Julian Araujo, the right-back for the LA Galaxy is rumored to be making the switch to the Mexican national team as well.
Coincidentally, Araujo and Ochoa were teammates during the failed U.S. Olympic qualifying run earlier this year. He also happens to play on the MLS team that has three players who have played for Mexico in Jonathan Dos Santos, Javier "Chicharito" Hernández, and Efrain Alvarez.
The latter also chose to represent Mexico on the national level. The relationship he has with those players will likely help determine what Araujo ultimately decides. Another potential dual national whose name will be in the spotlight as the World Cup Qualifiers come in is FC Dallas' Ricardo Pepi.
He's only 18, but he's off to a hot start with his club this season. His decision is looming. If the U.S. can pull it off and convince him to keep representing their colors on an international level then good for them. But it's not an indication that the tide has changed with respect to Mexican American dual nationals or Latinos as a whole.
It's a step, but there's a lot of work to be done. There's a reason dual-nationals choose somebody else, because it feels like home. The easiest thing the U.S. Soccer Federation can do is start by having more diverse voices in its soccer operations. After all, this is a multicultural country.
Get the Our Esquina Email Newsletter
By submitting your email, you are agreeing to receive additional communications and exclusive content from Our Esquina. You can unsubscribe at any time.