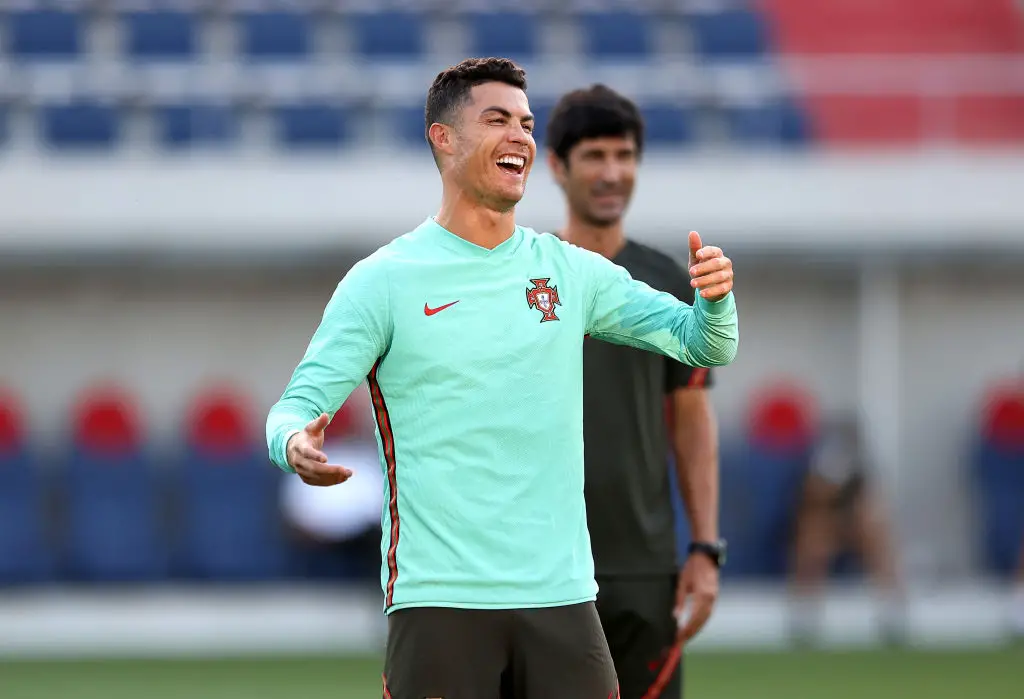 Cristiano Ronaldo draws scrutiny with moves off pitch
Ronaldo brushes off Coca Cola
Cristiano Ronaldo highlighted an interesting week of athlete behavior at press conferences.  At Euro 2020, Portuguese and Juventus star forward Cristiano Ronaldo visibly and forcefully eschewed sponsor Coca-Cola and encouraged people to drink water. 
It's rare to see a player criticize corporate sponsors in this manner. However, Ronaldo, who has earned over a billion dollars in his career, is at that point in his career when he obviously feels free to speak out and make his feelings known without fear of retribution. 
It may or may not be a coincidence that Coca Cola stock plummeted immediately after Ronaldo's outburst. 
Cristiano Ronaldo has company
French midfielder Paul Pogba, who is Muslim, also made headlines by moving a bottle of Heineken from the press table.
While Ronaldo, 36, made headlines for expressing his opinion, former heavyweight champion Deontay Wilder gained headlines by refusing to answer questions at a press conference promoting his third fight against now-heavyweight champion Tyson Fury. Instead, Wilder sat at a table with Beats headphones covering his ears. It was a bizarre display. 
It's not what you expect to see in a fight promotion where a fighter might have a clause in his contract that pays him a percentage of pay-per-view revenue.
Also, USWNT member Carli Lloyd went after not one, but two journalists in a press conference. Yikes. 
This antagonistic relationship with corporate sponsors and the media seems to be amplified in recent years, if not months. 
Imagine if Spanish-speaking athletes expressed their disinterest in communicating with corporate sponsors or media in the manner that the three athletes did. 
More Mexican MMA
The UFC's Yair "El Pantera" Rodriguez, a native of Parral, Chihuahua, Mexico, is likely the second most popular Mexican MMA star.
Rodriguez last fought on Oct. 18, 2019, in a win over Jeremy Stephens. He was set to fight former champion Max Holloway on July 17. Holloway pulled out of the fight due to an undisclosed injury. There's rumors that there is a replacement for Rodriguez on the card. 
Mexican MMA has significant momentum with Brandon Moreno winning the flyweight title earlier in the month. We would have loved to see Rodriguez against a former champion like Holloway, considering his last fight against elite competition, a 2017 battle against Frankie Edgar, ended in a second round doctor's stoppage. 
We might have to wait just a little while longer to see how El Pantera matches up against the best UFC competition. 
Dunkin' Donuts in Wrigleyville 
The days of teams hazing rookies are thankfully a distant memory as a strict anti-hazing policy implemented by MLB prevents veterans from tormenting their rookies. 
This past weekend, however, rookie members of the Miami Marlins had to make a coffee and donuts run to a Dunkin' Donuts in the Wrigleyville neighborhood. The rookies got drinks, donuts and Munchkins for the Marlins players. Perhaps they were pressed for time, but we would have definitely gone for a breakfast sandwich.
The Marlins are not the first peloteros to frequent the Wrigleyville Dunkin' Donuts in uniform. Cubs superstar infielder, Javier "Javy" Báez captured his visit to the establishment in 2019 on Instagram Live.
To our knowledge, Dunkin' Donuts' only MLB partnership is with the Los Angeles Dodgers.  This particular Dunkin' Donuts stands to benefit from their proximity to Wrigley Field.
They should reach out to teams to say they will take care of their orders on gameday. As a former "ops guy," I outreach on the part of local companies, like a Dunkin' Donuts on where and how to feed my team would be very welcome.  I have Popeye's on speed dial in at least six different states. 
Another great fight weekend  
It's another great fight weekend with San Antonio's Mario "El Azteca" Barrios defending his WBA "regular" junior welterweight title against Gervonta Davis on Showtime Pay-Per-View. 
On ESPN+, a lightweight matchup featuring Vasiliy Lomachenko against Masayoshi Nakatani should be a candidate for fight of the year. Both of those fighters have taken losses against undisputed champion Teofimo LopezEnjoy!
Get the Our Esquina Email Newsletter
By submitting your email, you are agreeing to receive additional communications and exclusive content from Our Esquina. You can unsubscribe at any time.