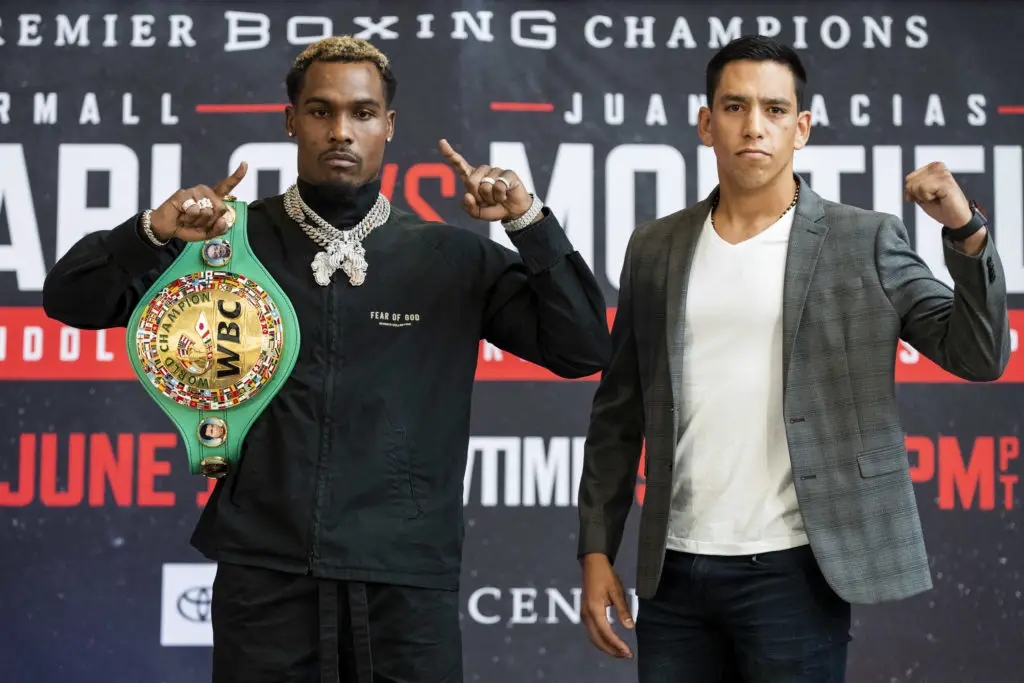 Showtime should highlight Juan Macias Montiel, Mario Barrios
Juan Macias Montiel and Mario Barrios deserve more spotlight
Showtime presents its first big fight of the summer on Saturday when WBC middleweight champion Jermall Charlo defends his title against Mexican fighter Juan Macias Montiel. 
That fight comes at a time when combat sports are having their moment in the sun. UFC 263 was an exciting affair last Saturday, featuring the crowning of the first UFC champion from Mexico, flyweight Brandon Moreno. 
Charlo and Montiel will highlight Showtime's bout this upcoming Saturday. One week later, on June 26, Gervonta "Tank" Davis faces off against San Antonio's Mario Barrios for Barrios' WBA "regular" junior welterweight title. Per usual, Showtime is promoting both fights through their All-Access Shows. (The Charlo- Montiel here and Barrios- Davis can be seen here. ). 
As always, the shows are well produced. They provide enough of the boxer's backstory to interest even casual fight fans.  However, when watching these two All-Access shows, I thought maybe the fights should be promoted as CHARLO v. Juan Macias Montiel, and Mario Barrios v. DAVIS.  
Juan Macias Montiel has compelling story
The two Latino fighters – Juan Macias Montiel and Mario Barrios – both have compelling stories. They each have key victories in their nascent careers, but they are merely an afterthought in the shows. They aren't given the airtime that Charlo and Davis are. 
I recognize that Charlo and Davis are both under contract with Showtime/PBC and thus Showtime wants to promote its fighters. However, the network is missing out on promoting the fight itself, by promoting Charlo and Davis at the expense of their opponents, Montiel and Barrios. 
By doing so, they're losing out on possibly adding a larger Latino audience. 
Soccer NAFTA
Like the existence of the Chupacabra, we've heard the persistent rumor that Liga MX and MLS would collaborate, if not merge.  To this point, the two leagues have participated in the creatively named Leagues Cup and Campeones Cup, which pits teams from both leagues against each other. 
However there's been a recent vocal push to finally merge the two leagues. Both league presidents have expressed, or at least attempted to, the benefits of a merger to both leagues. 
Liga MX President Mikel Arriola expressed his support for the merger "One of our main strategies is to grow in the same terms of other leagues, accumulating the fan base in the U.S. and expanding our properties with MLS. We are confident we have a very robust plan to grow jointly with MLS."
This is heavy on the adverbs and adjectives MBA-speak.
Not to be outdone by his Liga MX counterpart with the use of platitudes about the merger, MLS President Garber chimed in  "Each league has its own objective. The best partnerships have mutual values. Each one is bringing something to the relationship that is going to make sense or else you don't do it. We have great confidence that we're beginning to find values by working closely with each other."
MLS has much to gain from Liga MX
There's a lot of words, but there's not much in the way of how a merger would benefit Liga MX teams and their fanbases. It seems like it's exclusively to MLS' advantage to join forces with Liga MX. 
For example , consider that Liga MX ratings for the championship game (3.7 million) more than tripled that of MLS Cup (1.071 million).
Is Liga MX going to attract fans that aren't already fans of a particular team because they are playing against MLS teams?
MLS needs Liga MX to help boost television ratings, attendance figures and revenues. I'm not sure what Liga MX stands to gain by linking up with MLS. 
Mark Few's priorities
University presidents, athletic directors and head coaches such as Gonzaga head coach Mark Few are looking to the federal government to intervene and pass uniform name and likeness legislation as the absence of it per them creates an inequitable recruiting field. 
In sum, well-compensated officials are attempting to place rules on the compensation their unpaid athletes might receive. 
It's a pretty audacious request considering the issues faced in the country, generally and  higher education, specifically. The federal government's involvement in college athletic recruiting is a serious overreach and shows misplaced priorities. 
The federal government already used massive resources as the U.S. District Attorney's office prosecuted college basketball coaches over the issue of recruiting.  What a complete waste of time and energy. 
Texans give back
The Houston Texans through their "Small Business Boost" program awards deserving businesses, capital,  as well as marketing promotional assistance to companies such as Victoria Elizondo's Cochinita & Co.,  
The owner, Victoria Elizondo's business story was recently featured on the Texans' website.
We at ouresquina.com wish her the best of luck and applaud the Texans for helping out local Houston businesses. 
Get the Our Esquina Email Newsletter
By submitting your email, you are agreeing to receive additional communications and exclusive content from Our Esquina. You can unsubscribe at any time.