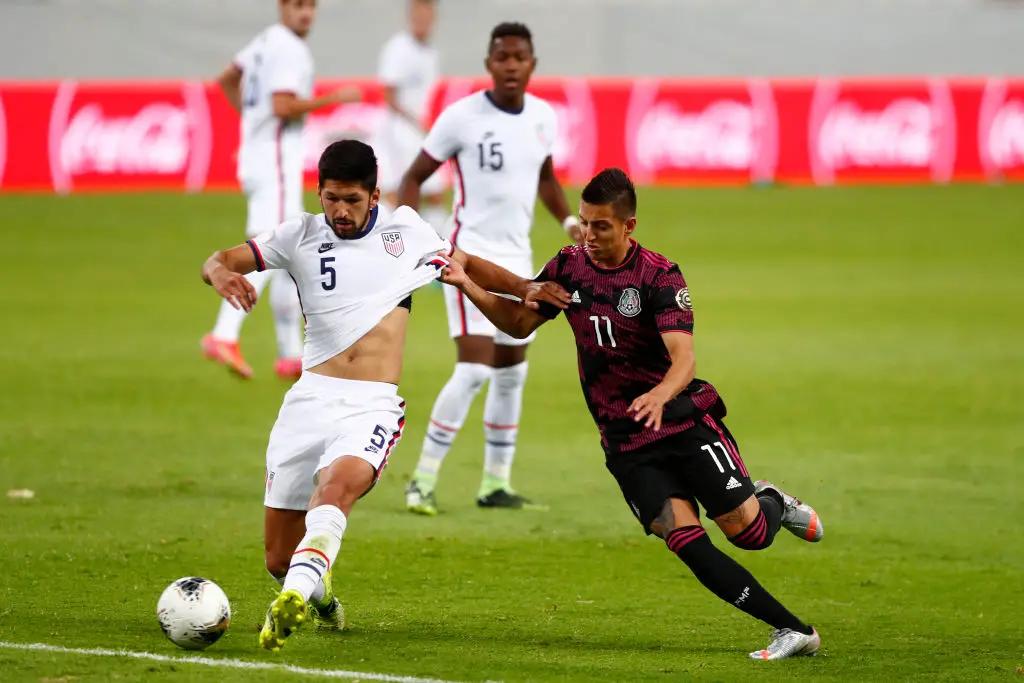 Chicago Fire Defender Mauricio Pineda Happy at Home
Mauricio Pineda has settled into the Chicago Fire lineup
Almost 30 miles away from Soldier Field is Bolingbrook, Ill., which is home to one of Chicago Fire FC's rising stars. Homegrown talent Mauricio Pineda calls the suburb right outside of Chicago home. 
At just 22 years old, the young Mexican American star is in his second year with the Fire's first team after entering their youth academy at 10 years old. 
"After 3 1/2 years of being in school and coming back and being able to sign with them was an honor for me," Pineda said. "A lot of my family and friends have been able to go to the games, so I think that part makes it all the more special." 
The 6-foot-1, 172-pound defender built an impressive resume in his amateur career before signing a professional contract with the Fire. He played four seasons at the University of North Carolina, where he was named to the All-ACC team each year. 
He was also called up to the U-18 and U-19 U.S men's national teams while at UNC, one of the most storied programs in college soccer. Most recently he was a part of the U-23 U.S men's national team during the Olympic qualifying tournament.
Brother led way for Mauricio Pineda
He also led the Chicago Fire Academy to their first U.S Soccer Development Academy National Championship in 2015. 
While Pineda accomplished much before he arrived with the Fire's senior squad, he also had someone to lean on in particular throughout his journey. Pineda looks up to his older brother Victor, who was the first homegrown player to join the Fire youth academy back in 2010. 
"I've always looked up to him in every possible way," Pineda said of his older brother. "I've always been really close with my brother ever since we were younger, so I think he's always been a role model."
Pineda has an important luxury not many professional athletes have, and he's grateful. He appreciates having family close. 
Having family close
He's grateful to feel the support of his family all the time regardless of whatever happens on the field. He knows they're always there for him.
"You always have someone at home to make you smile when things aren't going that great," he said. "I'm really grateful to have that."
Pineda values every part of his journey. Although young, he takes time to appreciate all that hard work that has him in this position. From time to time he looks back at the struggles along the way. 
Those struggles help him appreciate the successes even more. It should be no surprise Pineda's hard work is already paying off. Pineda has started all 23 games last season. He has started in nine of the Fire's 13 games this season and come off the bench in another.
The old saying of  "the sky's the limit" definitely applies to Mauricio Pineda. While there have already been many high points in his young career, Pineda knows there is still more to be done.
"It's like a rollercoaster," he said. "I'm ready for whatever highs are to come and whatever lows are to come. Hopefully keep working to have constant improvement."
Pineda's No. 22 is commonly seen in the replica Chicago Fire jerseys in the stands at Soldier Field. The love of being close to home is reciprocated by the fans watching a homegrown talent play for the Fire.
"This," Pineda said, "is where I grew up."
Get the Our Esquina Email Newsletter
By submitting your email, you are agreeing to receive additional communications and exclusive content from Our Esquina. You can unsubscribe at any time.