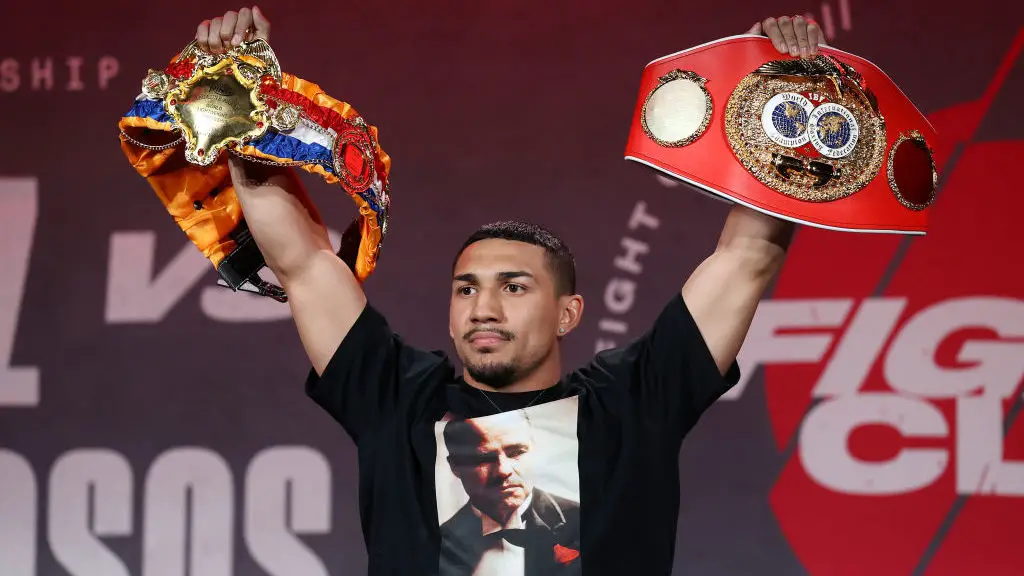 Teofimo Lopez highlights a busy fighting calendar
From Mayweather to Teofimo Lopez, the boxing calendar has been full this month.
Boxing and combat sports are heating up in the United States this month. June 19 stands to be one of the most action-packed days in recent boxing history. Multiple champions will fight that day, including undisputed lightweight champion Teofimo Lopez in Miami. 
This is the perfect time for boxing to take center stage in America. We are well into the baseball season, but pennant races haven't heated up. The NBA playoffs are going on, but they haven't reached the conference championships yet. NFL teams are finishing up OTAs this week and taking a break before training camp starts. 
Yet, there are plenty of promising fights on the agenda this month.
Much of the attention will turn to Miami when Lopez fights. Speaking of Miami.
Boxing legend Mayweather Jr. boxed in
Much of the recent buzz around boxing has been the emergence of celebrity boxing. Specifically it's influencers such as the Paul Brothers fighting other celebrities and athletes from different sports, and occasionally combat sport veterans. 
Boxing has had a strong run in 2021 even without these non- traditional "influencer" fights.  Less than two weeks ago, Filipino fan favorite, Nonito Donaire, 38, won his ninth world title. It was an unexpected return to prominence for the aging fighter.
On the same night, young champion Devin Heaney defeated Jorge Linares, a game veteran in an exciting fight. 
Those fights, as impressive as they might be, aren't discussed with the same zest as the "influencer" fights. 
The influencer fights have been wildly popular. Jake Paul, formerly with Triller, recently signed a multi-fight agreement with Showtime. 
Paul's brother, Logan, fought former champion Floyd Mayweather Jr. on Sunday in Miami,  on Showtime Pay-Per-View.
It was a curious promotion leading up to the fight. It began with viral schoolyard antics, such as the grabbing of an opponent's hat, that captured the interest of casual fans. That was the height of the promotion. As the promotion crawled toward the finish line, the message was much different. The tone changed from one of anger toward Paul to  a more cooperative tone in which getting paid was of significant interest. 
This change in marketing focus was likely due in part to the rules that made it clear that this wasn't a traditional boxing match. There was a 35-pound weight difference, a stark departure from the weight class structure that governs prize fighting. In addition, no judges determined whether there was a winner. Also, no winner would be announced. 
While there were major differences between this and a regular boxing match, the perceived uniqueness of the event wasn't as much in the different rules, but rather in the background of the participants. People wanted to see what a younger non-traditional fighter could do against one of the greatest ever. 
People needed to have the illusion that the rules in this match, even if not accounting for weight limits and classes, are similar to what they see in non-influencer fights. They didn't see that on Sunday in Miami.
Lots of empty seats
How many people saw the fight? Not many saw it in person. Twitter was abuzz over the number of empty seats. Many viewers are potentially requesting a refund as major technical snafus prevented fans from watching the fight. 
The fight wasn't expected to be much of a challenge to Mayweather. But it wasn't expected to be reduced solely as a money making venture for the former champion. Mayweather compared his involvement in the fight and the proceeds of that involvement as "legalized bank robbery."
Perhaps this was the easiest money he's ever made. That might be true, but I question making that pronouncement to a fanbase that was vocal about their annoyance at the product. No one forced people to watch, but the general consensus seemed that fans felt cheated out of their time and money.
As for Floyd's boxing future, he stated that it was unlikely that he would participate in similar events in the future. 
If the fans are flying to see more of Floyd Mayweather, well, he's on OnlyFans. 
Mayweather has earned that right to make as much in events like this, considering his long career in a physically taxing sport. But he's also a promoter. 
I would think he would generally want people feeling good about what they purchased. In my observation of social media on fight night, there appears to be a consensus that the fans felt taken advantage of. That's bad for the Mayweather business and the fight game going forward. 
25 years after Chavez-De La Hoya
American punditry takes pride in bemoaning the death of boxing. They talk about the death of the sport, although it's always been popular with people of color, especially Spanish-speaking communities. 
One of the biggest boxing matches for the Mexican community in the United States just reached its silver anniversary. 
After 25 years, R. Andrade Franco looked back at the Oscar De La Hoya vs Julio Cesar Chavez fight. We strongly encourage you to read this fantastic article that covered the various storylines surrounding this historic boxing showdown.
Xolos clinic
Mexico's Club Tijuana Xoloitzcuintles de Caliente, commonly known as Tijuana or Xolos, opened a medical clinic next to their stadium. 
The team has a large fanbase in Tijuana and along the border region. 
To my knowledge, this clinic is the first of its kind anywhere. We likely would not see this in the United States as teams would not want to assume this type of liability. We are encouraged by team efforts to improve the lives of their local residents.
This is a meaningful outreach and not just a symbolic one. That's a rarity in professional team charitable efforts. 
Get the Our Esquina Email Newsletter
By submitting your email, you are agreeing to receive additional communications and exclusive content from Our Esquina. You can unsubscribe at any time.