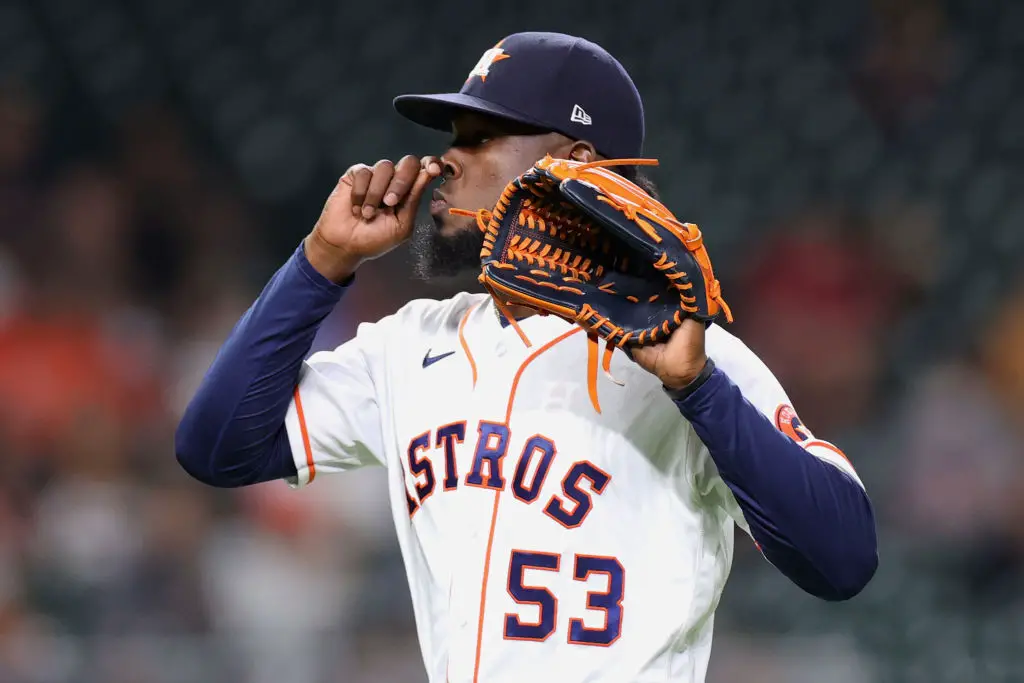 Astros' Cristian Javier rewarded for faith in plan
Cristian Javier focused on slider and change in Corpus Christi
Cristian Javier was stunned when the Astros sent him to their alternate training site on April 10. After an impressive rookie season, the righthander never expected to make such an early trip back to Corpus Christi.
Javier, who often mentions God, made the 209-mile trip from Minute Maid Park for Whataburger Field. Then, he took another 49 ½ feet to work on his changeup from 110 feet when he wasn't focused on his slider. 
He was adamant that the trip back to Corpus Christi was God's will, so he accepted it. Javier took the demotion as a mission trip, so to speak, to work on his slider and his changeup. Then he conquered the Angels 8-2 Thursday night, striking out a career-high nine over five scoreless innings to help the Astros snap a three-game losing streak.
"In reality, I didn't expect it," he said of the brief assignment back to the alternate training site. "But I felt everything was normal. I put everything in God my Father's hands.
"I said, 'God, it's your honor and will. You put each pitcher in each spot. You're sending me to Corpus because it's your will and honor.' Then there I worked on my slider to throw it more consistently."
Cristian Javier got on a roll early
Javier was impressive in his return. He struck out six over the first two innings. Mike Trout, who drew a two-out walk in the first, was the only Angels player to reach base until Javier gave up a leadoff double in the third.
"Early in the game he was extremely sharp," Astros manager Dusty Baker said of Javier. "He had good velocity. He had a good breaking ball and when he didn't have a good breaking ball, (catcher Martin Maldonado) did an outstanding job of blocking balls in the dirt.
"He gave us what we needed. We were hoping for one more inning, but I think that at-bat by (Kurt) Suzuki, that long at-bat, took an inning out of him."
Suzuki's 12-pitch at-bat followed Jose Rojas' leadoff double in the third. Javier started Suzuki with a pair of four-seam fastballs. Then he got him to swing at a slider to set the count at 1-2. Nine pitches and six foul balls later, Javier got Suzuki to swing through a 3-2 slider. 
Joining Jim Deshaies
He struck out the next batter to become the first Astros pitcher to secure the first eight outs of a game via strikeouts since Jim Deshaies on Sept. 23, 1986. 
"I kept thanking God," Javier said. "I said, 'let's stay focused like nothing has happened to not distract myself and to keep my routine. …
"I felt that (the slider) was super good. I could see the batters had a different reaction when I threw it, like they didn't like it. Thank God I kept that consistency and I kept using it."
Javier also noted improvement with his changeup. He returned to Houston with a bit more confidence in his changeup after focusing on it in Corpus.
"I used it throwing it from 110 feet consecutively, trying to maintain a rhythm with my body moving forward," he said. "Thank God, He blessed me. I'm grateful to God."
A change up, whether on the mound on in plans, can be beneficial if taken the right way. Javier took the right attitude to Corpus Christi, accepted his demotion as part of a greater plan. 
Whatever the case, he worked on his slider and changeup and delivered a career-high nine strikeouts 12 days later. 
Get the Our Esquina Email Newsletter
By submitting your email, you are agreeing to receive additional communications and exclusive content from Our Esquina. You can unsubscribe at any time.