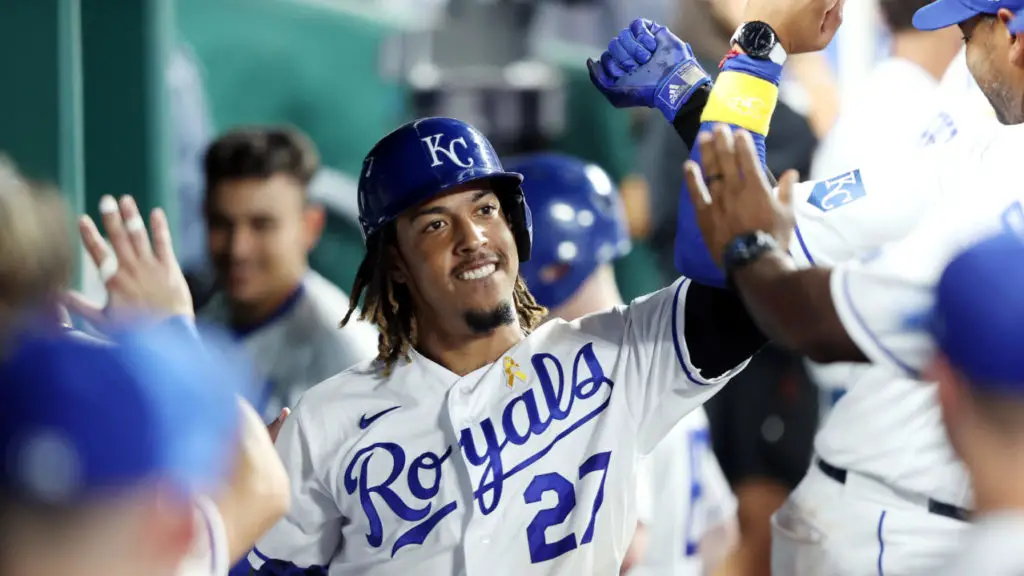 Royals' Adalberto Mondesi Makes Name For Himself
Unlike his famous Dominican peers, Adalberto Mondesi doesn't want to be a Junior. He's making a name for himself.
Standing on the top step of the dugout at Oriole Park in Camden Yards, Adalberto Mondesi readies for batting practice. Adjusting his Royal blue batting gloves, he sticks out among his teammates with his black and blonde dreadlocks tied back and tattoos protruding out from under his warmup shirt. 
Unlike two of his famous Dominican peers – Fernando Tatís Jr. and Vladimir Guerrero Jr. – Mondesi doesn't want to be known as a Junior. He wants to make a name for himself.
His father, Raúl Mondesi was a former NL Rookie of the Year and two-time 30-30 club member. After a 13-year big league career, Mondesi Sr. became mayor of San Cristóbal, his hometown in the Dominican Republic.
Unfortunately, after completing his term as mayor, in September 2017, Mondesi Sr. was sentenced to six years in prison for his involvement in a government corruption scandal. He was also fined $60 million pesos, the equivalent of $1.05 million in today's dollars. 
It was around this time that Raúl Adalberto Mondesi opted to publicly go by his middle name. After all, it is the name that he goes by back home and the name he used to sign with the Kansas City Royals.
"We're three Raul's," he said before taking batting practice. "My dad, my brother, and me, and I wanted to change it up a bit."
Overcoming Obstacles
If Mondesi were a superhero, his superpower would be his speed. In five of his six big league seasons, Mondesi has placed in the top 5 percent of the league or better in sprint speed. He has the ninth most stolen bases in baseball since 2016.
However, this season, after dealing with hamstring and oblique issues, which have landed him on the injured list three times, his main attribute has suffered. Though he has seven stolen bases in just 15 games, Mondesi's speed is at its slowest ever. Currently, he ranks in the bottom 50% of the league in sprint speed.
"There are things you can't control," he said. "But I try to stay positive and take advantage of any opportunities that come my way."
Fortunately, his relationship with his father is strong. He can turn to him for advice whenever he needs it. He can also turn to veteran teammates like Salvador Perez and Carlos Santana.
"They tell me that it's all part of God's plan," he said. "And to keep my head up because there's still a lot of baseball to be played."
Though he made his MLB debut in the World Series in 2015 and has played in every season since then, Adalberto Mondesi is only 26-years-old. Sure, his breakout hasn't played out as fast as he would have liked, but he's positive that someday he'll stand out just like his old man did.
"I go out on the field and give 100%," he said. "And I ask God to stay in good health."
It's only a matter of time.
Get the Our Esquina Email Newsletter
By submitting your email, you are agreeing to receive additional communications and exclusive content from Our Esquina. You can unsubscribe at any time.