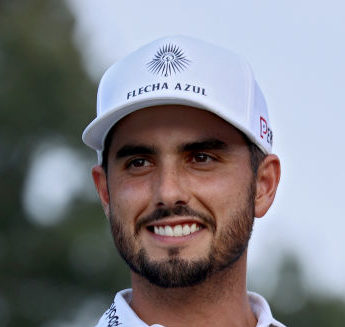 Abraham Ancer Senses Late Father's Presence After First PGA Win
Abraham Ancer becomes just the fourth Mexican to win a PGA event
Abraham Ancer was practically at peace Sunday when the stakes were highest at the FedEx St. Jude Invitational. He and his father had dreamed about such an evening when they lived in Reynosa, Mexico, not far from Texas' Rio Grande Valley.
Abraham Ancer Sr. died of a heart attack in 2014 without ever seeing his son play in the PGA. But his presence was felt at the World Golf Championships event.
The younger Ancer methodically worked his way into contention and then survived a three-man playoffs against the Masters champion Hideki Matsuyama and Sam Burns.
"It's not easy obviously growing up in Reynosa and making it to the PGA TOUR," Ancer said. "The chances are very slim, but I give all of that (credit) to my dad because he busted his ass to get me out here.
"And I wish he was out here to celebrate. I know he was with me the whole round, but obviously being a little selfish, I really, really want him here."
Abraham Ancer took nothing for granted
Ancer was too focused to take anything for granted as Burns lined a 5 ½ -foot putt on the second playoff hole. He had already birdied on the 18th hole. Ancer was already mentally preparing to play a third playoff hole when Burns' putt lipped out of the cup, handing him the first PGA victory of his career. 
Ancer had imagined this victory many times before he finally pulled one off in his 121 PGA event. He expected to shed some tears, but they never materialized.
"I feel like he was out there with me … pretty much the whole playoff," Ancer said of his dad. "I mean, obviously all the tournament, but I felt really calm for some reason. I was probably more nervous … in the trophy presentation than in the actual playoff or during the tournament. 
"I felt really calm. I felt like I was ready. I felt like he was there with me. I know he busted his butt his whole life to just get me to tournaments and just have a chance to compete and get better. He definitely would be extremely proud. I know he is extremely proud and having a big old party up there, man."
Ancer was somewhat sleep deprived throughout the tournament after representing Mexico at the Tokyo Olympics late last month. 
Even though he was tired, however, he didn't expect to sleep much on Sunday. He expected to fly out of Memphis on Sunday night to join his family for a party with his family in San Antonio.
Much to celebrate.
Ancer, who was born in McAllen, Texas, but raised in Reynosa, is considered Mexican-born by the PGA. By that identification, he is just the fourth Mexican to ever win a PGA event.
He earned his first PGA tournament victory exactly nine months after Guadalajara's Carlos Ortiz won the 2020 Houston Open to break Mexico's 42-year PGA drought.
Ancer and Ortiz both competed at the Masters this year. They also represented Mexico at the Tokyo Games, where Ortiz was in medal contention entering the last round. 
They've both accomplished in nine months what had not been accomplished in 42 years by a Mexican until last November. 
"I know Mexico is in a better spot than some years prior," Ancer said. "Right now, Mexican golf … I think it's getting a lot better. Hopefully this week will inspire some kids to get out there and play golf and learn about the game and just grow the game in general.
"I'm really pumped where things are headed in my country. Carlos has been playing some really good golf as well. I feel like we've done a really good job. There's a lot more to come. There's a lot of good players out there that are hungry to get to the PGA TOUR and I have no doubt in my mind that we're going to have not two guys out here, but four or five and hopefully more in the years to come."
Abraham Ancer Sr.'s vision
Abraham Ancer Sr. would have rejoiced. This is why he sacrificed so much.
The record will show that Abraham Ancer hit a six-foot putt to birdie the second playoff hole and finish 16-under par at Memphis' TPC Southwind. Those are the stats of the World Golf Championships event. 
That's not the story, though. This a tale of a Mexican father and a son, both named Abraham Ancer.  This journey includes a stop at Odessa Community College before the mighty University of Oklahoma. 
It includes 121 PGA starts and several near misses. But the roots were set by Abraham Ancer Sr.'s sacrifices. It's been seven years since he died, but his presence was felt at TPC Southwind. 
"He literally just did everything he could even if money was tight, or he will figure out a way without complaining (about) what I shot," Ancer said of his father. "It didn't matter what I shot. Just to take me to a tournament, now that I know what traveling costs and all that stuff, I was like, 'man, I don't know how he did it.' 
"He always just figured out a way to give me an opportunity to get better, to play. He pretty much worked for my family obviously and for me to play golf and figure out ways to give me opportunities."
Get the Our Esquina Email Newsletter
By submitting your email, you are agreeing to receive additional communications and exclusive content from Our Esquina. You can unsubscribe at any time.