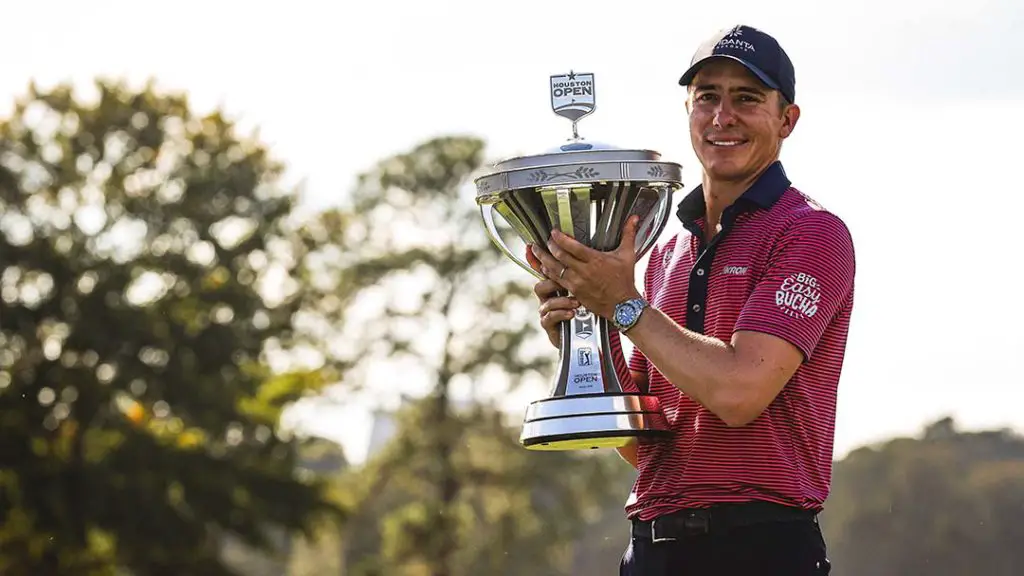 Carlos Ortiz Wins Houston Open, ends Mexico's 42-year PGA drought
Guadalajara's Carlos Ortiz hopes his Houston Open title inspires Mexican children
HOUSTON – In another time, one without the coronavirus, Houston's storied Memorial Park would have been filled with fans waving Mexican flags Sunday afternoon. It would have been electric as Guadalajara's Carlos Ortiz chased his first PGA title at the Vivint Houston Open.
Yet even among an intimate crowd there were enough Mexicans cheering for the proud Tapatío to sense their support. He could see them and feel their joy as he ended Mexico's 42-year drought in the PGA.
Ortiz provided plenty of drama as he held on late to become the third native of Mexico to win a PGA tournament and the first since 1978.
"It's an honor and it's something of great pride," Ortiz said of ending Mexico's 42-year PGA drought. "Truly, it makes me proud to be an example and to put Mexico's name up high. What (LPGA legend) Lorena (Ochoa) has done to inspire all those children, including me, to play golf, I think this victory will help to do that too.
"I hope that all the children saw it so they can know that it's possible. I was one of them in Mexico, where perhaps the culture of golf isn't as important or as big as here, but working hard and doing things right, it's possible. I think this will inspire many people."
The Vivint Houston Open returned to Memorial Park Golf Course for the first time in 57 years as some of golf's biggest names had their final tune-ups before the Masters. 
At a public course in a state senate district that includes the historic heart of Houston's vibrant Latino community, the Guadalajara native shot a final-round 65 to end the tournament at 13-under part.
Ortiz, 29, celebrated with tears a short drive from the Second Ward, otherwise known as the Segundo Barrio to Houston's large Mexican American community.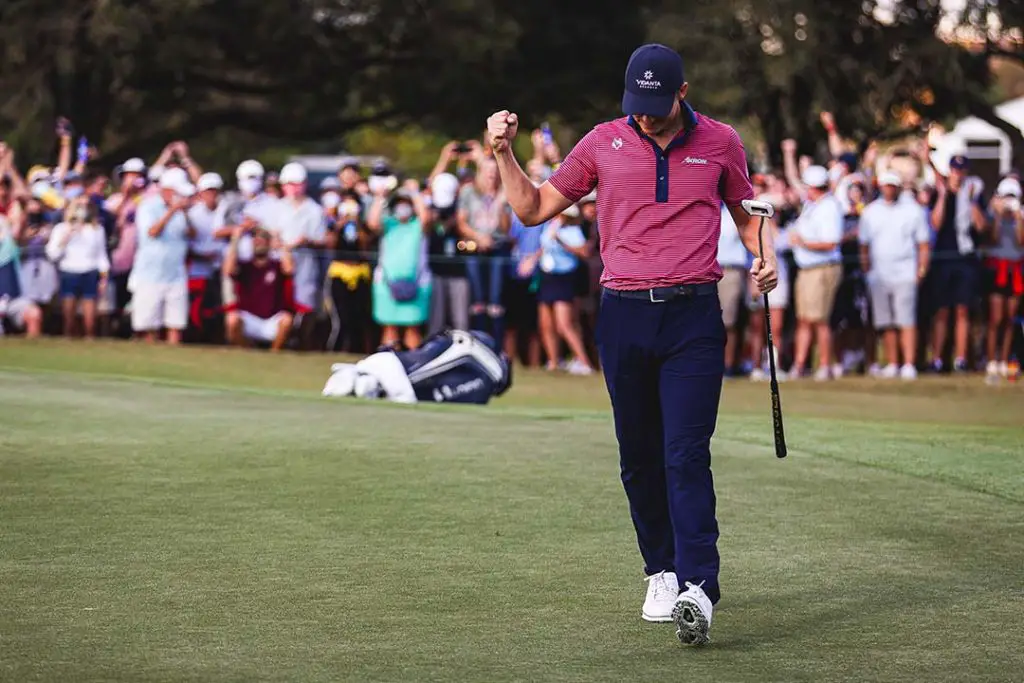 Ortiz happy to see fans at PGA event again
"Truly, it was beautiful to have fans, above all in my first victory," Ortiz said. "I felt the fans supported me from the start. The truth is there were a lot of Mexicans here since the first day I played. Obviously there were a lot of people supporting me.
"I felt that even the people of the United States, people of Texas, wanted me to win. It feels very beautiful. Above all when you see all those Mexicans and know that you made the day for all those Mexicans it feels very special."
For the first time since March, the PGA allowed limited fans at a tournament. The four-day tournament sold out while drawing almost 10,000 fans.
Ortiz finished two strokes ahead of former U.S. Open winner Dustin Johnson and Japan's Hideki Matsuyama. That duo finished tied for second at 11-under.
Johnson, the top ranked player in the world, was chasing his 24th PGA Tour Title. 
"My good finish over the weekend is going to really hopefully help me in the Masters this week coming up," said Matsuyama, who also has eight international tournament titles.
Ortiz earned a berth in next year's Masters, where his younger brother Álvaro has already played as an amateur. Ortiz joked that he's happy his brother won't have to remind him how Álvaro had played in the Masters and he hadn't.
Carlos must wait until next year to compete in the Masters, though. He didn't qualify for the 2020 Masters, which was rescheduled to November because of the pandemic.
Ortiz and Abraham Ancer are the only two natives of Mexico currently on the PGA Tour. He earned his first title in his 118th tour start.
Ortiz ends PGA Tour drought by Mexico natives
No native of Mexico had won a PGA tournament since Victor Regalado won the 1978 John Deere Classic. He also won the 1974 Pleasant Valley Classic. Cesar Sanudo, who won the 1970 Azalea Open Invitational, was the first of the three Mexico natives to win a PGA Tour stop.
Ortiz also joins Argentine Roberto De Vicenzo, who won the 1968 title at Champions Golf Club, as the second native of Latin America  to win the Houston Open.
Ortiz saved his best performance for last. He shot 67 on Thursday, 68 on Friday, 67 on Saturday and 65 on Sunday for a 267 overall. Matsuyama shot a 63 on Sunday to put pressure on Ortiz and Johnson.
"I  saw there's a couple people playing really good, too, so I knew I couldn't just like lay it up to  the greens and then expect to win," Ortiz said. "So I had to finish strong. I hit an amazing shot on 16 and obviously finishing with this birdie helped, too. I'm really happy and pleased with the way I  played."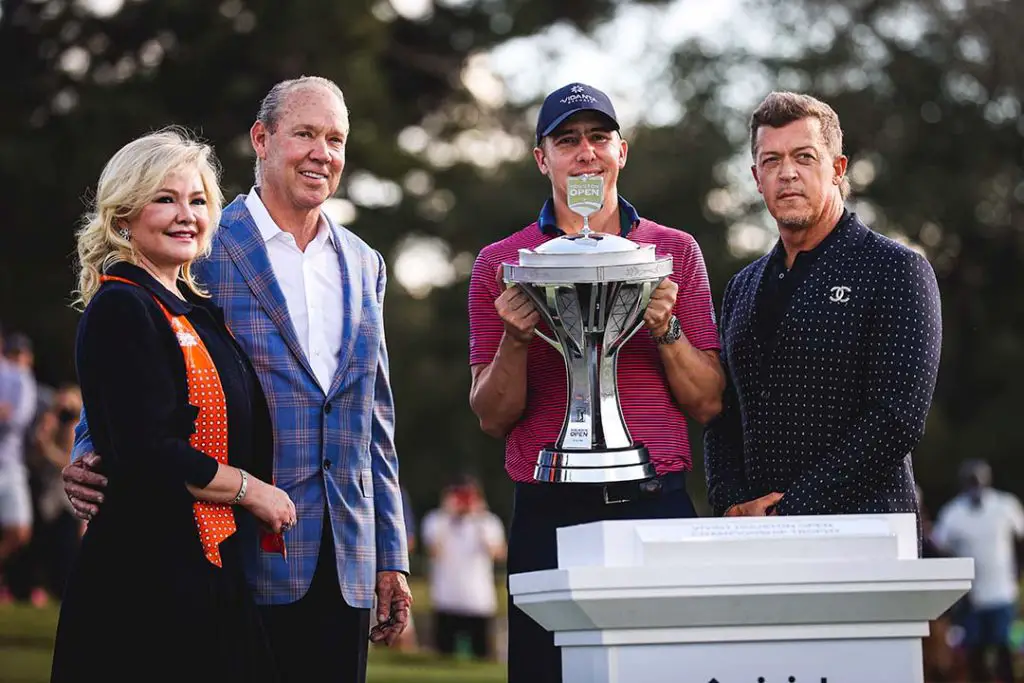 If the pandemic is under control next year, Ortiz should have a strong following when he attempts to repeat at the Houston Open. It's not a stretch to say that he can also help the sport of golf grow in Houston, where 44 percent of the population is Latino, most of Mexican descent.
"First, I'd like to congratulate Carlos for his victory today," Houston Astros owner Jim Crane said. "He had to play extremely well to come out on top against so many great players in this year's field. Secondly, I want to thank the PGA TOUR, and all of the golfers who came this week to compete on this newly renovated course.  
"Finally, I want to thank the fans who came out to support the golfers and this tournament.  The fans stayed safe and provided an important positive atmosphere for the tournament.  We are grateful for everyone's support in bringing the tournament back to the City of Houston, and look forward to making this event bigger and better next year."
With Ortiz as the returning winner, the 2021 Houston Open has a chance to draw another major part of the Bayou City's population.
"Getting a win, it was amazing, but getting it here in Texas made it even better," he said. "Texas is like my second home state. I've been here 12 years now. I'm just really grateful to this state.
"It's an amazing place. People are great to me. They're really great. (As) you guys could see today they were cheering for me. It was a great experience and I'm just really happy it happened here." 
Get the Our Esquina Email Newsletter
By submitting your email, you are agreeing to receive additional communications and exclusive content from Our Esquina. You can unsubscribe at any time.